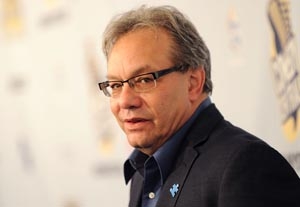 United Screen Actors Nationwide, the pro-merger party that holds sway over the Screen Actors Guild's New York boardroom, will announce today its slate of candidates for upcoming SAG board and officer elections. The lineup includes one notable surprise:
comedian and "Daily Show" contributor Lewis Black
.
A newcomer to SAG politics, Black is one of 11 USAN-endorsed candidates seeking seats on the national and New York division boards of directors. The party will also endorse current New York president Mike Hodge in his bid for re-election to that post.
"N.Y. president Mike Hodge and the USAN team are the right choice for New York members who want one union now," SAG president Ken Howard said in a written announcement that USAN will release this afternoon. "Under USAN's leadership, SAG renewed and strengthened our historic partnership with AFTRA, and in just a few months we'll be making our most crucial decision ever about our future as one union."
USAN has long backed a merger between SAG and the American Federation of Television and Radio Artists and backed the Los Angeles–based Howard's pro-merger candidacy for national president in 2009. SAG and AFTRA are currently engaged in talks to produce a plan for merger. Leaders in both unions have speculated that a finished proposal could be sent to members for ratification sometime early next year.
"What New York performers need more than anything is for SAG and AFTRA to become one powerful national union—and they can trust USAN to achieve it," Hodge said in the announcement. Black echoed that sentiment.
"I'm running with USAN for a simple reason: They are committed to uniting SAG and AFTRA, and I want to help them make it happen," the comic said in the statement.
Black is best known for his caustic "Back in Black" commentaries on "The Daily Show With Jon Stewart" and for his equally impassioned standup routines, which he has performed in multiple specials for Comedy Central and HBO. He hosted the former Comedy Central series "Lewis Black's Root of All Evil."
Other USAN candidates seeking board positions are Manny Alfaro, Dave Bachman, Marc Baron, Marc Blum, Rebecca Damon, Traci Godfrey, Ezra Knight, Jay Potter, Jon Rothman, and Kevin Scullin. USAN will also endorse Howard's re-election bid as national president and Amy Aquino's re-election bid as national secretary-treasurer. Ballots will be mailed to SAG members next month.