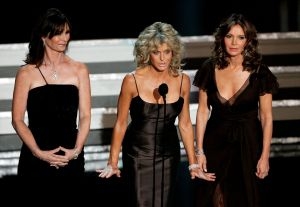 "After a long and brave battle with cancer, our beloved Farrah has passed away. Although this is an extremely difficult time for her family and friends, we take comfort in the beautiful times that we shared with Farrah over the years and the knowledge that her life brought joy to so many people around the world."
— Ryan O'Neal, companion
"There are no words to express the deep sense of loss that I feel. For 30 years Farrah was much more than a friend, she was my sister, and although I will miss her terribly I know in my heart that she will always be there as that angel on the shoulder of everyone who loved her."
— Alana Stewart, actor and close friend
"Farrah had courage, she had strength and she had faith. And now she has peace as she rests with the real angels."
— Jacyln Smith, co-star in
Charlie's Angels
"I'm terribly sad about Farrah's passing. She was incredibly brave and God will be welcoming her with open arms."
— Cheryl Ladd, co-star in
Charlie's Angels
"I will miss Farrah everyday. She was a selfless person who loved her family and friends with all her heart, and what a big heart it was. Farrah showed immense courage and grace throughout her illness and was an inspiration to those around her. When I think of Farrah I will remember her kindness, her cutting dry wit and, of course, her beautiful smile. Today, when you think of Farrah, remember her smiling because that is exactly how she wanted to be remembered: smiling."
— Kate Jackson, co-star in
Charlie's Angels
"Farrah was one of the hardest working, most committed actress I ever had the pleasure of acting with. She worked her heart out to make [
The Burning Bed
] the wonderful TV movie it was. And she remained sweet and caring throughout."
— Richard Masur, co-star in
The Burning Bed
"After the first read through, I said, 'You're going to be great in this.' ... She had all this depth of emotion. She reached deeply into herself ... and it helped me, too, because I had to do the same thing."
— Paul Le Mat, co-star in
The Burning Bed
"Farrah had an outstanding talent, better than most feature film actresses that I've seen. She was great to work with and will be missed."
— Robert Duvall, director and co-star in
The Apostle
"Farrah was the personification of our art. She had mastered her craft as an actress and was blessed with that elusive dynamism that makes an actor a star. My heart goes out to Ryan and Redmond and the other members of Farrah's beloved family."
— Alan Rosenberg, national president of the Screen Actors Guild
"I remember when we had dinner and she said, 'I'm going in to meet with Aaron Spelling on some new TV series about three girls who are detectives.' And the next day she told me, 'Kate Jackson and I are going to be two of them, and they're looking for the third. I set up an appointment for you.' That's the way she was: generous with her friends."
— Susie Coelho, TV personality, businesswoman, and longtime friend
"Farrah was one of the iconic beauties of our time. Her girl-next-door charm combined with stunning looks made her a star on film, TV and the printed page. I was saddened to learn of her passing earlier today and my thoughts and prayers go out to her family and friends."
— Hugh Hefner, Playboy magazine founder
"She was an angel on Earth and now an angel forever."
— Lee Majors, ex-husband
Newspaper commentators also weighed in:
"Not all of her performances will stand the test of time, but what is worth remembering is how hard Farrah Fawcett tried."
— Alessandra Stanley, The New York Times
"With her determination to show that she could play against image and defy expectations (
The Burning Bed
,
Extremities
), she was a role model for every actor who has been typecast, every star whose talent has been questioned."
— Mary McNamara, Los Angeles Times

Compiled by Andrew Salomon and the Associated Press.