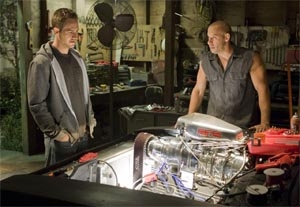 According to writer-producer Gary Scott Thompson, product placement is necessary for the future of dramatic television. "With DVRs and TiVo, people are not watching commercials," he says. "So the support for the free TV is going to have to come within the context of the program."
Thompson has been an advocate of product placement from the time he created, wrote, and produced the NBC series
Las Vegas
in 2003, arguing it was a natural in the light of the show's locale. "If you go to any casino, they're going to have restaurants, jewelry shops, car dealers," he points out. "I had companies coming to me, begging to be allowed to build us restaurants or whatever we wanted. Storywise it was needed. But I was told no." During the run of the show, the network had a change of heart.
Thompson insists he was not the first to use product placement, pointing to the Gran Torino on
Starksy & Hutch
as well as the Trans Am on
Knight Rider
. Perhaps not coincidentally, he was brought in to produce the short-lived remake of
Knight Rider
last year. Thompson, who launched his career as an actor-playwright, has weathered many storms, including surviving three writers strikes; the cancellation of
Knight Rider
was no big deal, he says. But Thompson has also had his share of success, most notably
Las Vegas
and the original screenplay for
The Fast and Furious
(2001), which has spawned three sequels, including the recent
Fast & Furious
, a script using the characters from the first. "It was fun to see all four leads back together again," notes Thompson, a northern California native. "I'd love to see the series continue."
Thompson has a number of irons in the fire, though he's not ready to elaborate on any, short of noting he will serve as executive producer on
Mother Trucker
, which is in development. Based on an article in Maxim, the movie will be scripted by
Hustle & Flow
writer-director Craig Brewer.
Always Working
Thompson got his first taste of acting in American Samoa, where his father worked in construction. He appeared on a local educational TV program and shortly thereafter joined a children's theater group and started writing short stories. Later, he attended the Pacific Conservatory of the Performing Arts in Santa Maria, Calif., ultimately earning his B.A. in drama from the University of California, Irvine, and then an MFA in dramatic playwriting from New York University. Throughout his college years and beyond, he held a number of jobs: high school teacher, film-company reader, associate dramaturge at the now-defunct Circle Repertory Company. At the same time, he was acting in and writing plays, three of which were produced regionally and Off-Broadway.
He made the move to Los Angeles when a former classmate, who had become a successful screenwriter, told him he should go to Hollywood if he wanted to earn real money. Thompson pounded out a script in three weeks and submitted it to the American Film Institute, which chose it for a staged reading, and Thompson relocated to L.A. Screenwriting legend Ernest Lehman (
North by Northwest, West Side Story
), who headed the AFI workshop, was enormously encouraging. Thompson's script was a dark comedy about a futuristic Hollywood where snuff films have become standard fare. The screenplay was not produced, but the staged reading opened a few doors, including the opportunity to pitch ideas to producers.
"Pitching and writing are two different things," Thompson says. "Pitching is the art of telling the story in a few words. A lot of writers get stuck on the minutiae of the story. Studio executives are hearing pitches all day long. They have a shorthand, and they really do get the idea quickly."
The first pitch Thompson sold was a sitcom to Norman Lear, though it was never made. But that is not unusual, says Thompson, adding that he fields no shortage of outright rejections. "All you need is one person to say yes," he insists. "I remember when I was submitting plays, one regional theater wrote me to say I should go back to doing what I did before I started writing. As I'm reading that letter, the phone rings, and it's from another company that loved the play and they wanted to produce it. It was the same play."
To pay his rent in Hollywood, Thompson continued working as a film-company reader, "reviewing 365 screenplays and attending 180 screenings within a year," he says. "That's where I learned what works and what doesn't work in a script. But when the company offered me a job as director of development, that's when I quit. I knew if I wanted to write, I couldn't be director of development."
His major turning point was pitching the idea for
The Fast and the Furious
, an original feature that was made in less than two years. That is almost unprecedented, Thompson says. More important, its success brought opportunities for him in television; he was invited to come on board as producer-writer on several pilots before hitting it big with
Las Vegas
.
Thompson is every bit the hands-on executive producer and plays a central role in casting. "I already have a picture of the type I'm looking for before the actor walks in," he says. "If you're not cast, it doesn't mean that you're bad. It may just mean you're not the right type. In fact, if I like you, I'll remember you next time I'm casting and may even write a part for you."
He says he understands that actors are intimidated at auditions, but he's grateful if they ask questions. Further, if actors know they are not doing well in an audition, they should ask to do it again. "One actress who auditioned for me was tanking, but instead of asking if she could read again, she walked out," he recalls. "I ran after her into the parking lot and asked her to come back and read again. She did and got the part. I like actors who want to work, and I like to get a sense of who an actor is as soon as he walks through the door. I don't like arrogance."
He does not rule out the possibility of producing on the Internet, though he's not convinced that it will replace television and movies. "When television came out, it was supposed to be the death of movies," he says. "Movies are still here. The Internet is supposed to be the death of television. And we know television is still here. It's all entertainment, and I view myself as a content provider."
Asked if he'd ever consider going back to theater, he says, "I'm not sure I have the guts to go back. It would mean giving up TV and features." He suggests the time away from the television-film world would be detrimental: "Hollywood has a short attention span."