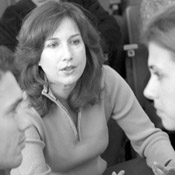 Kimberly Jentzen first started coaching actors in a stairwell of the fourth floor of the Dorothy Chandler Pavilion. Enrolled in a musical theatre program, she would be asked by fellow students for her input. "And it was such a blast; I fell in love with it," Jentzen recalled last year when our readers voted her favorite teacher/coach for 2007. Yes, two years in a row Jentzen has won the accolades of Back Stage readers. Jentzen earned a B.A. in theatre arts from UCLA, attended American Conservatory Theater, and has studied the techniques of Meisner, Chekhov, Adler, Hagen, and Strasberg. But it's her spirit and insight that her students praise.
"I continue to take a lot of risks in my work to support actors to get a sense of magic and wonder and excite them into the discovery of life and the essence of who they are," says Jentzen. And so she offers her top tips, in gratitude to our readers:
• Fall in love with your art. Show up to the work. Remember that growing in the art is a continuous process. There will always be the next mountain to climb after you achieve a relative amount of success. Enjoy the process. Acting is a love affair.
• Be the exception. If you're told you're too old or too tall or short or anything, be the one that goes out there and makes a living because of that. Be the one that is the best in your category, and find your audience. See the parts of you that live outside the accepted norm, and make them your strengths.
• Be genuinely you. Self-acceptance is a continuous process. Don't overcompensate or change yourself to fit what you think they want.
• Growth happens in spurts, not in a continuous line. Sometimes it makes quantum leaps; sometimes a small shift can change everything. Sometimes failing is the very thing that will bring you closer to your work. Acting is discovering where the movement in the work lives.
• Be kind to yourself. Don't pick your performance apart. Evaluate it. That means be aware of what worked and look for what you can do to improve it. Then work on those things. We have to let go of "how we were" to become better at "who we might be."
• Be impeccable with your word and actions. Try to take the high road and channel any of your frustrations back into the art by finding good material and working it. Know that nobody owes anyone anything.
• Don't give up on yourself. Don't be impatient. You have to get out there. You have to be creative to find ways to be seen. Don't depend on one person or one CD to make your career. You have to connect with a lot of people you don't know to become known in this business.
• Keep your innocence. Hold onto your sense of magic and belief in the fact that miracles can happen. We are all traveling through this life, and we are here to experience it. Give yourself every chance to do that to the fullest.
Kimberly Jentzen, Living the Art Institute, P.O. Box 4554, Valley Village, CA 91617. (818) 779-7770. www.kimberlyjentzen.com.
Runners-up for favorite acting teacher/coach: Ted Brunetti, Howard Fine, Margie Haber, Lesly Kahn, J.D. Lewis, Elizabeth Mestnik, Alexia Robinson, Richard Seyd