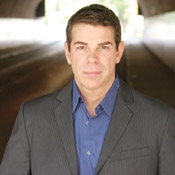 "I love actors. I get it. I understand it." This is not a glib attempt at empathy on the part of Scott Sedita, who has been teaching actors at his Larchmont studio for the past 10 years. He knows exactly what he's talking about. He not only began as an actor at Boston University College of Fine Arts' School of Theatre but he also had the good sense to realize, by his second year, that acting wasn't his calling. "I just looked at myself and said, 'You know what? Acting is not what I want to do. What I want to do is work with actors.'" So he walked across the street to the film and television department and began to direct.
So successful was he in this endeavor that he had a job lined up in L.A. before he graduated. "I was the kid who was actually going to leave film school and have a job in Hollywood," he says. Until the 1981 writers strike, that is, which led him to New York instead, where he interviewed for a job at Writers & Artists Agency to get a behind-the-scenes look at writing and directing and was hired within 15 minutes. "It was kind of the perfect job for me," he says, "because I have a gift. I believe we all have gifts, and one of my gifts is to be able to spot talent. I'm also a caretaking type of person, so that was a pretty good combination for being an agent." He then moved on to Frontier Booking International, a rock 'n' roll agency into which Sedita was brought to help Sting theatrically. But Sting already had a theatrical agent, so Sedita busied himself focusing on others.
At age 22, Sedita was the youngest agent in New York at the time, and he set to work developing a youthful stable of 16- to 22-year-old performers. Courteney Cox, Jerry O'Connell, and Teri Polo passed through his doors as Sedita took advantage of the youthful niche market opening up when MTV made its debut in the early 1980s. He is pleased to have had a hand in grooming these performers during their early years, but, working as he did in a boutique agency, he would find that with the actors' first taste of success the agents from CAA and ICM would swoop onto the set, bearing his flattered clients away. Sedita got tired of what he refers to as "the lunches" — those events set up by perky clients who would then take the opportunity to profess their undying love and loyalty just before announcing that they were being packaged elsewhere and, sadly, had to be going.
Sedita finally made the move to Hollywood to pursue writing, crafting screenplays for sitcoms headed by Howie Mandel and Bobcat Goldthwait soon after arriving, but Sedita needed a survival job as well and so became a session caster, that person in the room who puts the actors on camera, for casting director Danny Goldman. This fascinated Sedita, since as an agent he was responsible for sending actors out. Now he was able to see what they did once they got to the casting office. It was the mid-1990s, and commercials were moving from the pushy to the more realistic, so Sedita started a weekly commercials class at Goldman's offices, helping actors make the stylistic transition. The class proved so popular, it expanded to three nights a week. Sedita started coaching people on auditions, and "one thing led to another," he says.
Ten years ago he was driving down Larchmont and saw a "for rent" sign. Sedita thought it would be the perfect place for an acting studio. He impulsively signed a three-year lease. Everyone told him he was crazy, of course: Space for an acting class is something you lease one day a week until you're established. But Sedita knew that if he "invested fully in it, it [would] come." When he began, he had 10 students and couldn't cover the rent. Today he occupies three times the space, has a staff of seven teachers, and estimates the school sees 200 students every day. "I work for one ambitious boss," says the entrepreneur, "and that boss is me."
His background directly informs his teaching. He was using a camera long before that was the norm, because it was how he worked as a session casting director. As in his days as an agent, Sedita is catering to a particular niche of student actors — not for him the neophyte. "I'm the closer," he says. "After you've had foundation, scene study, you understand your technique, you understand the character history, you understand all the work that you need to do, you come to me, and what I do is I take that craft and mesh it with the career, because that's what I did for years and years as an agent and a casting director. I will help you find out who you are, what you best play, how to redo your look if necessary. If I've told one actor to cut their hair or grow their hair, I've told hundreds. That's kind of what I do. I don't pretend to be anybody else but that guy."
As a teacher, he expects a lot of his students, having discovered that "what happens in the classroom is a microcosm of what happens in [a] career." Tardiness, procrastination, bad behavior — all manifest themselves later in the actor who has little respect for others and an overweening sense of entitlement. "Do the work," says Sedita. "Be focused on the work." He also insists on bringing positive energy to the process: "The actor who gets up and starts a scene in class and has this 'I'm not going to be good enough' kind of thing is the actor who will bring that into the audition and not even know. They'll walk into the room, and the casting director will already pick up from them that they're not good enough. Or they'll finish the scene, and then they'll apologize. Or they'll say nothing and have this look on their face and walk out being defeated. The casting director picks this up immediately. I expect an actor to come in with positive energy."
He asks a lot, but students have every right to expect a lot in return. "I don't understand," muses the instructor, "how people can take an acting class, pay top dollar, and sit in class and not work." Sedita gets the concept of learning from others but believes that, fundamentally, "becoming an actor is practicing. It's like being a writer or a painter. You act, you write, you paint; I don't understand how people don't get an opportunity to do their work." And though he understands that sometimes students require a little prodding — getting a "fire lit under their ass" is how he puts it — he doesn't think anybody should be screamed at. "I'm pretty tough," Sedita asserts. "But I'm supportive. I enjoy helping people reach their full potential. I enjoy helping people fulfill their destiny. Nothing hurts me more than to know how talented somebody is and that they're not reaching what they're capable of reaching, their destiny, because they don't believe in themselves."
Scott Sedita is the author of The Eight Characters of Comedy: A Guide to Sitcom Acting and Writing and Scott Sedita's Guide to Making It In Hollywood: 3 Steps to Success, 3 Steps to Failure. www.scottseditaacting.com.
Runners-up for favorite acting teacher/coach: Ted Brunetti, Howard Fine, Margie Haber, Lesly Kahn, J.D. Lewis, Elizabeth Mestnik, Alexia Robinson, Richard Seyd