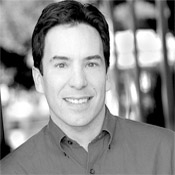 Robert Campbell,
Quick Nickel
Robert Campbell is an actor, and he has interned with casting directors and talent agencies. So his demo reel production company, Quick Nickel, combines his knowledge of acting skills with his business savvy to create actors' reels that appeal to the industry.
"The first thing actors need to realize is that their demo reel has absolutely nothing to do with them," says Campbell. "It's their face, work, name; but the demo reel is a solution to someone else's problem. And until you can wrap your noggin about this, you'll have a tough time. The decision makers, who have their jobs on the line, need an actor who is a professional and a professional who can act."
Secondly, says Campell, "The demo reel has to show people you can do something, and doing something is not a flash of a smile or falling down or a funny reaction shot. You have to be believable as [the character]. Anything that doesn't convince someone you can be a character at a professional level will not get you a job. I tell people, 'Just because you look good in a cowboy hat doesn't mean you can play a cowboy. So what you're showing people must be recognizable as a scene."
At the same time, he says, nobody wants to see the whole scene, so cut "anything that doesn't focus on you." The demo reel should be as long as the material is good. The moment the material is no longer good, it should no longer be in. "Good material never elevates mediocre material. But mediocre material always drags down good material," he says. And so here are his cautionary tips:
- Don't include a scene only because you're in it with someone famous. If you're sitting, watching Denzel act, then you're an extra.
- Don't include a scene where you're not doing anything. Sitting in a window, driving a car -- it's boring.
- Don't show the same scene again and again. If it's angry mom, angry girlfriend, and angry sister, pick one; otherwise you show people you have no range.
- Don't think of your demo reel as a work of art. It's not a touching piece about the trials and tribulations of an actor in Los Angeles. It's a marketing tool.
- Don't become too emotionally attached to your reel. Editing is easy; you just have to know how to kill your babies.
- Don't include scenes just because you recall them fondly. The demo reel has to be about scenes that work hard for you, not about scenes you worked hard on.
- Don't include scenes in which you don't look like you do now. Don't fill your demo reel with scenes that show you playing against your type.
- Don't think "free" has no costs. Be leery of friends who will produce your reel at no cost. You can't ask your friend to do it again or better, and you can't ask him to hurry up.
- Don't let an editor be other than patient or professional. Editing can be explained to you in plain language. And it should be an editor's job to counsel you on what works and what doesn't.
Quick Nickel is located at 12021 Burbank Blvd. #203, Valley Village, CA 91607. (818) 752-4391. info@quicknickel.com. www.quicknickel.com.
Runners-up: Secret Handshake Entertainment, Speedreels, Sotto Voce Film+Works, Planet Video, Reel Pros.
"I used Robert Campbell of Quick Nickel to produce my latest reel. I was impressed with the wealth of information he provides prior to your session, and his input for selecting scenes makes your session run smoothly. His prices are very affordable, and his work is quality.
-- Robin Dionne, actor