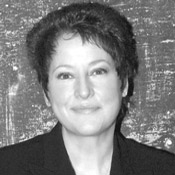 Casting director Deborah Aquila of Aquila/Wood Casting says she truly loves actors. Finding the right person for each and every part is something she's passionate about, and her instincts are spot-on: She cast a teenage Adrien Brody in a few films before he became an Oscar winner for The Pianist, and she gave Edward Norton his break in Primal Fear.
This intuitiveness was honed in her own training as an actor: Aquila holds degrees from New York University's Tisch School of the Arts and the Stella Adler Conservatory in New York. "I love actors. I don't want to do anything where I'm not around them," she told Back Stage in 2006. "So I'll either do this for the rest of my life or teach. I enjoy both very, very much. I think I was trained to work well in this arena. But as far as performance goes, I have such respect for actors because it's something I could never do. I mean, I tried — I certainly got up there, and I was on stage. I started as a singer, and then I went into acting, and I was with Stella for a long time; but I was much more comfortable behind the scenes. I was more present, not as much out-of-body."
Aquila's career as a CD includes a wide range of film and TV credits and a gig as senior vice president of features casting for Paramount Pictures. Recent credits include Showtime's Dexter, the recently released Smart People, and the upcoming adaptation of Audrey Niffenegger's acclaimed novel The Time Traveler's Wife.
Still, even though she's busier than ever, Aquila says she believes in reading with every single actor she auditions — a quality many of them particularly appreciate. "Without sounding pretentious, there's a certain energy or hit you get when you read with a person," she says. "You're sort of in the scene with them. I'm a teacher as well. I've taught for years, and I teach what Stella taught me; it's much more of a visceral response when I get into it with an actor, reading opposite them."
Back Stage: What are your pet peeves about actors?
Deborah Aquila: Not being prepared, indulging in excuses for not being prepared, oh, and not being prepared.
Back Stage: What do you consider your greatest success?
Aquila: Balance. Joy in my children and happiness in my career. Blessings both.
Back Stage: What is the highlight of your day?
Aquila: When I'm working with actors in session.
Runners-up: Allison Jones, Debra Zane, Barbara Fiorentino/Rebecca Mangieri, Ellen Chenoweth, April Webster
"Deb Aquila is 'true blue.' She has a good heart, she loves actors, and no one in the business has a sharper eye for craft and talent. People may not know it, but Deb studied for six years with Stella Adler. She knows acting."
— Peter Lewis, actor
"Deb Aquila is the best casting director because she approaches the business of casting with an actor's eye. She trained as an actor, so she has real respect for the art and appreciation for the artists. She reads with the actors, so she can see exactly what is going on in their eyes, and really makes you feel that she is present with you."
— David Wilcox, actor
"Deb is my favorite because she seems to cast all the best movies in town. I'm really grateful to have been called into her office, and found her staff to be so welcoming and happy to work with actors in the room."
— Michelle DeLynn, actor