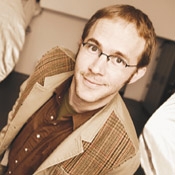 Blake Gardner
Here's what his clients say:
"Blake is a great people-person type of guy — nice, funny, relaxed. He is intelligent and quick-working, without giving you a sense of being rushed. I first heard of him through a recommendation. He had just moved to L.A. and was situating. We met in Venice and took a number of natural-light shots. We used the digital screen on his camera to get an idea of how the shots were coming and what was working. He really gives you a sense you are both working together toward a common goal. At the end of the session, we set up office in a Starbucks, and on his laptop he immediately started deleting and editing, choosing our final shots. Quickly and painlessly, he had edited digitally and arrived at our final folder. I left that afternoon with a CD of images and drove to Argentum to print them. That is a quick turnaround.
"A year or so ago I met him again but this time at his studio, with built-in sliding panels and wonderful natural light. He was personable, as always. I would recommend him to anyone. No matter who you are, he is personable and down to earth."
— Rainbow Underhill
"Blake does his homework. Before shooting, he gets a very clear idea of who you are and what you're looking to accomplish. He doesn't just know how to make his clients comfortable; he knows how to make each client comfortable. You always end up feeling great about your session and great about the shots."
— Amir Talai
"Blake is equally professional and creative. I normally hate getting headshots taken, but Blake makes it so easy, and I always feel comfortable working with him. I know every time I shoot with him it is going to turn out great. In fact, I loved his work so much, my wife and I hired him to take pictures at our wedding, and they turned out even better than I could have expected. He has an extreme talent for bringing out the best of you in every shot."
— Ryan Scharoun
"Blake is the only photographer who understood me and brought out the quality I was looking for. The questions he asked me preshoot totally enabled him to know where I wanted to go with my shots. I also appreciated his relaxed manner."
— Kurt Ela
"Blake is amazing. What I really appreciate is the prep work Blake puts in. He has you fill out a worksheet on what you're looking for and how you're seen by others, and he puts that work into the shots, getting exactly what you're looking for."
— Troy Smith
"Blake's online toolkit and required prep-work questionnaire helped both of us achieve exactly the types of shots my representation needed."
— Jodi Shilling
"He makes you feel so incredibly comfortable in the session that it's easy to be yourself, and that shows in the pictures. I've been to him several times, and he delivers great shots every time."
— Franci Montgomery