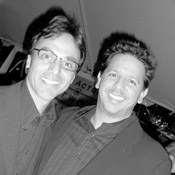 Paulo Andrés and Kurt Patino Rothman/Patino/Andrés Entertainment (formerly Link Talent Group)
"I interned at Link Talent Group. Paulo and Kurt are both genuinely nice guys who really care about their clients and work hard to guide their careers, including helping one client who was having a tough time at auditions and getting another into a big movie audition the producers didn't think she was right for — and that she ultimately booked."
— Kristen Olson
"Paulo and Kurt at Link Talent Group are so personable and hands-on with my career. They truly care about their clients and work hard to move our careers forward."
— Jodi Shilling
"Paulo and Kurt really put their clients' needs before their own. They're hard-working, personable guys who always can spare a moment when their clients stop by. Paulo and Kurt run a highly respected management firm in Link Talent Group, built on their roster of extremely talented, working actors."
— Stephen Moffatt
Runners-up: Phil Brock (Studio Talent Group), Peter Kluge (Impact Artists Group), Eileen O'Farrell Personal Management, Steven Nash (Arts and Letters Management)