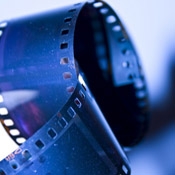 When asked why he thought Reproductions won this year for best photo lab, Robert Browne, general manager of the Los Angeles office, attributed it to the company's unique product: MasterPhoto/Heavy. Unlike thin, traditional lithos, Reproductions prints headshots on heavyweight photographic print paper that enables actors to print their résumés on the reverse side with home inkjet printers rather than having to staple them to the back. "Photographic quality is much better [than lithographs], so that's why we developed that product, and we are the exclusive source for that in both Los Angeles and New York," says Browne.
Lithographs are printed on a printing press with four colors of ink in a dot pattern. Because of the limitations of the four colors when printing in color, the quality of the image must be compressed for the four colors to produce millions of tones. "It's much easier for a photographic reproduction to capture that," says Browne. "You don't get any dot patterns. The imaging quality is much better, and it's just a better overall product. It's more costly from a material point of view, but nowadays actors are ordering fewer headshots in general than they were several years ago. They don't need to be sending them out all the time."
Conventional photographic paper is thin and usually contains a manufacturer's watermark, so actors can't print their résumés on the back. "With our prints, anybody can, with a home inkjet printer, print their résumés on the back in the quantity that they need," says Browne. "It's a pretty good product."
The bicoastal business had so much success offering the MasterPhoto/Heavy prints that it recently discontinued the use of lithographic printing. "We found that the product that we had with the MasterPhoto/Heavy was superior in every way. It gave people the heavier weight of the litho paper but with much better imaging quality," says Browne. "So we decided to concentrate on the best imaging quality to give people."
Other services offered by Reproductions include online proofing, so actors can see the images from their shoot and select their favorites, and retouching.
Runners-up: Argentum Photo Lab, Isgo Lepejian, Prints Charm'n, Ray the Retoucher