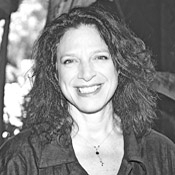 The winner of an Emmy and two Artios Awards, April Webster is now the recipient of our Readers' Choice Award for favorite television casting director. Her first credit was the original Knight Rider series; her most recent is the latest Star Trek film, now in postproduction. With 30 years in the business, she has cast TV series such as Lost, Alias, Criminal Minds, CSI: Crime Scene Investigation, and The Nanny, as well as films including Mission: Impossible III, The Day After Tomorrow, and The Patriot. Here actors speak out about why Webster has taken the title of favorite TV casting director two years in a row.
Ronald F. Hoiseck says Webster listens to the actor. "She knows you exist even when you don't know it, and she calls you when you and your agent haven't a clue why she has. She's right on the money and genius at what she does every time," he says.
J.J. Pyle got the opportunity to see Webster direct for the Blank Theatre Company's Young Playwrights Festival. "She was patient with actors and just nice to everybody," explains Pyle. "Her associates [Scott David and Erica Silverman] are friendly and approachable. They always call in actors from workshops and other places they may have met them."
Karen Strassman says Webster is one of the most caring and devoted casting directors she has ever met. "She is passionate about her job and about actors," Strassman says. "When you're auditioning for her, you feel like she's 100 percent present to you, going there with you, and rooting for you. And she seems to create the same atmosphere amongst all the associates and assistants who work with her. It's always a delight to go in on any project her offices are casting."
Elizabeth Karr says she loves that Webster nurtures talent with a calm, relaxed atmosphere and sets the stage for actors to do their best work, including getting the sides to them in plenty of time. "And if it goes 'a different way,' you know there's another opportunity in the future," says Karr.
Heather Witt appreciates that Webster and her associates value theatrical experience: "They have consistently pulled artists from my theatre, Theatre of NOTE, and taken a chance with them. They don't just go for the obvious, and they get some of the best artists looking past the name."
Edward Edwards says Webster respects the actors' artistic input and can marry those instincts with the demands of the producers to "make our audition performances the best they can be. When you leave from her auditions, you always feel that you were given your best shot," he says.
We spoke with Webster to discover a bit more about her.
Back Stage: What are your pet peeves about actors?
April Webster: My only serious pet peeve is a lack of preparation. I am not only speaking of knowing the sides or learning the lines. It is also important for the actor to be as clear as possible as to the intention for their career. What tools do you need to continue your learning process? How do you get them? How can you be present in the room so you have some effect on the people you are meeting? What do you as the actor bring to the collaboration? So many people are floating around not really committed to being part of this world, show business. It requires knowing the business, learning about yourself, and expanding who and what your life is.
Back Stage: What do you consider your greatest success?
Webster: Someone once said, "Fame is something they give you; success is something you give yourself." I have an amazing job. My greatest success is that I have been able to work with people who are passionate about our business — wonderful directors and producers who still believe in the magic of the story and the characters that populate those stories. I have also been honored by peers and actors by their recognition of me and my work. As I said at the Emmy Awards, "To do what you love to do is a blessing; to be recognized by your peers is icing on the cake." There are also casting directors that have come through my offices and have gone on to cast their own movies and projects. Their successes are a great pleasure for me as well.
Back Stage: What are the highlights of your day?
Webster: The morning coffee, the early catch-up with my team, meeting someone new or just new to me, and maybe seeing someone with "stars around their head." Getting an idea about a role and opening up a whole other way of looking at a role. Laughing and enjoying the creative process.
Runners-up: Junie Lowry-Johnson, Allison Jones, Scott David, Mark Teschner, Jeff Greenberg