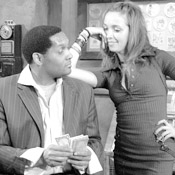 Receiving a double vote of confidence from the Back Stage readers seems a fitting testament during a watershed year for Hollywood's 13-year-old Elephant Theatre Company. The group's 2007 West Coast premiere of Stephen Adly Guirgis' searing drama In Arabia We'd All Be Kings recently netted two LA Weekly Award nominations; Back Stage Garlands for ensemble performance and David Fofi's direction; and four wins from the Los Angeles Drama Critics Circle, including outstanding production. Last year's acclaimed new play, Anything, by resident Elephant playwright Tim McNeil, was nominated for best theatrical production in the recent Gay & Lesbian Alliance Against Defamation Awards. In addition, the company recently reached a partnership deal with Michael Ritchie, artistic director of Center Theatre Group, who commissioned McNeil to write a new play to be helmed by Elephant's founder-producing artistic director Fofi, possibly to be staged at the Kirk Douglas Theatre. Besides all this, Producing Director Lindsay Allbaugh notes, "This season we are producing an entire slate of world premiere plays by company members."
Small wonder that director-actor-producer-designer Fofi appears to be walking on air. Looking back to the company's beginning, he recalls, "It started as a dream right out of college, after I graduated from California State University in Long Beach in 1995. I rented a loft downtown: the Angel City Brewery artist complex. We took about a 2,000-square-foot floor and created a 45-seat theatre and my loft, where me and two friends lived. Our home was our theatre [called Elephant Off Main]. We started with about 20 people, primarily Cal State students from different classes. When we started doing more shows and more people joined, we moved to [Hollywood in 1997]." Founding member and current managing director Don Cesario and Fofi ran the group with Fofi, renting various performing facilities in Hollywood.
In 1999 the company took over a vacant warehouse on Theatre Row to create the Lillian Theatre. Over the next few years, the partners added three additional intimate performing spaces in the building: Elephant Theatre, Elephant Lab, and Elephant Asylum. Fofi elaborates on a separate division the partners devised at that point, Elephant Stageworks: "Don and I are sort of jacks-of-all-trades; we do sets, lights, everything. We knew when we took on this big animal, we needed money to pay for everything besides our productions. Stageworks is both a rental management outfit and a consultation service.
Say someone comes into town with a play they want to act in. They can hire us, not just as a renter giving you the keys: We produce the shows, do publicity, hire the designers, and so on. We do everything we can to make sure it's the quality of work we want to see in our space." Last year, the owners of the building sold the Asylum portion of the building to a new owner, and it's now called Theatre Asylum. Elephant Stageworks still rents and manages the three other spaces.
Fofi recalls the company's tenacious journey of building media recognition and audience awareness. Strongly favorable reviews and growing attendance gradually created momentum. Fofi says a key mission for the group is a play-development resource: "Over the years, we have done a few revivals, but 80 percent of our productions have been original works. Nowadays, we mostly stick to original plays and West Coast premieres."
Among the Elephant's most well-received new plays have been the highly popular annual Love Bites anthologies; McNeil's Los Muertos and Crane, Mississippi; Robert J. Litz's One World; Louis Jacobs' Seven Redneck Cheerleaders, a spoof of the Elephant and its members; and the musical Jesus' Kid Brother, which enjoyed subsequent productions. Of the group's artistic philosophy, Fofi says, "We primarily stick to contemporary American work. I'm not opposed to doing non-American plays, but that's something others in this city — such as Zoo District or Circle X — do so well. An Elephant show can be a comedy; it can be about Iraq or about heroin. The writing can be absurdist or off-the-wall crazy, like our next play [Gena Acosta's Tooth & Nail]. I don't like to do comedy that just tries to be funny. I like comedy that's funny because it's true."
The group now must pursue grants and other sources of major funding, says Fofi. Miraculously, the nonprofit 99-Seat company has hung in for all these years solely with earnings from the Stageworks services, ticket sales, and small donations. But during and since the writers strike, rentals have slowed. Increasing activity in classes, including sessions taught by Fofi, helps somewhat. Elephant is a non-dues-paying membership company, currently numbering 75 — including actors, directors, designers, and writers. About 12 of the charter members remain.
Imagining where he'd like to see the theatre five years from now, Fofi says, "I'd love to not have to stress about the rent each month. I'd also like to pick and choose a guest production rather than doing certain ones just to pay the rent. I'd love it if the company was strong enough for me to go off somewhere else and do something. I haven't been able to pursue a directing career outside the theatre's walls." As for 10 years from now? "Maybe an Equity status and a new building, continuing and building on the Elephant heritage," he says.
Runners-up: Theatre of NOTE, Actors Co-op, Upright Citizens Brigade, A Noise Within, The Actors' Gang, Sacred Fools Theater Company