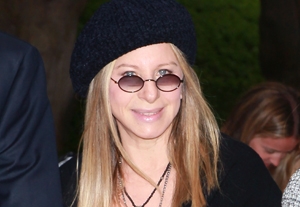 Barbra Streisand's "Gypsy" is now a go at Universal and has tapped screenwriter Julian Fellowes, an Oscar winner for "Gosford Park" and an Emmy winner for "Downton Abbey," to pen the script for the adaptation, according to
Deadline
.
Streisand will play Momma Rose and is also producing the film with Joel Silver. This will be Streisand's first shot at production and an on-screen singing role since the 1983 "Yentl." The director is yet to be announced.
It seemed the plug was pulled on the movie with Warner Bros. last year for good after Arthur Laurents, who wrote the musical's book, disapproved of finer points regarding the film. Universal was able to step in and rectify his concerns and received his blessing before his death at age 93 in May.
"Gypsy" is loosely based on the 1957 memoirs of Gyspy Rose Lee, a famous strip tease artist and her determined and overbearing show biz mother, Rose. The production first ran on Broadway in 1959 with music by Jule Styne, lyrics by Stephen Sondheim, and a book by Laurents, and has been revived four times since.  Ethel Merman, Angela Lansbury, Tyne Daly, Bernadette Peters, and Patti LuPone played Momma Rose. All five actors were nominated for a Tony award, and Lansbury, Daly, and LuPone took home the award for their performances.
The stage musical was made into a film starring Rosalind Russell in 1962, a version Laurents openly hated. It was revamped again in 1993 for a made-for-television movie, with Bette Midler as Rose.  Both women received a Golden Globe for their performances.
With the 50th anniversary of the first film remake approaching it seems like an ideal time for a remake. However, Streisand has worked to get the film produced for more than a decade and some
critics
are concerned the green light came too late as the actress is approaching her 70th birthday. Other actresses who have played Momma Rose were in their mid to late 50s when they took on the part. Streisand's most recent role was Roz Focker in 2010's "Litter Fockers"
There is no release date for Streisand's "Gypsy" yet.