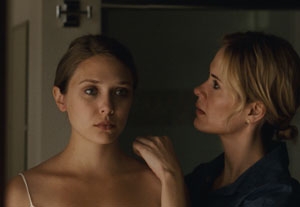 Elzabeth Olsen

Where you've seen her:
If
Elizabeth Olsen
looks familiar, it may be because of her famous siblings. Yes, Mary-Kate and Ashley are her elder sisters. But the 22-year-old Elizabeth, who made brief appearances in her sister's movies as a child, has come into her own, currently delivering a powerhouse performance on movie screens in "
Martha Marcy May Marlene
," a breakout hit at this year's Sundance Film Festival. In Sean Durkin's feature film debut, Olsen stars as a young woman who manages to break away from a cult and its charismatic leader (John Hawkes), only to find herself haunted by her past when she moves in with her sister (Sarah Paulson) and brother-in-law (Hugh Dancy).
Upcoming projects:
Since Sundance, where she also appeared in the thriller "Silent House," Olsen has become a very busy woman. She appears in the upcoming films "Peace, Love & Misunderstanding" with Jane Fonda, "Red Lights" with Robert De Niro, "Liberal Arts" opposite writer-director Josh Radnor, and "Very Good Girls" with Dakota Fanning.

An early start:
Olsen admits she has dreamed of being an actor since age 8. "I would do musical theater camp, and we'd do three musicals a summer," she recalls. "Everyone in my family had to sit through three plays every summer. I was always the quirky background girl—or maybe I just made her quirky." She went on to train at New York University, the Atlantic Theater Company, and the Moscow Art Theatre School. She credits the Atlantic, founded by David Mamet and William H. Macy, with getting her representation and early jobs. Company member Jack O'Brien cast her as an understudy in the 2009 Broadway show "Impressionism." Rhonda Price of the Gersh Agency saw Olsen's name in the program and contacted one of her clients, Kate Blumberg, who runs the Atlantic's school. "She asked about me, and Kate gave me a glowing recommendation," Olsen says, "and that's how everything started."

What's in a name?:
When she was 16, Olsen chose to wait until after college to pursue work as an actor. "I knew I would have to deal with people thinking I got a break as the younger sister," she says. "So I wanted to have lots of tools at my disposal. I felt that as long as I felt confident and comfortable with what I knew, it would all be easier." She left college, just shy of graduation, when she landed the "Martha" role. Still, she notes, "I think a lot of people think you have to jump in acting fast. But it's only because I went to college that I started working. I wouldn't have done this movie if I had not taken that path."

Beggars and choosers:
From the beginning, Olsen says, she knew she couldn't be picky: "I auditioned for everything, even if I hated it, just because nobody knew who I was and I wanted to meet as many people as possible." One script she instantly fell in love with was "Martha," and fortunately, casting director Susan Shopmaker knew her from an audition for another project. After her first audition, things moved quickly. "There was a callback, and then I was cast the next week," Olsen recalls. "We filmed about two weeks after that. They needed to figure it out fast; they pulled it all together really quickly." She admits she had no idea of the impact the $500,000 movie would have on critics and audiences. "We all knew it was a great script; it's why Sean was able to get John and Sarah and Hugh. They did the movie because the script was so strong and they wanted to be part of something they loved. We all loved it, but you never know what's going to happen afterwards. I just thought about the present and the work. I didn't know what to think beyond that. I think The Hollywood Reporter was the first review out of Sundance, and it was so exciting to read something good about a movie we all loved."
—Jenelle Riley
Yorick van Wageningen
Yorick van Wageningen in "The Girl With the Dragon
Tattoo" (Columbia Pictures)
Where you've seen him:
Yorick van Wageningen made his mark as an actor in the Netherlands—doing plays, television, and films—before coming to the U.S. and landing roles as the Guv in "
The Chronicles of Riddick
" and Captain Argall in "
The New World
."
His current project:
Van Wageningen plays lovable Dutchman Joost in "
The Way
," a film written and directed by Emilio Estevez and starring Martin Sheen. For van Wageningen, the best part of shooting the movie was that it was basically done chronologically. "You hardly ever have that in a film," he says. "We got to watch our characters grow. We developed with our characters. It was also great that the script was still very much a living idea when we started shooting—it wasn't really set. We would go down the road, and then we'd walk and Emilio would be like, 'Let's do this scene here,' and then we'd do it again in other surroundings. I had no idea, when we embarked on the film, where it would go. It was a loose, open, wonderful experience."
Upcoming project:
In the highly anticipated David Fincher film "
The Girl With the Dragon Tattoo
" (opening Dec. 21), van Wageningen plays the nasty guardian Nils Bjurman. His character and the whole shooting experience "could not have been more opposite" from "The Way," he says, but it was equally satisfying: "If Fincher would ask me to play a lampshade in his next movie, I would. I loved working with him. I'd heard some people say they had difficulty working with him on other films and difficulty with all the takes he does, but I loved it. It was so inspiring." The actor admits, however, that this role has been the most difficult of his career so far: "
Rooney [Mara]
and I had very intense scenes together. We spent weeks in a dark studio on top of each other doing these two major rape scenes, and they were frighteningly endless. It was the harshest of my career." He recently got to watch a couple of his scenes while doing ADR for the film and says he'd never felt such conflicting emotions while watching a performance of his: "It was spectacular—the way Fincher shot it—but horrendous. I kept thinking, 'Oh my God, it's so good' and 'Oh my God, it's so horrible' at the same time. It f***ed with me big-time. But, wow, it's a great piece of cinema."
Doing nothing:
Van Wageningen loves to research his characters, build backstories, and rehearse, but he has had to teach himself to throw all that away and not focus on it when the camera is rolling. "I really believe that there's something inside of us that's infinitely better at acting than whatever things we come up with," he says. "If you let that 'thing' do its thing, then I find that process is the most interesting to watch. You don't have to 'do' anything. I know, very often that's scary. I think the reason we create all those acting methods is because we are afraid of that 'thing.' Can you let it happen on a big picture set with 200 people? Where something you cannot predict comes into existence?  If you try to beat in stuff, that's immediately uninteresting. You have to have guts, especially on a big film set, to have no idea what you're going to do when somebody calls 'action'—but I think that's what it's ultimately all about."
—Jessica Gardner
Corey Stoll
Corey Stroll in "Midnight in Paris" (Sony Pictures Classics)
Where you've seen him:
Theatergoers may know Corey Stoll from his turn on the boards in such plays as "A View From the Bridge," "Intimate Apparel," and "Beast." On TV and film, Stoll has played mostly cops and authority figures, such as Det. Tomas "TJ" Jaruszalski on "Law & Order: Los Angeles." But audiences and the industry took notice this year when Stoll played Ernest Hemingway in Woody Allen's ode to literature and love, "Midnight in Paris." Whether looking for a fight, seducing Marion Cotillard, or giving life lessons to Owen Wilson, Stoll was a magnificent, magnetic presence.
Upcoming projects:
Stoll doesn't hesitate when asked if "Midnight in Paris" has changed his career. "Absolutely," he says. "It's been a big boost. In theater, there's always an assumption you can transform and be seen for a larger range of characters. Whereas in TV and film, it can be harder to convince people you're able to play this wide range. It's really opened up things a lot. It's been a very busy few months." Pressed for details, Stoll is cautious; he hopes to be able to announce something shortly. He will be seen in "The Bourne Legacy" next year but can't reveal much about his role at this time.
Landing the part:
Stoll was appearing on Broadway in "A View From the Bridge" as Marco, opposite frequent Allen muse Scarlett Johansson. One night during his curtain call, Stoll spotted Allen in the third row. After the show, Stoll met him backstage, and the next day Stoll got a call for a meeting. "The actual audition was so much more normal than I was sort of expecting," he admits with a laugh. "I showed up, and we talked about the play; he was very complimentary, and he said, 'We'd love you to read for something.' Then his assistants got me some sides as Hemingway." With no context for the scenes, Stoll was a little lost. "I didn't know if this was a period piece, a hallucination, or just some dude named Hemingway." He only had five minutes to prepare, which he believes was a blessing. "I think if I had had more time to prepare, I would have talked myself into being incredibly nervous." He nailed the role after just one audition and found himself alongside Oscar winners such as Kathy Bates as Gertrude Stein and Adrien Brody as Salvador Dalí.
Playing Papa:
Though he'd never been told he looked like Hemingway, Stoll noticed a resemblance shortly before meeting Allen. Another director was working on a script set in Hemingway's era and expressed interest in Stoll for a different role. "I read the script and said, 'Hemingway—that's the part!' " the actor recalls. "So I started doing some research, and I was like, 'I kind of look like this guy! I even sent the director pictures of me in a wig and said, 'See I look like him!' " But before that project could get started, "Midnight in Paris" came calling. "It was such an incredible bit of luck that I happened to be in this play and a wig and period clothes playing this incredibly macho person right as Woody was casting the role," Stoll says. "I've been pinching my arm for the last 18 months." When it came to playing the role, Allen told him not to worry about concentrating on biographical details to create a realistic portrayal. Says Stoll, "He was really more concerned with creating that mythic, iconic character you get from his writings. So I just read and read and read Hemingway. 'Green Hills of Africa' was the one he really recommended, so I started with that. It was a great couple months where I just got to read this great writing and marinate and stew in it and let his voice wash over me."
—Jenelle Riley
Chris O'Dowd
Chris O'Dowd in "Bridesmaids" (Universal)
Where you've seen him:
Though he had appeared in films like "Pirate Radio," "Dinner for Schmucks," and "Gulliver's Travels,"
Chris O'Dowd
was best known for the BBC comedy "The IT Crowd." That all changed this year with his winning turn in "Bridesmaids," as the lovable police officer who falls for Kristen Wiig's character.
Upcoming projects:
O'Dowd will reteam with his "Bridesmaids" co-stars Wiig, Jon Hamm, and Maya Rudolph in "Friends With Kids," an ensemble comedy-drama from writer-director-star Jennifer Westfeldt. But in this film, Wiig's and Hamm's characters are unhappily married, while O'Dowd is navigating parenthood with Rudolph, who plays his wife. He's also signed on to appear in Judd Apatow's next film, "This Is Forty," with Melissa McCarthy and Jason Segel.

Winning "Bridesmaids":
O'Dowd isn't confident that he was ever formally offered the role in "Bridesmaids." After his first audition, he met with Apatow, who produced the film, and they "had a nice chat," the actor says. "At the end of the meeting, he said, 'Yeah, I think this is going to be fun. I think you're going to enjoy yourself.' So I kind of realized I must have got it. There was no point where they actually said, 'You're doing the film.' It was weird, but I was too excited to care." But O'Dowd says he often shines more in auditions than in working environments: "I always feel like I have nailed the whole idea of being in a room for 20 minutes. Four months on set, I'm a pain in the arse. But in 20 minutes, people don't get bored of me."
Coming attractions:
Though known mostly for comedy, O'Dowd trained at the London Academy of Music and Dramatic Art and has appeared in such films as "Vera Drake" and the British miniseries "The Crimson Petal and the White." Are there any other genres he'd like to tackle—maybe, say, a villain in a James Bond movie? "I literally wouldn't know how to act in one of those movies," he says with a laugh. "How do you perform in films where it's very serious and yet at the same time someone is sitting with a cat on their lap? If I was going to be a Bond villain, I would literally have to be stroking a cat to keep my mind off what I was doing." Actually, his dream is to appear in a musical—but a believable one, along the lines of "Once." Mention a sequel to "Bridesmaids" and inspiration strikes. "Wait, let's do 'Bridesmaids 2' as a musical!" he exclaims. "Could you write that this is confirmed, just so I can see the look on Judd's face?"
—Jenelle Riley
Kit Harington
Kit Harington in "Game of Thrones"
Where you've seen him:
Kit Harington has had two jobs since graduating from the University of London's Central School of Speech and Drama in 2008. The first came when he landed the lead role of Albert Narracott in the Royal National Theatre's London production of "War Horse"—the play that would go on (without Harington) to win a Tony in New York and be turned into an upcoming film by Steven Spielberg. The other job made him recognizable to American audiences: playing Jon Snow—aka the Bastard—in HBO's megahit fantasy series "Game of Thrones." As the illegitimate son of Lord Eddard Stark (Sean Bean) who joins an order of chaste warriors guarding the kingdom's dangerous Northern border, Harington carries one of the show's most exciting and intriguing Season 1 story lines. He gets no nookie (remember, chaste), but he easily has more fight scenes than any other actor on one of TV's bloodiest franchises.
Next up, more "Game":
Harington is in the process of shooting Season 2, which will air next year. He will also be reunited with Bean in the upcoming film "Silent Hill: Revelation 3D."
Ye olde training:
Like so many British actors who make their way to American screens, Harington was trained for the stage. "Getting into the so-called top drama schools in London is very, very difficult," he says. "It's like landing one of these jobs once you get out." Thousands of prospective students apply, but only dozens of spots are available. He describes the auditioning process as rigorous, noting that he went through four or five auditions at Central before being accepted. "Generally, with drama schools in England, it's about making sure that you prepare first and foremost. So many people go to these auditions thinking that they can get in off the back of having some sort of talent."
Fighting words:
Harington credits fight coordinator Buster Reeves for getting him through the seemingly endless number of scrapes that Jon Snow finds himself in. "Luckily I had done a course in fight training at drama school, so I was kind of used to doing this sort of work," he says. "That's the stuff I really look forward to. I really like the physical side of filming, doing your own stunts when you can, doing the fights. It's a lot of fun."
Fan boy:
Even before landing the role on "Game," Harington was a fan of HBO's original programming. "The two that I really fell in love with were 'The Sopranos' and 'The Wire,' " he says. "Those are two iconic TV shows, and brilliantly acted, brilliantly written." At the moment he's making his way through "In Treatment" and "Boardwalk Empire." "I think there's very little that HBO does which isn't good and thought-provoking."
—Daniel Holloway
Brit Marling
Brit Marling in "Another Earth" (Fox Searchlight)
Where you've seen her:
Brit Marling
was a darling of this year's Sundance Film Festival, where she showed up with not one but two movies that she starred in, co-wrote, and co-produced. In "
Another Earth
" Marling plays Rhoda, a gifted high school student whose life is altered by a tragic accident and a bizarre scientific discovery. In "
Sound of My Voice
" she plays Maggie, a cult leader.
Next up:
Marling will appear alongside Richard Gere and Susan Sarandon in "Arbitrage," a thriller set in the world of high finance. She has also been cast in Robert Redford's next directorial outing, "The Company You Keep," about a former Weather Underground militant on the run.
De-occupying Wall Street:
In high school, Marling took theater classes but chose not to pursue further training in college. I didn't know what I had to offer Chekhov," Marling says. "I didn't feel like I had enough life experience." She settled on economics and worked her way up to class valedictorian status—though she stayed with acting, creating short films with her friends in her spare time. After graduation, she took a job as a banking analyst at Goldman Sachs. But she soon decided that the world of making lots and lots of money was not the world for her. "I had this sense when I was working at the bank that I could measure out my life in coffee spoons," she says. "I knew exactly where I was going to be in two years, three years, what would happen, how my salary would change—and it wasn't me."

Other people's material:
With her writing and producing bona fides established, Marling is being lauded as the entertainment-industry equivalent of a five-tool baseball player. But she has been happy to be working lately on projects that allow her to focus just on acting and not on every other aspect of the project. "You come to set, you do your job for a couple days, and then you go home," Marling says, recalling an episode of NBC's "Community" she shot last year. "As I was leaving, I thought, 'This is amazing. I don't have to find the money for the sound mix.' It's liberating."
—Daniel Holloway

Logan Lerman
Logan Lerman in "3 Musketeers" (Summit)

Where you've seen him:
A professional actor since age 5, Logan Lerman began his film career as the youngest son of Mel Gibson's character in "The Patriot" and as the young version of Gibson's Nick Marshall in "What Women Want." Lerman later landed the title role in "Percy Jackson & the Olympians: The Lightning Thief." On the small screen, he portrayed Bobby McAllister in the WB's short-lived "Jack & Bobby." But it is 2007's "3:10 to Yuma" that Lerman is most proud of to date. "That role was the most fulfilling creatively," he says. "I just really loved it. I'm proud of all the work I've done. They're all tremendously hard and wearing experiences—each movie is special for different reasons. I was just really satisfied with the way '3:10 to Yuma' turned out."
Upcoming projects:
Director Paul W.S. Anderson offered Lerman the role of D'Artagnan in his 3-D version of "The Three Musketeers" without an audition. "I was in complete shock, because it was the first time that's ever happened to me," the actor says. Because he never read for the part, he was nervous about the performance Anderson was expecting. "It was weird, like I didn't earn it in a way," Lerman says. "It was a little nerve-racking, but it was very flattering and an honor at the same time." He recently wrapped production on "The Perks of Being a Wallflower," which will be released in 2012. "That was a script I read a while ago and was really passionate about and worked really hard at attaching myself to," Lerman says. "The fact that we finally made it and it's going to be coming out, hopefully soon, is just—it means a lot to me. I really loved the story and the message." He will also soon star in "The Only Living Boy in New York," which starts filming this fall.
Hard work:
Lerman prepares for a role by working hard to create the most comfortable environment possible, so he can get "outside his head" and still stay in character. "There's a lot of work that goes into it," he says. "It's building that artificial comfort on set, not only for you but for the rest of the cast and crew, so that you can keep that comfort level there while you're working, which enables you to play around and be spontaneous and try something new and different and trust your instincts."
Persistence and focus:
"I think the key to being an actor is learning to move on," Lerman says. "I have a great ability to forget the bad experiences and embarrassing audition stories. It's very important for an actor to just keep the blinders on and focus on the future and what's ahead of you. Persistence. Focus on what's ahead of you, don't dwell on the past, and put the effort into making your next audition or your next role or whatever it is as rich as possible."
—Jessica Gardner
Amber Heard
Amber Heard in "Rum Diary" (Photo by FilmDistrict)
Where you've seen her:
Austin, Texas, native Amber Heard, who began her career with a role in the film "
Friday Night Lights
," has been seen more recently with Nicolas Cage in "
Drive Angry 3D
," as the lead in John Carpenter's thriller "
The Ward
," as Penn Badgley's girlfriend in "
The Stepfather
," as Jesse Eisenberg's doomed-to-be-a-zombie neighbor in "
Zombieland
," and as the lead in the recently canceled NBC series "
The Playboy Club
." After film roles, being on the set of a TV series was "intense" for Heard. "I'm so accustomed to working with a group of people intimately for a very short amount of time and having it be a very concentrated experience and then having it just basically dissipate at wrap," she says. "For me to be here for over half a year, working with the same people and building relationships, both onscreen and offscreen—no matter what happens with this series, I will have walked away with the kind of training I could get nowhere else."
Upcoming projects:
Heard stars opposite Johnny Depp and Aaron Eckhart in "
The Rum Diary
" as Chenault, a character she says is loosely based on the real-life longtime partner of writer Hunter S. Thompson. "I did a lot of research on her and the life that she and Hunter S. Thompson were living when the book was written," Heard says. "I did a lot of research on the world that surrounded them and the mentality they went into that world with. I also did a lot of research on this classic leading-lady archetype that we were playing off of. I watched a lot of classic movies and put a lot of time into exploring that archetype."
Depp perception:
"Getting a job opposite Johnny Depp does come with a lot of expectations," says Heard. "That's quite a reputation to start a relationship on. I could have never guessed, but it was more than I could have ever expected."
The best acting class:
"Life has been the best acting class," Heard says. "There's so much to learn [about acting] and in fact the more I work and the more I know, the more I am acutely aware that there is so much more to learn. I think acting isn't about one particular decision or craft or method or mode of operating. Acting, in many ways, is the combination of all of the above and the abandonment of all of the above."
—Jessica Gardner
Patrick J. Adams
Patrick J. Adams in "Suits" (USA)
Where you've seen him:
While forging a growing film and TV career,
Patrick J. Adams
, who hails from Toronto, also remains devoted to theater. He appears in plays in development during the Ojai Playwrights Conference's annual summer seasons, where he has forged a simpatico working relationship with playwright Bill Cain. Adams repeated his lead role in Cain's "Equivocation" when it premiered at the Geffen Playhouse in Los Angeles last year. Adams and fellow graduates of the University of Southern California acting program produced Peter Weiss' "Marat/Sade" as a guest production at Sacred Fools Theater, which Adams directed, earning a production win from the L.A. Weekly Theater Awards. Among his several films are "Old School," "Weather Girl," and "Rage." Among his many television gigs are "Lost," "N.C.I.S.," and "Lie to Me." He recently concluded his first season on USA's "
Suits
," a bromantic legal drama co-starring Gabriel Macht, in which Adams sparkles as a gutsy wet-behind-the-ears attorney.
Upcoming projects:
Adams recently faced what he considers one of his most daunting challenges: acting opposite Dustin Hoffman in the new HBO series "Luck." The initial episodes will air in January. "The biggest challenge for an actor, I think, is believing that once you get that great job, you deserve it and you're ready for it," Adams says. "Someone like Hoffman has done this long enough that he doesn't buy fear and doubt. He demands your attention every minute. I had to put a lot of my crap away and tell myself, 'I belong here. I'm ready to work with you. And I'm terrified to work with you. But that's okay.' " Meanwhile, wanting to keep himself challenged between the fine TV assignments, Adams is playing the real-life role of Pvt. Daniel Reeves in Cain's psychological thriller "9 Circles" at L.A.'s Bootleg Theater, through Nov. 12. Cain wrote the role for Adams, who says, "It's by far the biggest stretch for me onstage. It's a very physical piece. Bill has this uncanny ability to mix tragedy and comedy."
Breaking in:
Following his 2004 graduation from USC, Adams enthusiastically accepted an internship at L.A.'s Mark Taper Forum, where he says he "got coffee, made copies, and often walked by the rehearsal room, poking my head in and thinking how great it would be to be a part of all that." When casting director Amy Lieberman was reading actors for the role of the gay son in the Taper's 2005 L.A. premiere of Edward Albee's explosive drama "The Goat, or Who Is Sylvia?" she initially resisted Adams' suggestions that he might read for it, believing he wasn't quite ready. She eventually relented; he read and landed the plum part, alongside veteran actors Brian Kerwin and Cynthia Mace. Says Adams, "After 'The Goat,' I said to myself, 'This is it. It's all going to roll along from here. I have this actor thing figured out perfect.' " He got a quick reality check when he didn't work for about half a year. "I went back to all the normal stuff any actor has to go through. But 'The Goat' gave me a lot of faith in myself and my ability."
His philosophy:
"For me, it's all about making choices and finding projects that bring new challenges that keep terrifying me," Adams says. "Producing and acting in '9 Circles' was the scariest thing I could think of. We'll see what else is terrifying once this is over."
—Les Spindle
Miles Teller
Miles Teller in "Footloose" (Paramount)
Where you've seen him:
Currently dancing his way into theaters and stealing scenes as Willard in "Footloose," Miles Teller started his professional career with a bang, booking a role in the film "Rabbit Hole," with Nicole Kidman. As an NYU senior nearing graduation, Teller had just seen "Hedwig and the Angry Inch" when his manager called with the "Rabbit Hole" audition, and Teller was excited to meet director John Cameron Mitchell (who wrote, directed, and starred in "Hedwig"). When Teller saw Juliette Lewis in the waiting room, he knew it was "a big audition," he says. Afterward, his manager told him to expect a call from Mitchell with notes, but the call didn't come. Then, while Teller was on a lunch break from shooting a student film with his buddies, Mitchell called—not to give notes but to personally offer him the role. "It was pretty surreal," Teller says.
Upcoming projects:
Teller is currently shooting "21 and Over," a comedy by Jon Lucas ("The Hangover") about a medical student who goes out partying with his friends the night before his big exam. "Project X," about a group of high school students throwing a party that gets out of hand, is in postproduction.
Switching roles:
Teller is making a habit of booking a different role than he was originally called in for. For "Footloose," he was called in for the lead role of Ren, but casting director Laray Mayfield "thought I'd make a pretty good Ren, but if I could do a Southern accent," Teller says, "then she thought I'd make the perfect Willard." So she had him come in and read with the Ren who was screen-testing, and that screen test booked him Willard. For "21 and Over," Teller was called in for the part of Casey, the handsome romantic lead. After reading the script and getting the callback, he decided the role he was really perfect for was the more comedic Miller. So at the callback, he told the producers, "Look, I know you had me coming in as Casey, but I'm 100 percent your Miller, so I'm going to read for Miller." And after that audition, he booked the role.
Repeat performance:
Although Teller still hasn't seen the original "Footloose" in its entirety, he was quite familiar with the role when he was cast. Willard was the first part he played when, in high school, he entered the world of acting. He was contemplating a career in sports journalism when a friend convinced him to audition for the musical the new drama teacher was putting on. Teller got the role of Willard, and his friend got the role of Ren. For the film, Teller says, "I was just excited to revisit the character, because I loved him so much when I did the play in high school." He also drew from his character's backstory in the play to create the role in the movie. Teller approaches every part differently but says the most important thing is to connect truthfully to the character: "From there, you start building on different things—mannerisms and maybe the voice, how they walk. The more stuff you can give yourself, the better. [But] try to build it honestly. If you can't believe the stuff you're saying, then nobody else is going to believe it."
—Melinda Loewenstein
Krysten Ritter
Krysten Ritter in "Breaking Bad" (AMC)
Where you've seen her:
Krysten Ritter
is probably best known for her memorable arc in Season 2 of "Breaking Bad," playing Jane, a tattoo artist and recovering heroin addict who gets involved—romantically and criminally—with Aaron Paul's Jesse. She also starred in last year's comedy "She's Out of My League," playing the sardonic best friend of Alice Eve's Molly. She's done multiepisode arcs on "Gilmore Girls" and "Veronica Mars," as well as a number of small indie films.
Upcoming projects:
You're about to see Ritter's image on billboards and bus depots across the country. That's because she's one of the leads in the ABC comedy "Don't Trust the B____ in
Apartment 23
." set to premiere in January. The "B" in question is her character, Chloe, a professional grifter who makes her living by taking on roommates and summarily parting them from their last month's rent and security deposit by being so horrible to them that they move out in a week. In the pilot, her newest mark, June (played by Dreama Walker), wins her respect by fighting back, and Chloe decides that June's friendship might be more valuable than her rent money. The pilot is funny. Like, very funny, and Ritter is its comedic cynosure: a pitch-perfect combination of vivacity, audacity, and, well, bitchiness. You can also catch her in Amy Heckerling's vampire rom-com "Vamps," alongside Alicia Silverstone and Sigourney Weaver, set to be released next year. But currently Ritter appears in Nick Hamm's "Killing Bono," based on the true story of Irish rock band U2, which opened earlier this month.
On being the lead:
Although she was the lead on last year's short-lived Starz series "Gravity," Ritter notes that "Apartment 23" is "just so much bigger than anything I've done." But the "Gravity" experience taught her a few things about being at the top of the marquee. As a lead, she says, "it's important to be grateful and present and work hard and show up prepared, because all of these people have a job and everyone's affected if I show up and don't know my lines, which would never happen—because I'm a psycho professional actor—but, God forbid, if I did, that affects everybody." She has also taken cues from other leading ladies on the importance of on-set demeanor. "You're the lead of a show, you set the tone, you set the energy," she says. "And energy spreads like wildfire. I remember doing 'What Happens in Vegas' and thinking, 'Wow, Cameron Diaz is so amazing and so fun to be around, and everybody is so happy, and I feel like it's coming from the top, it's coming from her.' "
Sweat equity:
If she weren't an actor, writer, producer, model, and singer-guitarist in a band, Ritter says, "I think I would be a spinning instructor. I love spinning; it's just a blast. I went to the YMCA recently with a friend, and the teacher didn't show up. I had my iPod with me, and I was like, 'I want to spin! Does anybody else want to stay?' So I got up there and taught the class, and it was probably the most fun I've had at the gym ever." Note: Even in her alternate-profession universe, she's still performing for an audience.
—Pete Keeley
Jean Dujardin
Jean Dujardin (Getty Images)
Where you've seen him:
Unless you're a hardcore fan of French cinema, odds are you're not familiar with the dashing and talented
Jean Dujardin
. But he has starred in dozens of films in the last decade, including the comedy "OSS 117: Cairo, Nest of Spies," for which he was nominated for the César Award, France's equivalent of the Oscar.
Upcoming project:
Dujardin might soon have that Oscar nomination, the result of his winning turn as George Valentin, a silent-movie star who falls on hard times thanks to the advent of talkies, in "
The Artist,
" due in theaters Nov. 23. The film marks his third collaboration with writer-director Michel Hazanavicius and Hazanavicius' wife, Bérénice Bejo, who plays Valentin's love interest, rising star Peppy Miller. The film was a hit at the Cannes Film Festival, where Dujardin scored the coveted best actor award.
Quiet, please:
"The Artist" is not only set in the silent film era; it's a silent film—even shot in black-and-white. Dujardin says acting in a silent movie concerned him, but something else was even scarier. "Michel and I have always worked in comedies; this would be a melodrama," he says. "So I had a bit of anguish about that too." Hazanavicius gave him a crash course in silent movies from the greats, like Buster Keaton and Charlie Chaplin. "He showed me different movies and told me to inspire myself here and there," Dujardin notes. "But it wasn't just silent films. I watched 'Singin' in the Rain.' And some Italian movies, where they use lots of gestures to communicate." Though Dujardin often uses his body to help him get into a role, he says, he was also wary of overdoing it. "I think sometimes we feel like we're not acting enough, so we try and compensate with our body and these broad reactions."
The natural:
Dujardin says he got a late start as an actor, only realizing his calling at age 24. He has never had any formal training, other than "a bit of an improv course I took around age 16 for fun." He adds, "I always hated school, so I wouldn't have benefited if I had gone to a school. It was really all instinctual." His big break came as part of the comedy group Nous C Nous on the talent show "Graines de Star" in 1996, which he followed with four years on the TV series "Un Gars, une Fille" ("A Guy, A Girl"). He then broke into films as the title character—a goofy surfer—in the 2005 comedy "Brice de Nice."
Crossing over:
With buzz growing for "The Artist," surely Dujardin has been offered American movie roles? "You need to ask my agent," he responds, nodding to his brother, Marc, who has represented him from the beginning. "Yes, we've had a few proposals," Marc confirms. "They're very specific, and it's slow going, but they are coming in." But the actor isn't concerned about where his next movie shoots, just that it's a good story. "Doing an American film is not an aim itself," he says. "But if there are some good proposals that come my way, I would be open to it. It all depends on the material."
—Jenelle Riley
Juno Temple
Juno Temple in "Dirty Girl" (Weinstein)
Where you've seen her:
The hawk-eyed will have spotted Juno Temple as early as 2006, when she played the young daughter in "Notes on a Scandal," opposite Cate Blanchett. Following that, Temple appeared as the precocious teenage cousin in "Atonement." More teen roles followed, including those in the "St. Trinian's" series and in "Cracks," both set in British boarding schools. She later played the partying girl who tries to lure Roger Greenberg (Ben Stiller) to Australia in "Greenberg."
Current projects:
In the dramedy "Dirty Girl," the British-born Temple disappears into the title role of Danielle, an Oklahoma teen in need of attention and reconciliation with her biological father. The actor disappears again in "Little Birds," once more playing a wayward American teen. This week, she'll be seen as Queen Anne in the latest big-screen version of "The Three Musketeers." And she impressed audiences at the Toronto Film Festival with her turn as a childlike innocent in "Killer Joe," set for release next year. Also in 2012, she'll appear as Catwoman's friend in "The Dark Knight Rises," the final film in Christopher Nolan's trilogy.

How she keeps it fresh:
Temple would rather learn her lines the night before filming a scene than have the entire script memorized. "It's like your one shot," she says of committing to each day's work one day at a time. "In real life you don't have seven takes to do something, so you need to think of it as: You've got one take. It's your love affair with someone, and then you're going to jump off a building. It's your final goodbye, 'I love you,' and then you're gone. Luckily with film, you can rewind and go back, but I think you have to approach it like that."
Memorable acting lesson:
She says she was given invaluable advice by her "Atonement" director, Joe Wright, for her big scene opposite Saoirse Ronan. "I really had to cry, and I couldn't cry," Temple recalls. "And he figured out how to make me cry. And he made me cry. And then I couldn't stop. I was 16, and I just could not turn off the waterworks. And he was like, 'Come on, let's go for a little walk.' We sat on this tractor/lawnmower thing. And he just went, 'Hey, remember you're crying about a character here. This isn't about Juno. You can touch on some Juno stuff, but this is about Lola right now.' And ever since that, I can turn off the waterworks. I probably need 10 minutes to calm myself down, but that was a really important piece of advice that I got."
In the moment:
"I had an amazing moment in 'Little Birds' where I was shooting a scene with Kyle Gallner, and we both have this moment where we were like, 'Oh, my God, I completely forgot there was a camera there,' " Temple says. "The scene he finds the scars on my legs and he's telling me about his cat, it was a pretty intense scene to shoot. And the scene with Tim McGraw [who plays Danielle's father] in 'Dirty Girl' was an intense scene for me. And then afterwards with Milla Jovovich [who plays Danielle's mother], that was one of the best hugs I've ever been given in my life. I love that woman. Those are the moments you go on set for. You don't expect them every day. Sometimes it just happens and you forget where you are, forget who you are."
—Dany Margolies
Felicity Jones
Felicity Jones in "Like Crazy" (Paramount Vantage)
Where you've seen her:
The British-born Felicity Jones won the attention and the hearts of American audiences with the 2007 "Masterpiece Theatre" production of "Northanger Abbey," in which she played Jane Austen's naive fan of the pop novels of that era. Jones was so right for the role that screenwriter Andrew Davies commented to Back Stage, "I was almost disappointed to find out that in real life she was much more sophisticated and intelligent and grown-up and educated, because it was just such a delightful performance." Jones also played the youngest sibling in the 2008 remake of "Brideshead Revisited" opposite Emma Thompson and appeared as Miranda opposite Helen Mirren in Julie Taymor's 2010 film "The Tempest."
Her current project:
Jones stars in Drake Doremus' film "Like Crazy." She plays Anna, a British college student who falls in love with and eventually marries an American classmate (Anton Yelchin) and who is prohibited from returning to the U.S. after overstaying her student visa. As Anna, Jones is by turns vivacious, dazed, deluded, tenacious, and ultimately heartbreaking.
How she landed the role:
It helped that Jones fell in love with the role while first reading the script, deciding it would be "horrific" and "a great loss" not to play Anna. So she put herself on tape, filming three scenes in her London apartment. She recalls, "I thought, 'There's no way I'm going to get this part,' because [Doremus] wanted to see the actresses in L.A. and I was in London. But I thought, 'Well, if I try to make a tape that shows him that I'm completely insane and would be insane enough to do the role, then perhaps he might cast me.' Luckily I sent the tape, and two days later he said, 'I know I'm not going to be able to meet you, because we have to start shooting in a week's time, but I'm going to take a gamble and bring you out to Los Angeles, and would you play the part of Anna?' I said, 'Yes! Of course!'"
What she has learned from working with the greats:
Having starred opposite acting royalty, Jones says she has learned by watching. "And I think the greatest thing you can learn is to try to relax and be quite Zen about it, and that you can't control everything that happens as an actor. You're not ultimately responsible for what happens in the editing room, so you can't beat yourself up about it. You go in and do the best of your ability and try to be truthful and interesting and original. But then you have to let it go at the end of the day. And the great actors I've worked with seemed to have that philosophy. I guess it's something that comes out of experience. But that's something I'd like to learn to do: not to punish yourself and not be too hard on yourself."
Her own process:
Jones says she prefers having as much time as possible to prepare a role, to live with the character as long as possible before the start of filming. "I find I have quite an academic process, initially, to understanding a character," she says. Then she'll discuss her character with her director in the weeks before shooting, but once she's on the set, "I feel as though the character should have taken on a life of their own. And unless you're going seriously wrong, when it's working it doesn't need a lot of discussion. Actually, sometimes discussion can be detrimental." And when the shooting day is done, she likes a hot bath.

—Dany Margolies
Jonathan Banks
Jonathan Banks in "Breaking Bad" (AMC)
Where you've seen him:
Jonathan Banks is "that guy," appearing in a legion of movies ("48 Hours," "Beverly Hills Cop") and television series ("Wiseguy," "Dexter," as Ed O'Neill's brother on "Modern Family"). The Washington, D.C., native often portrays hardened characters you do not want to cross. On AMC's critically acclaimed "Breaking Bad," Banks plays Mike Ehrmantraut, the enforcer for drug kingpin Gus Fring (Giancarlo Esposito), and has received accolades for his portrayal of the morally ambiguous character.
Upcoming projects:
After being in the business for more than 40 years, Banks is quite pleased with his career. "I'm having such a good time and I feel so lucky," he says. He also makes more time for his family now. "I used to always try to do two plays a year. But when my twins were born 17 years ago, I realized that I truly enjoy staying home." He will reprise the role of Mike in the final season of "Breaking Bad," which will commence production in early 2012.
Breaking in:
In high school, Banks would often peek through the gym's windows to watch students rehearsing plays: "I thought, 'I want to do that so much, but that's for the smart kids. I can't.' " One day, he was standing in a hallway with friends and, he says, "Ms. Cartwright, a history teacher that directed all the plays, yelled halfway down the hall, 'You know what, Banks? You're a chicken. I see you looking through that window all the time. How come you don't audition for the junior-class play?' Then everyone laughed." Banks auditioned and garnered the lead in the school's production of "The Devil's Disciple." "And with that, I was hooked forever," he says. He studied theater at Indiana University Bloomington, where he was classmates with Kevin Kline. Banks recalls, "Kevin would always play someone handsome. He would be Prometheus, and I would be the slug down under the rock."
Villainous appeal:
After college, Banks transitioned from stage to screen but did not change his approach to characters. "People may disagree with me," he says, "but my kneejerk reaction was it's exactly the same [process]. You be true to the character." In 1984's "Beverly Hills Cop," Banks played a villain, then continued to have roles on either side of the law. "I've always loved being the bad guy," he says. "Often they're more colorful and so much fun to do." Despite playing pugilistic and intimidating characters, Banks confesses he is not much for fighting. "I'm really a poor fighter and lost most of the few fights I've been in. So if people are scared of me, it doesn't bother me at all," he jokes. In 1989, he received an Emmy nomination for playing Frank McPike on the TV show "Wiseguy." That role also helped him land, about 20 years later, "one of the best jobs I've ever had," he says. Banks explains that the creator of "Breaking Bad," Vince Gilligan, and one of its writers and producers, Tom Schnauz, "would watch 'Wiseguy' religiously. They knew me from that, and it led to me being hired."
Rewarding persistence:
Banks is grateful for the longevity of his career, especially when he remembers his earlier trials: "When I was about 26, I was living on West 88th between Columbus and Amsterdam. It wasn't terrible, but it wasn't gentrified in 1973. I didn't have the $8 it cost to take the bus home [to Washington, D.C.]. I had child support payments, and I thought, 'What have you done with your life?' " Banks encourages young actors not to give up, despite the challenges or the success of others. "Keep your chin up," he advises. "Every once in a while there's somebody who just sails and it's easy. But for most of us, to be really trite, it's a humbling experience. Doing anything in the arts, I just always feel that's a life well-lived, no matter how down you feel or how much you feel like you've been punched in the gut. You're doing the right thing."
—Frank Nestor
Shailene Woodley
Shailene Woodley in "The Descendants" (Fox Searchlight)
Where you've seen her:
Shailene Woodley has done time on such series as "The O.C." and "Crossing Jordan" (on which she played the young version of star Jill Hennessy). But she is likely best known for her regular role as teen mom Amy Juergens on the ABC Family series "The Secret Life of the American Teenager."
Upcoming project:
Woodley landed the coveted role of Alexandra, the eldest daughter of George Clooney's land baron, in "The Descendants" (opening Nov. 18), Alexander Payne's first feature film since 2004's "Sideways." Woodley initially read the screenplay before knowing that either Clooney or Payne was attached and was instantly drawn to it. "I fell in love with the script," she says, "the kind of love an artist has when they're painting, the kind of passion that fuels your soul." As the bright but rebellious Alexandra, she is winning raves—as well as early Oscar buzz. "I can't even begin to think about that," she says. "All this is a day-by-day thing. I'm just taking it all in stride."
Meeting George:
Woodley won the role after only two auditions and didn't meet her onscreen father until the first table read. "Going in, I was never intimidated," she says. "I was just excited to work with a great actor. But when he walked into the table read, my heart started pounding, and I started spritzing a little bit, and I was like, 'Oh my God, that's George Clooney!' But he came up to me and gave me a big hug and said welcome and instantly made me feel at home. The intimidation was gone." The two share several intense scenes, as Alexandra accompanies her father on a journey to find his wife's secret lover. "I had a big fear of not doing the best I could do. I wanted to be fully present," she reveals. "But working with Alexander Payne and George Clooney, who are the two most down-to-earth people in this entire industry, made it possible. They gave me everything I needed to get there."
Filming in paradise:
Woodley has been studying acting almost her entire life and has worked with several teachers. "I like to move around and explore new territory," she says. "The Descendants" gave her an opportunity to literally explore another area: The film was shot on location on the Hawaiian islands of Kauai and Oahu. "Hawaii has an energy nowhere else has," she says. "The day I landed, there aren't even words; I just instantly became centered. I am eternally grateful to those islands and their beauty. It's home. My body is everywhere else, but my heart is always in Hawaii, especially Kauai."
—Jenelle Riley
Rebel Wilson
Rebel Wilson (Getty Images)
Where you've seen her:
Australian actor Rebel Wilson's first job in America was in "Bridesmaids," playing the splashy role of Brynn, Kristen Wiig's character's cheery roommate, who thinks nothing of hopping into a stranger's van and getting an enormous worm tattoo—after all, it was free. (Interesting side note: The tattoo was originally going to be a hip-hop Garfield, but the rights wouldn't clear.) Wilson initially went out for the role that went to Melissa McCarthy, but, she says, "I guess I was good enough that they thought they'd just add me in somewhere." At first, Wiig's character was going to have only one roommate, played by Matt Lucas. After Wilson's audition, Lucas' character got a sister.
Upcoming projects:
Wilson is so busy, even she loses count of her future films. "I think I have seven movies coming out next year," she notes. These include "Struck by Lightning," in which she plays the best friend to Chris Colfer's character; the musical "Pitch Perfect" and the ensemble comedy "What to Expect When You're Expecting." Continuing the wedding theme, she will appear in the films "A Few Best Men" and "Bachelorette," in which she gets to be the bride. From "Bridesmaids" to "Bachelorette"? Wilson knows what you're thinking. "I'm sure comparisons will be made, but they're very different movies," she says. " 'Bachelorette" is actually a lot darker and more dramatic." Most of her scenes in that film are with Kirsten Dunst, whom Wilson adores. "I love 'Bring It On,' and every day I would just ask her questions about it. I think she got annoyed by it at some point." Wilson also has a deal with Warner Bros. and is writing a pilot for herself to star in.
Creating a career:
Wilson attended the Australian Theatre for Young People but says she had a tough time breaking into the industry. "I couldn't get an agent; I'm not a traditional leading lady, so people didn't know how to cast me," she reveals. "So I started writing my own plays and putting them on." Her first play, "The Westie Monologues," was a huge success and led to the cult comedy series "Pizza" and the sketch show "The Wedge." She created, wrote, and starred in the musical comedy series "Bogan Pride," which caught the eye of agents and casting directors in Los Angeles. She soon signed with William Morris Endeavor and began auditioning. She was about to take a role on the series "Party Down" as the girlfriend of Ron Donald (Ken Marino), but her work visa wasn't ready. "I was so upset," she recalls. "I thought I would never get another offer. Then 'Bridesmaids' came along, and that wasn't too shabby."
Make 'em laugh:
Wilson says it can be harder for women to break into the tough world of comedy. "I feel like sometimes we need to work harder and have better jokes, but that's fine," she says. " 'Bridesmaids' just helped prove that women can be hilariously funny and there should be more female ensemble comedies." The weekend "Bridesmaids" opened, Wilson caught a show at the local theater and found herself mobbed afterward. "It took 19 minutes just to get out of the cinema," she says with a laugh. "That's when I thought, 'Well, maybe I have a career here.' "
—Jenelle Riley