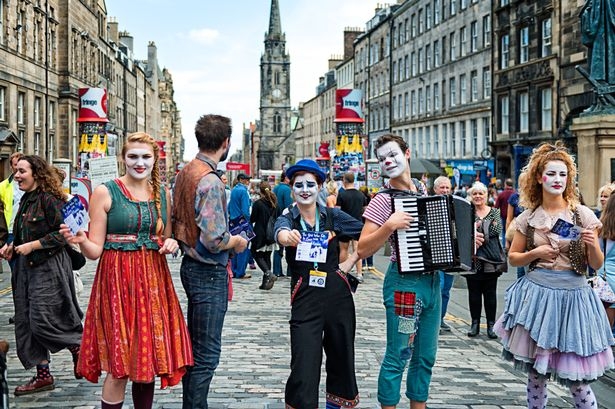 Hello and welcome to the Backstage round up of the most important news from across the industry. With the Edinburgh Festival closing it's metaphorical doors after another bumper year, we'll be checking in with one producer who thinks more needs to be done to look after performers there. We'll also be looking at the stars backing a new scheme to provide free places at British drama schools and those calling attention to the 'politically motivated' arrest of Russia's leading theatre and film director. But first, there's news from the London Film Festival.
Not enough women in Venice, too many in new "Lord of the Flies".
Just a day after the Venice Film Festival was criticised for not reflecting the work of women in the film industry, the London Film Festival has been praised for doing just that. In total, 242 films will be shown in the city-wide festival, 60 of which come from female filmmakers. Clare Stewart, director of the LFF, said, "strong women is obviously still a key focus for us" as she opened the programme of screenings featuring tennis drama "Battle of the Sexes" starring Emma Stone as Billie Jean King and co-directed by Valerie Faris alongside political satire "The Party" by British writer and director Sally Potter. Lynne Ramsay's "You Were Never Really Here", starring Joaquin Phoenix, is also being shown, proving that the thriller is not a just man's game
Talking of blokes, Deadline revealed that a new adaptation of William Golding's landmark postwar novel "Lord of the Flies" will reverse the genders, becoming an all-girl affair. The Guardian noted the furore on twitter over the choice that makers Scott McGehee and David Siegel hoped would help audiences "see the story anew" and "[break] away from some of the conventions, the ways we think of boys and aggression".
After the party...
The 70th Edinburgh Festival Fringe came to an end last week. For some, it will have been a euphoric month. The show they poured hours of unpaid work into, self-produced on a tiny budget and lugged up to the Scottish capital in several wheelie suitcases will have struck a chord with audiences, critics and programmers alike. Others will have seen their work rounded on by a horde of critics and watched jealously as audiences queued for someone else's show whilst they had to cancel performances due to lack of ticket sales. The Fringe is a tough place; success is not always about quality and failure can be as mentally punishing as it is financially.
Richard Jordan's eloquent call to arms to the Fringe Society asks how better they can prepare performers for the "brutal experience" of a month in Edinburgh. He says, "It can cause an unenviable pressure upon some of its participants, especially if they have personally invested thousands to put their work on....The Fringe Society needs to help minimise the issues of participants who may feel alone, disheartened, vulnerable and in debt when the show is over". Jordan rightly suggests that if mental health and well-being has become one of the big issues in the wider industry then it's vital to look after performers in the high-octane environment of the Fringe. Read the full article here.
Riz Ahmed, Emilia Clarke and more back plan for free drama schooling.
A new organisation has been created to support people from low-income backgrounds to gain access to drama school. Open Door, supported by the Arts Council and led by actor and director David Mumeni, aims to promote better access to often-expensive London drama schools by running one-to-one sessions and workshops with leading industry professionals, as well as free theatre tickets and advice for funding and bursaries.
Supported by patrons including Emilia Clarke, Riz Ahmed, and Woody Harrelson, the initiative was launched last week and is already open for applications. Have a look at their video about why training is important but difficult to access for those that think "acting isn't for them". Applications close at 5 pm on Monday, October 2.
Russian director under house arrest.
Thomas Ostermeier, director of the Schaubuhne in Berlin, has been joined by Cate Blanchett, David Lan and Simon McBurney in petitioning for the release of Russian director Kirill Serebrennikov. The stage and screen director is currently under house arrest and unable to communicate with anyone but his immediate family, representing what Ostermeier calls "prejudgement". He is alleged to have embezzled state funds for a production of "A Midsummer Night's Dream" that Russian authorities claim never existed. However, listings in Moscow's Gogol Centre, a prestigious nomination and touring to Riga and Paris seem to prove different.
Fellow artists and observers fear that Serebrennikov is being silenced by the state. In July, his eagerly awaited production of a ballet about the dancer Rudolf Nureyev at the Bolshoi theatre was cancelled. Though ostensibly pulled for being unfinished, rumours spread that the building came under pressure because the production openly portrayed homosexual relationships. Shortly before his arrest, Serebrennikov was shooting a film about Soviet singer Viktor Tsoi and was next to start work on an opera in Germany in September, though it's now unlikely he'll be able to travel.
Life is Hull.
Hull's year-long festival of culture has announced a final season of theatre including a new site-specific play by Maxine Peake. The City of Culture has already seen three seasons of art, music, performance and community events with this final season, called Tell the World, exploring what's next for the coastal city. "The Last Testament Of Lillian Bilocca" by award-winning actor and writer Maxine Peake will take place in Hull's historic Guildhall, transformed as a venue for the specially commissioned piece. There's also a new play by acclaimed writer James Graham which takes the form of a "W1A" style behind-the-scenes comedy about Hull's festival year. Hull Truck Theatre has also announced the world premiere of Tanika Gupta's "A Short History of Tractors in Ukrainian", an adaptation of Marina Lewycka's best-selling novel.
Major refurbishment on the Hull New Theatre will finish in time to house visiting productions including the National Theatre's "Jane Eyre" and "Hedda Gabler", Opera North's "The Little Greats", and the world premiere of John Godber's "The Kings of Hull".
News from the West End.
Playwright Bryony Lavery's classic "Frozen" is being revived at the Theatre Royal Haymarket. Starring Suranne Jones ("Coronation Street", "Doctor Foster") and Jason Watkins ("W1A", "Being Human"), the 1998 play explores the disappearance of a 10-year-old girl through the effect on her mother and her killer.
The sell-out transfer of "The Ferryman" by Jez Butterworth, directed by Sam Mendes, is to lose its lead after actor Paddy Considine announced on Twitter that his last performance will be this October. Finishing on the original end date, it's unclear if Considine sets a trend for the company or if the rest of the cast will continue until the production closes in January next year. Expect casting news soon.
And finally, the cast of the Old Vic's "Girl from the North Country" have recorded songs from the play with music by Conor McPherson, based on Bob Dylan's home town of Duluth, Minnesota. Put down during sessions at the world-famous Abbey Road Studios, the Dylan covers will be released on September 29.
Check out Backstage's London audition listings!