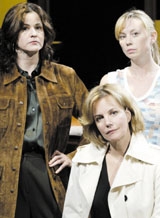 Playing clinging, dependent women is a bit hard for contemporary New York-based actresses Margaret Colin and Ally Sheedy, who are the needy wife and mistress, respectively, in Edna O'Brien's "Triptych," which bowed Off-Broadway at the Irish Repertory Theatre on Thurs., Oct. 7.
Carrie Specksgoor plays the daughter, also fixated on the same man -- her father, a playwright -- in the intermissionless three-hander that examines the perversely symbiotic relationships among the three protagonists. Interestingly, the cause of all this strife ("the man," Henry) is never seen on stage.
"The fact that there is no actor playing Henry is liberating," notes the authoritative and striking-looking Colin, who meets with me, along with her two co-stars, in their shared dressing room before a rehearsal. "His absence frees each of us to visualize anyone we want."
The affable Sheedy and Specksgoor agree, insisting that the challenges lie elsewhere. Sheedy, for example, admits that it is difficult for her to put an emotional handle on a woman staying with a man -- a married man -- who forced her to have an abortion and publicly humiliates her. She is referring to an event that takes place following a reading of Henry's play in which she, an actress, has participated. He mocks her work, and his wife, Pauline (played by Colin), who is also present, loudly observes that her husband frequently impersonates his mistress in a less-than-kind manner.
"Clarissa, the mistress, is very proper in her behavior and swallows it," says Sheedy. "She's very British. I wouldn't make the choices she makes. Despite the fact that she is victimized, she is also very strong, not unlike Angela in 'Angela's Ashes.' "
Adds Colin: "All the women are strong, although they express it differently from American women. We're constantly wrestling with the material from an American perspective. It's true that in this day and age, it's rare to see a wife defined by her husband the way Pauline is. Still, feeling devastated by the desertion of a husband is not peculiar to a time or place. That's a universal experience. Pauline is long-suffering. But Edna has written a character who can rebel. She challenges Clarissa. She gets in her space. That's American."
Pauline's relationship with her teenage daughter Brandy is surely contemporary, if not oddly American, in tone. Nevertheless, it presents a bit of a stumbling block for the actresses playing mom and daughter. "Brandy doesn't behave like a daughter, but like her mother and father's confidante," observes Specksgoor. "These are family relationships without boundaries. That's alien in my experience. Yet, when Henry tells me that he loves Clarissa, a threatening prospect, I do have the chance to fight Clarissa and tell her off. And I can relate to that."
Colin, however, finds justification for Pauline's open relationship with her daughter: "It's certainly more healthy for Pauline to have a friend to whom she can confide. And it's preferable to keeping her feelings bottled up. At the same time, she's an incredibly selfish woman."
That said, Colin maintains that there is much in the play with which she can identify: "I'm Irish, I'm Catholic, I'm married, and I have children."
Sheedy, who is also of Irish descent, notes that the material subtly evokes for her the Celtic folktales her grandfather shared with her as a child.
Specksgoor is not of Irish descent, yet she contends that there are mystical elements in the play that transcend ethnicity. There are storms (literal and metaphorical) and at one point a bouquet of flowers explodes for no logical reason.
"The mystical components are one of the things that make this play very different from other works dealing with infidelity," stresses Sheedy, who concedes that playing Clarissa is a total departure for her. "I've either played the girl next door or someone who is crazy or sad or lost. I've never been cast as the femme fatale, the sexy broad. It's great to get a role like this when you're past 40."
"These are terrific roles for mature women," adds Colin.
"And I still don't know why [director] David Jones hired me for it," Sheedy says. "Without an audition."
Film, Then Theatre
Of the three actresses, Sheedy has had the most striking career. She admits that the public continues to identify her with such movies as "The Breakfast Club" and "St. Elmo's Fire," made nearly 20 years ago. The film that has brought her the most respect, at least among her colleagues, is "High Art," an independent film for which Sheedy won best actress awards from the National Society of Film Critics, the Los Angeles Film Critics Association, and the Independent Spirit Awards. It also opened doors for her within the theatre community, leading to her appearances at Steppenwolf Theatre in Chicago and Off-Broadway.
Sheedy's fantasy role right now, she offers unexpectedly, is poet Anne Sexton, "although the play hasn't been written yet. Maybe I'll talk to Edna about writing it."
Colin's dream part is Martha in "Who's Afraid of Virginia Woolf?" opposite her husband, Emmy Award-winning actor Justin Deas.
Like Sheedy, Colin also comes to the stage following work in television and film. Co-starring in the film "Independence Day" was the watershed in her career. Other film credits include "Three Men and a Baby" and "Pretty in Pink." Colin made her Broadway debut in the title role of "Jackie" (Jackie Kennedy, that is), earning her a Theatre World Award. She was most recently seen in the Broadway revival of "A Day in the Death of Joe Egg" and she has appeared Off-Broadway at Manhattan Theatre Club and the Actors Studio, among other venues.
But her most significant career move, she notes, was "breaking away from soap operas. I spent many years on 'The Edge of Night' and 'As the World Turns.' There is a stigma attached to soaps and it's difficult to move on.
"The major challenges in appearing on stage after years in front of a camera are vocal and physical," she says. "The kind of stamina you need on stage is very different. The acting is different as well. TV and film are all about close-ups. That's clearly not the case in theatre." She pauses. "Although in this play there are sections where the spotlights are focused on our faces."
For Specksgoor, the new kid on the block, these distinctions are yet to be discovered. She is a recent graduate of the North Carolina School of the Arts, where she received her B.F.A. in drama. She has appeared at regional theatres, the Kennedy Center, and Off-Broadway at New York Classical Theatre. "I want to do it all," she says. "I suppose the role that most interests me, however, is Laura in 'The Glass Menagerie.' "
At the moment, however, her thoughts are with "Triptych" and her hope that audiences "do not see the three characters in this play as extreme, but rather very human. I want audiences to be able to relate to these women."
Sheedy agrees, adding, "This should be a disturbing journey for audiences. But it's also funny. Darkly funny. I hope audiences can appreciate that."
Says Colin: "I'd like audiences to recognize that 'Triptych' presents three powerful portraits that can only happen in theatre."