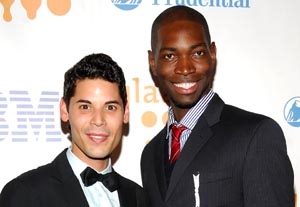 At a New York press conference today, Tony Kushner announced the selection of Bruce Norris, Tarell Alvin McCraney and David Adjmi as the first winners of the Steinberg Playwright Awards. The awards recognize playwrights "at various stages of their early careers whose professional works show great promise" and will be presented at Lincoln Center's Vivian Beaumont Theatre on Oct. 26.
Norris's "body of work and outstanding potential" will be recognized with a $50,000 prize, while Adjmi and McCraney will each receive $25,000 as "promising new voices in the theater." David Rockwell, Tony Award-nominated scenic designer and architect, designed a statue called "The Mimi," with which each winner will be presented.
James D. Steinberg, board member of the Steinberg Trust, spoke of the announcement in a statement: "We welcome, celebrate and look forward with great anticipation to their artistic contributions to the American theater for decades to come."
The Steinberg Playwright Awards and Steinberg Distinguished Playwright Awards were established in 2008 by the Harold and Mimi Steinberg Charitable Trust to be awarded in alternating years. Kushner was the first 'Mimi' recipient as last year's distinguished playwright, an acknowledgement that includes a $200,000 cash prize.
Since its foundation in 1986, the trust have given more than $40 million to not-for-profit theater organizations, commissioned playwrights, funded arts-in-education outreach programs, and provided emergency assistance to theater companies threatened by severe cutbacks in more traditional backing.