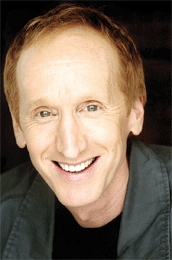 As an actor, the chameleonlike Larry Cedar is a man of a thousand faces and at least as many voices. His long and distinguished career is likewise amazing in its prolificacy and diversity--spanning television, film, and theatre, and encompassing drama, comedy, musicals, and the specialized skill of voiceover. A Southern California native, Cedar was born and raised in Pacoima, in the San Fernando Valley. As a communications studies major at UCLA, he auditioned for a one-act play during his senior year, on a spur-of-the-moment impulse, and, to his great surprise, landed the part. Subsequently auditioning for the school's MFA program in theatre, he was accepted. He remarks, "I entered grad school having a good instinct for acting but no understanding of stagecraft." His plans to attend law school took an instant nosedive.
Cedar admits that he had always yearned to be an actor, a path his parents considered impractical. He completed his MFA in theatre in 1976. Winning the school's Hugh O'Brian Acting Award led to a contract at Universal Studios and many subsequent projects at Disney, which got the ball rolling on his film and TV career. The actor managed to work in theatre gigs here and there over the years, and has stepped up that activity in recent years with, among other projects, multiple appearances with Reprise! Broadway's Best, including On the Town, Brigadoon, Anything Goes, 1776, and his Ovation-winning turn in She Loves Me. Does he enjoy musical roles as much as his dramatic gigs? "You often hear that someone is either a singer-actor or an actor-singer," he replies. "I am definitely an actor who sings. I love the dramatic elements. If there's something I miss in certain musicals, it's when a show favors songs over book. I always look for good material."
Cedar deservedly garnered rave reviews at Burbank's Colony Theatre in its 2004 staging of Around the World in 80 Days (for which he was Ovation-nominated) and last year's comic thriller Accomplice. He is currently performing his third role there. In the 1979 Canadian play Billy Bishop Goes To War, by writer-songwriters John Gray and Eric Peterson, Cedar portrays the colorful title character, a real-life World War I hero in Britain's Royal Flying Corps, plus multiple other wide-ranging characters. The seriocomic piece falls somewhere between solo drama and chamber musical. It's a highly challenging role, and Cedar soars to the occasion, relating a story of high-risk adventures with bravado of a different kind: that of a consummate theatre artist at the peak of his craft. Our recent review (BSW 6/22/06) termed his performance "artful and astonishing" and spoke of his "dazzling transformations, acing the physical, intellectual, and emotional challenges." Among his many portrayals--which he accomplishes in split-second shifts—are an Irish drunk; uppity British military leaders; a wealthy dowager; and, most amusingly, a sultry cabaret chanteuse, feather boa and all. He calls the challenges of this piece "frightening but at the same time wonderful."
Cedar has dabbled in writing but says acting remains his favorite artistic activity: "I like to tell people to pick their favorite area of rejection. I can handle the rejection an actor takes but found the rejection a writer takes to be absurd. There are difficulties in every area of craft, so it's truly a matter of loving something enough to not mind the difficulties." In terms of the various mediums, he notes, "Depending on how you look at it, my problem or my strength is that I like to do everything. If you do it all, you can't get known for any one area. The positive thing is that this opens a lot of possibilities for work. I'm a person who likes variety, always looking for what the next thing is going to be. My favorite aspect of this business is in discovery; that's what excites me. The more different, varied, unusual, and unfamiliar a role is, the better." He admits that theatre sometimes offers an actor more-interesting challenges. "You don't tend to be pigeonholed or limited when you are cast in a play," he says. "It's a much more wide-open field. It's more of an actor's medium, as opposed to film or TV, where you're like the piece of a puzzle."
Cedar has relished playing a wonderful character, an opium-addicted card dealer and thief, in the HBO series Deadwood since its 2004 premiere. He remarks that the episodic format of the show is now completed, though there are two TV movie versions in the works that he hopes he will appear in. He is also eagerly awaiting the fall release of the film Hollywoodland (formerly called Truth, Justice, and the American Way), starring Ben Affleck as actor George Reeves, who played Superman on TV during the 1950s. The despondent Reeves committed suicide or was killed after the show went off the air; the case was never solved. Cedar plays a character who interferes with the efforts of a detective (Adrien Brody) investigating the death.
Cedar adds that working on more than one project at once can be daunting, if not carefully planned. "In a show like Billy Bishop--not entirely a one-person show; I couldn't do it without Jeffrey [Rockwell, music director, piano accompanist, and singer]--the challenge is energy preservation. You have to decide how much you want to take on during the day and still give a full performance at night. No actor wants to turn down work. I could work 24 hours a day, but there is a physical limit." To his credit, Cedar's seamlessly textured work always appears effortless.
"Billy Bishop Goes To War" continues through July 16 at the Colony Theatre, 555 N. Third St., Burbank. Fri.-Sat. 8 p.m., Sun. 2 & 7 p.m. Also Thu. 8 p.m. Jul. 13. (818) 558-7000, ext. 15.