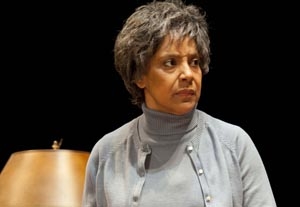 The producers for "August: Osage County," who just installed Tony Award winner Phylicia Rashad in the lead role, announced today that the play will close June 28. When the curtain falls the Sunday after next, Tracy Letts' painfully funny drama about the dissolution of a family in Oklahoma in the present day will have played 18 previews and 648 performances.

Last season, it won the Pulitzer Prize for drama and five Tony Awards, including best play. Perhaps just as notable in its list of accomplishments was the ability of "August" to make money while defying the recent Broadway conventions for a successful play: have a small cast with at least one actor who is well-known for work in film or television. "August" not only has a 13-person cast, it opened with a group of actors whose names were unrecognizable beyond Chicago, where the play originated in 2007.

The closing notice came without warning and is something of shock, given the presence of a well-known actor taking over the lead role of an established play on the cusp of summer, when tourists flock to the city. In addition, Rashad received rave reviews from several publications.

Back Stage's David Sheward, noting the risk of an African American playing the matriarch to an otherwise all-Caucasian cast, was unstinting in his praise: "Rashad's race becomes immaterial almost as soon as she makes her first entrance…. Rashad gradually peals back the layers of Violet's armor to reveal the hard core of determination to dominate her husband and children … [and] captures her unexpected vulnerability with startling suddenness."

Nevertheless, the play has played to half-filled houses for the past several months, and producers will launch a national tour in late July, with Estelle Parsons playing Violet. Parson took over for Tony winner Deanna Dunagan, who departed for a production on London's West End.

Letts began his career as a dramatist in familiar fashion. Like David Mamet, another well-known Chicago playwright, he started out as an actor who took up writing to create work for himself and his fellow thespians. He later joined Chicago's Steppenwolf Theatre Company, where "August" and other plays of his have originated. The next to come to Broadway will be "Superior Donuts," scheduled to begin performances Oct. 1.