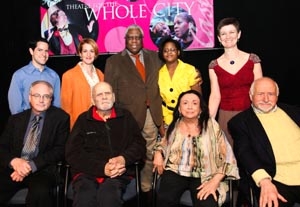 The consensus is that it's "natural" for Dan Friedman to take over as artistic director of New York's Castillo Theatre. In Friedman's words, it is a "logical and natural progression." In the words of Richard Schechner, editor of The Drama Review, at Friedman's official appointment on April 4, it is "only what should happen in the natural-social-political-artistic order of things."
That's largely because Friedman was present when the seeds of this grass-roots theater company were planted. Back in the early '80s, he and the other founders of Castillo utilized their backgrounds as community organizers to raise money for a politically and socially engaged theater. As expected, most people kept walking past the group's streetside tables. Many were just nasty, claiming Friedman was a scam artist. The few who expressed interest would say, " 'This sounds like a great idea, but I don't think you have a chance of a snowball in hell of succeeding,' " Friedman recalls, " 'but I like that you're trying, so is $10 all right?' "
Somehow, one Alexander Hamilton at a time, Castillo bloomed. Now Friedman will oversee a 26-year-old company, operating free from government or corporate grants, with a database of more than 10,000 past donors and several programs that bring free theater training to the young people of some of the city's poorest communities.
"Much of what we've done before," says Friedman when asked about his aspirations for the company. "The main mission is to bring theater professionals, community organizers, and community people together to create a new kind of theater and a new kind of community. That's going to continue."
That means continuing to stage provocative work under Friedman, who has been a part-time volunteer with the theater since its founding and has served as dramaturge since 1989. His first production as director of Youth Onstage!, mounted when Castillo moved into its 42nd Street facility in 2004, was "Crown Heights," penned by artistic director emeritus Fred Newman with Friedman and Jacqueline Salit. Drawing on the Brooklyn race riots of the early '90s, the play was staged with Jewish actors playing African Americans and African-American actors playing Hasidic Jews. Blacks and Jews argued in the lobby after nearly every performance, Friedman says. "There were about 20 different articles that were written. Most of them negative." Yet, he adds, "that's what we think political theater, in the best sense of the word, can do."
In the future, Friedman wants Castillo to develop new playwrights, as it has done in the past by staging works by Newman and Heiner Müller. "There are a lot of other folks out there who are doing very interesting and politically provocative, thoughtful scripts that we'd like to bring to the stage," he says. Other goals include more devised work and continued collaboration with Woodie King Jr. and his New Federal Theatre, to establish Castillo as "the multicultural home of black theater in Midtown and in New York."
In his remarks, Schechner was not worried about Friedman's expansive plans for the company. "These huge concepts are interwoven," he said. "Dan knows this. And that is why Dan will do great work tomorrow as he did yesterday, and is doing today."