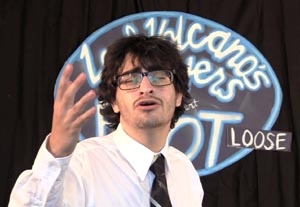 "
Musical: The Online Musical
" is far from your average musical.
First, it's online-only—no creaky stage, no audience, no playbills to print up.  Second, it's written week to week in ten-minute slivers by three university students, who film the show on weekends (in between mid-terms).  Third, the plot is almost completely driven by audience suggestions.
What?
The creators claim that "Musical" is the "first-ever interactive musical." And they're not kidding: Viewers can (and do) recommend everything from the relationship between characters ("Make a Henry-Heather-Danny-Gwenny love quadrangle. Henry thinks he's in love with Heather who falls in love with Danny who thinks he's in love with Gwenny who's in love with Henry") to the musical elements ("How about the homeless people as a Greek chorus?") to the qualities of a really good villain ("weird red and black floral, never wears pants, acts well, semi-baldness").
The story revolves around Henry (played by Sam Reeder), a guy whose entire life is a musical. "But no one realizes this (except for him) and no one understands this (even when he tells them). When he accidentally causes the death of the main character, the town plunges into economic ruin. A villain takes over. He has a crippling foot fetish. Naturally, all this leads to conflict," as they describe the plot.
So, the rules of a good musical (in other words, no rules) apply. Anything is game—sometimes, the weirder the better. 
The project is a collaboration between University of Virginia students Jeff Luppino-Esposito and Matt Savarese and New York University student Stelios Phili. The three collaborate on the book, then Luppino-Esposito writes the lyrics and Savarese composes the music.
A group of UVA student actors—including Reeder, Ryan Richardson, Rachel Dady, and Ali Stoner—perform the material in various places around the bucolic Southern campus. The production time for each episode is approximately one week.
Back Stage spoke with Luppino-Esposito and Savarese about the inspiration, and the logistics, behind producing the series.
Back Stage
:
How did the project begin
?
Jeff Luppino-Esposito
: Last semester [Matt and I] wrote a musical called "Sorting Through." We put it on at UVA. For both of us that was our first musical.
Previous to this, Stelios and I had run a pop culture website. And between Matt and I writing musicals, and he and I running a pop culture website, we realized our passion for both the Internet and theater could be combined.
Back Stage
:
Why did you choose an interactive format
?
Luppino-Esposito
: In our past experience with the Internet... when you give the users and viewers a chance to participate, they tend to use that opportunity. But what tends to be lacking or missing is the extra level of filtration.
We found a lot of companies want user-generated content, but they either don't use it in an effective manner or just use it straightforwardly, and that's not quite right, we think.
We wanted to let the viewers send in ideas and concepts and what they think should happen. And with whatever knowledge we have, with the great team of people around us, we think about what we can make out of these ideas. I think the best product comes out of that because it's really collaborative.
Back Stage
:
What is the process like every week
?
Luppino-Esposito
: Each week begins with the week's episode. On Tuesday at 9 p.m., the new episode goes up. Over the next few days, we compile the best ideas. Usually people will submit comments, feedback forms, send us e-mails, and fill out our poll questions.
By Thursday night, we compile the ideas and synthesize it into our first outline of what the next week will be. By Friday night, we break off: Stelios and I finalize the script, then I will sit in the corner and finalize the lyrics as best as I can. Matt will swoop in and compose as much of the music as he can as I'm finishing up the lyrics.
Matt Savarese
: A lot of the times I'm working straight through the night to finish the songs, so during rehearsals on Fridays there would just be some basic piano chord progressions with some drums so the actors can sing over that.
Luppino-Esposito
: Come Saturday and Sunday, we split the time as much as we can between vocal recording and physical filming. Matt handles the vocal recording process and I try to stick to the filming process. By Sunday night, Matt usually finalizes the music in terms of orchestration and balancing the sound.
The hope is that by Monday—and part of the hope is that we don't have a midterm the next day—[Matt] will give me that finalized track and then I'll start editing the video with the help from the video editing team.
Then comes Tuesday:  If we finish by 11 a.m., that gives us just enough time to do a weekly quiz, formulate plot questions, export the video, and upload it on YouTube.
Savarese
: The best part is that 48 hours later, the whole process starts all over again.
Back Stage
:
Did you have an idea of where you wanted the storyline to go
?
Or are you making it up as you go along
?
Savarese
: We had a very general arc set-up that we wanted to go into, but the viewers have been giving us great ideas, and we just fell into a place where we're using their ideas more and more.
Luppino-Esposito
:We went in knowing that we wanted to do a musical about a person's life that was a musical. Our idea was, 'Hey, you have that friend who always thinks that their life is a musical? Are you that friend?'
We want the audience to live indirectly through Henry, the main character, so they can experience what it would be like if their lives actually
were
a musical. We imagined that they would enjoy that vicarious experience—though [they would] not really enjoy it when the plot goes wrong and things go awry.
Savarese
: But they'd get to participate.
Luppino-Esposito
: We knew we wanted to give that experience. We wanted to see what happens when you let people not only run a musical from the production side, but put themselves
into
the musical.
Back Stage
:
Where are you hoping the project will go
?
Savarese
: We'd definitely like to go until the end of the semester, then finalize the script.
Luppino-Esposito
: Which would put us under two hours for the musical.  Then [we could] put it all together so we would have a final product that we would love to get performed live—either by us or, if other people were interested, that would be incredible, too.
Back Stage
:
What's been the hardest thing about producing the series
?
Savarese
: The hardest thing... is that this is all so new for us. We've always done theater productions, but when you add all the elements of production and... the time-sensitive nature to it, we're exploring new territory.
Luppino-Esposito
: We came into this with no film knowledge and experience. [But] it feels like we're building something out of nothing.
Now that we're on episode five, we're starting to feel like, 'Hey, I'm getting the hang of this. I'm starting to understand what shots we actually want and what cuts we need to make when we're editing.'
Every week, it's been such a learning experience.
New episodes of "Musical: The Online Musical" are available every Tuesday at 9 p.m./ET at www.theonlinemusical.com.