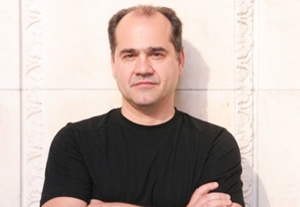 The Classical Theatre of Harlem announced today that artistic director Alfred Preisser (shown left) and executive director Christopher McElroen will vacate their positions this month. Preisser and McElroen founded the award-winning Off-Broadway company in 1999. Under their leadership, CTH has won 13 AUDELCO Awards, 6 OBIE Awards, 2 Lucille Lortel Awards, a Drama Desk Award, an Edwin Booth Award for Outstanding Contribution to New York Theatre.
"Starting and leading this company has been a life-changing experience for me," Preisser said in a statement. "It's been a real privilege to be a part of CTH, and to have had the chance to work with the great artists and audience that have contributed to our success.  It's the best of what a life in the theatre has to offer."
"I am forever grateful to the dedicated artists, audiences, funders and community partners that have brought their creativity and passion in support of the first eleven seasons of the Classical Theatre of Harlem," McElroen added. "After eleven truly remarkable years it is time to build on the experiences I've shared in at CTH and create something new."