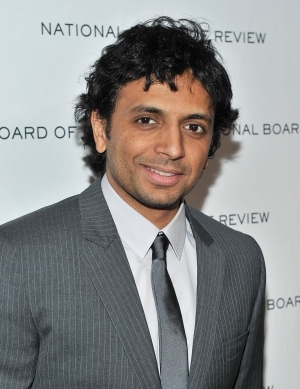 As Fox moves towards producing its first longform "event" series and miniseries, the network announced Jan. 8 that it is developing two new high-profile limited series: "Wayward Pines," from M. Night Shyamalan ("The Sixth Sense," "Signs"), and "Blood Brothers," from Bruce C. McKenna ("The Pacific," "Band of Brothers"). At least one of them is likely to air in 2014.

"Wayward Pines," based on Blake Crouch's bestselling novel of the same name, follows a Secret Service agent whose search for two missing federal agents brings him to the bucolic town of Wayward Pines, Id. But his investigation leads to more questions than answers in this psychological thriller. Shyamalan, Donald De Line, and Ashwin Rajan will executive produce the project with Chad Hodge, who is writing the script.

McKenna's Civil War-era "Blood Brothers" is based on the true story of the West Point class of 1861, which became divided as the country tore itself apart over slavery. Over the next four bloody years, these former allies maintain their love and respect for each other even as they fight on opposite sides of the conflict. McKenna, who is writing the script, will executive produce with Gary Randall and Timothy Scott Bogart.

"With top-notch auspices and feature-quality production plans, 'Wayward Pines' and 'Blood Brothers' represent exactly the kind of high-impact, 10- to 12-part events we set out to develop when we entered the limited series business," Fox entertainment chairman Kevin Reilly said in a statement. "These two series are the first of many big ideas, big names, and big talent that you can anticipate will be on our air in the next 12-24 months."

The network is currently evaluating both projects, with plans to order at least one to pilot this year. Fox plans to air its first longform series in 2014.

The news comes three months after Fox and FX Networks launched a new division focused on creating longform content. In October, Gina Balian was named senior vice president of limited series, making her responsible for the development and production of limited series and miniseries for FX, Fox, and the Fox Movie Channel. Reilly said at the time that Fox's goal is to create 10- to 12-part "large-scale, high-impact event series" that "can stand alone or be evolved into franchises."

Fox has also just renewed its hit procedural drama "Bones" for a ninth season. The network's longest-running live-action series got an early pickup for the 2013-14 TV season after stars Emily Deschanel and David Boreanaz, whose contracts were set to expire after this season, reached new deals in late 2012. Casting director Rick Millikan has cast the series since 2006.

"After more than 150 episodes, 'Bones' continues to be one of television's most dynamic and consistent dramas," Reilly said. "We at Fox, along with millions of zealous fans, look forward to seeing where the incredible creative team takes the series next season."

New episodes of "Bones" begin Monday, Jan. 14, with a two-hour winter premiere.