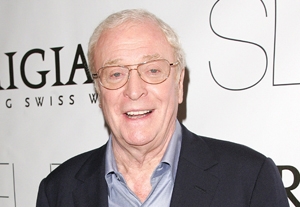 PARIS – Michael Caine, already a British knight, is now a French commander too.
France's culture minister made the 77-year-old actor a commander of Arts and Letters, the highest rank in the French cultural order, in a ceremony Thursday.
Caine told The Associated Press in a mix of French and English that he fell in love with France in his youth and getting this award was like being recognized by his "fiancee."
Culture Minister Frederic Mitterrand called Caine "a giant" of the acting profession.
Caine has been one of Britain's most popular and accomplished actors for decades. He won best supporting actor Oscars in 2000 for "The Cider House Rules" and in 1987 for "Hannah and Her Sisters." He received a knighthood from Queen Elizabeth II in 2000.
---
Copyright 2011 Associated Press.  All rights reserved.  This material may not be published, broadcast, rewritten, or redistributed.