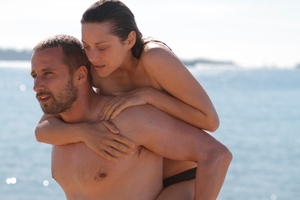 Backstage presents An Evening With…
Sony Classics' "Rust and Bone"
Followed by a Q&A with actor Matthias Schoenaerts
Tuesday, November 13 at 7pm
Landmark Theatres
10850 W. Pico Blvd.
Los Angeles, CA 90067
To attend, you must RSVP to screenings@backstage.com with "Rust and Bone" in the subject header. Please indicate if you intend on bringing a guest. You will not receive a response but your name will be placed on a list at the door.
Seating is limited and on a first-come, first-served basis. Please arrive at least 30 minutes early. Screenings are overbooked to compensate for no-shows. RSVPs do not guarantee seating, and no one will be admitted once the film has started. This invitation is for you and one guest.
"Rust and Bone"
Directed by Jacques Audiard
Starring Marion Cotillard and Matthias Schoenaerts
A struggling single father helps a beautiful whale trainer recover her will to live following a terrible accident that leaves her confined to a wheelchair. Lonely and destitute, Ali (Matthias Schoenaerts) leaves the north of France for his sister's house in Antibes after becoming the sole guardian of his estranged five-year-old son Sam. When Ali lands a job as a bouncer in a nearby nightclub, things quickly start to look up for the itinerant father and son. Then one night, after breaking up a fight in the club, Ali meets the radiant Stephanie (Marion Cotillard), and slips her his number after dropping her off safely at home. Though Stephanie's position on the high end of the social spectrum makes romance an unlikely prospect for the pair, a tragic accident at Marineland robs her of her legs, and finds her reaching out in desperation to Ali. Her spirit broken by the same tragedy that took her legs, Stephanie gradually finds the courage to go on living trough transcendent moments spent with Ali -- a man with precious little pity, but an enormous love of life.
To see the theatrical trailer, please visit http://www.sonyclassics.com/rustandbone/