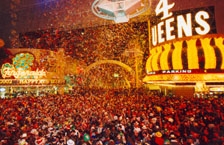 Downtown Las Vegas has a personality of its own, with constant entertainment along a five-block stretch under a mega-canopy, including its own animated light show. Thursday through Saturday, director of special events Catherine Gipple offers entertainment on two secondary stages at Main and Fremont Streets. From Sunday through Wednesday, there is strolling entertainment.
There's plenty of variety -- everything from Motown to vintage Vegas acts like Elvis, Rat Pack, Tom Jones. Comedians and magicians turn up too, "but they need to be interactive," says marketing director Lisa Robinson. "A simple magic act or stand-up comedian isn't going to work in the street setting. But one who can put himself entirely into a balloon, or balance a spinning cube on his nose and chin is going to catch people's attention."
There are many larger special events. "These are generally themed events," explains Robinson. "A hoedown theme for rodeo time, lots of classic rock party bands during NASCAR and Super Bowl. We also have cultural events like the International Folk Festival."
Right now, there's a ten-day celebration in tribute to America's troops wrapping up this weekend with the Patriot Party. It's in conjunction with Veteran's Day and the Aviation Nation event at nearby Nellis Air Force base.
On Thursday, there was a Veteran's Day Parade with lots of free entertainment afterwards. Famed WWII B-38 pilot and Japanese prisoner of war, Hap Halloran was the Co-Marshall of the parade and "Rifleman" actor Johnny Crawford lead his Vintage Dance Orchestra on the Third Street stage.
The Glacier Girl is a P-38 aircraft that was recovered from under nearly 300 feet of ice, restored and is now on display. Sitting at the intersection of Third and Fremont, she makes her first visit west of the Mississippi.
On December 2, Wranglers and Coors kick off the 2004 Wrangler National Finals rodeo with the 18th annual Downtown Hoedown at the Fremont Street Experience.
Free concerts include Honky Tonk Tailgate Party featuring David Kersh, Rhett Atkins, Chad Brock and Daryle Singletary on the Third street stage; with Mark Chestnutt headlining the First Street stage. The TJ Weaver band will open for Chestnutt while Australian Steve Forde & The Flange open for Little Texas. The headliners start at 6 p.m.
The Holiday Extravaganza (December 7-29) will include a holiday tree lighting on opening night at 7 p.m. The International Holiday Market features more than 40 vendors from Europe and around the world. They create a charming shopping village with hundreds of hand-made, unique gifts. The market is open 10 a.m. to 10 p.m. during the week and to midnight on weekends.
A free live show, Holiday in Motion, will feature exciting acrobatic acts, bungee jumpers, flying acts and more. Performances are December 7-18 at 7:30, 8:30 and 9:30 p.m.
And mark your calendar for New Year's Eve. Although this event is not free ($35 pre person), it kicks off the 100th birthday year of Las Vegas with the Vintage Vegas Countdown 100 Years and offers plenty. Classic rockers BTO (Takin' Car of Business and You Ain't Seen Nothin' Yet) and Prince-inspired funk act Morris Day and The Time are headliners. There will opening acts and party favors. Gates open at 5 p.m. Call (702) 678-5600 for tickets.
The Centennial Celebration kicks off on May 15th with the world's largest birthday cake. The 100th year celebrations include about 18-20 major special events through 2005, so get your resumes, CDs and videos in to the Fremont Street Experience offices immediately.
The Patriot Party, Downtown Hoedown and Holiday Extravaganza are free and open to the public. Parking for all events is available at the Fremont Street Experience Parking Garage at Carson and Fourth Streets and at all downtown properties. For more information, call 702) 678-5777 or 800-249-3559. Also, visit www.vegasexperience.com
The Fremont Street Experience is a public and private partnership formed in 1995 between the City of Las Vegas and The Fremont Street Experience Company that is owned by a group of ten downtown casino/hotels that underwrite operating expenses for the venue. The member properties include: Binion's Hotel and Casino, Fremont Hotel & Casino, California Hotel, Main Street Station, Fitzgerald's Casino Hotel, the Four Queens, Golden Gate Hotel, Golden Nugget, Lady Luck, and the Las Vegas Club Hotel Casino.
To be considered as entertainment for the Fremont Street Experience, send submissions of your video tapes, CDs and promotional package to: Special Events, The Fremont Street Experience, 425 Fremont Street, Las Vegas, NV 89101. Remember that themed special events are organized six months in advance; other entertainment is generally booked a month prior to performance.