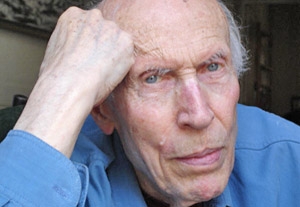 PARIS - Eric Rohmer, a pioneer of the French "New Wave" which transformed cinema in the 1960s, has died, his production house said on Monday. He was 89.
Les Films du Losange, a company that produced his movies, said Rohmer died in Paris on Monday. The cause of death was not known.
Rohmer directed such films as "My Night at Maud's" (Ma Nuit Chez Maud), "Claire's Knee" ("Le Genou de Claire") and "Chloe in the Afternoon" (L'Amour l'apres-midi").
"My Night at Maud's" garnered an Oscar nomination for best foreign-language film and best screenplay.
His "Die Marquie von O" won the Special Jury Prize at the 1976 Festival de Cannes.
Rohmer also directed "Pauline at the Beach" and "Full Moon in Paris," whose lead actress Pascale Ogier won the best actress prize at the Venice Film Festival. It won a Silver Bear at the Berlin International Film Festival.
With a background in journalism, Rohmer's aesthetic bases were literary, not film. His ambition was, reportedly, to be the Balzac of film.
Rohmer served as editor in chief of Cahiers du Cinema from 1956-63. He broke from the New Wave ranks and the ideology of auteurism: "I abhor the coming into place of ideological fashion and the rules that are set up to throw the baby out with the bathwater every time you install a new shower," he once said.
An admirer of Andre Bresson, his strength was in his capacity to depict human foibles and to capture a sense of time and place. According to his frequent cinematographer, Nestor Almendros, Rohmer visited the locations of "Claire's Knee" a year before filming and planted roses in scenes that he envisaged.
"I love to show in cinema things that seem to resist cinematographic transcription, to express feelings that aren't filmable because they're deeply buried in consciousness," he told the Boston Phoenix.
Some viewers regarded his themes as pedantic and his aesthetic as tiresome: "I saw a Rohmer film once. It was kind of like watching paint dry," cracked hard-boiled detective Moseby (Gene Hackman) in "Night Moves" when his girlfriend suggested going to see one of the director's films.
He frequently teamed with cinematographer Nestor Almendros. His films often focused on the psychological states of good-looking young men and women in particular regions of France during various times in their lives. Admirers pointed out his tenderly witty tones and delicate characterizations.
The reclusive director, who eschewed interviews and did not attend film festivals, championed the concept of a film cycle: He filmed series on morality, comedy and the seasons. He often explored his themes in his two favorite settings: the streets of Paris and the beaches of France.
During the '60s, Rohmer made six films that have been categorized as his "moral tales," including "My Night at Maud's" and "Claire's Knee." His "La Collectioneuse," the third of the six, won the Silver Bear at the Berlin festival. Often described as a Catholic filmmaker in terms of aesthetics, Rohmer completed the sextet in 1987 with "L'Ami de Mon Amie."
In the '80s, he began a second series of films dubbed the "comedies and proverbs," most notably "The Aviator's Wife." Many of them were structured around triangular love affairs and included "Pauline at the Beach" (1982) and "My Girlfriend's Boyfriend" (1987).
During the '90s he embarked on a cycle centering on the seasons: "A Tale of Springtime," "A Winter's Tale," "A Summer's Tale" and "The Autumn Tale," which achieved international acclaim, including a best screenplay award at Cannes.
Rohmer was born Jean-Marie Maurice Schereer on April 4, 1920, in Nancy, France. He was a newspaper reporter in Paris and taught school for seven years. He wrote a novel, "Elizabeth," published under the pen name Gilbert Cordier. He became a film critic, along with such future New Wave cinesastes as Truffaut, Godard and Chabrol. He adopted his name -- an amalgam of Erich von Stroheim and novelist Sax Rohmer.
He shot his first film in 1950 and founded the journal Gazette du Cinema along with Godard and Jacques Rivette. The following year he joined Cahiers du Cinema, where he was editor in chief from 1956-63. During the time, he collaborated with Claude Chabrol on "The First Four-Four Films."
He also directed a number of shorts. He made his feature debut in 1959 with "Le Signe du Lion," which included a cameo shot of Jean-Luc Godard.
More recent films include "L'Anglaise et le Duc," "Le Canape Rouge" and "Les Amours d'Astree et de Celadon."
The Associated Press contributed to this report.
---
COPYRIGHT: (c) Reuters 2010. All rights reserved. Republication or redistribution of Reuters content, including by caching, framing or similar means, is expressly prohibited without the prior written consent of Reuters. Reuters and the Reuters sphere logo are registered trademarks and trademarks of the Reuters group of companies around the world.