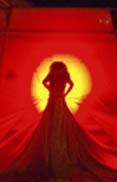 Come and check out our early reviews from the Fringe Festival. Now you'll know what all that fuss downtown is really all about!
Crossing a broad swath of the American musical landscape, "Piano Punk and Hokum!" is an exhilarating 90 minutes of foot-stomping, heart-breakin' entertainment.
Andrew Bauer's "Dryclean, An Addict's Story" is a gritty look into the underbelly of the Lower East Side, told through the perspective of a fading heroin addict.
No celebrities were harmed during the staging of John Kuntz's hilariously irreverent one-man show, "Starfuckers."
Cyndi Freeman is sexy, neurotic and funny, and she's not afraid to show it.
Tonya Canada's one-woman show "It's All About Me" tells the story of her life, from teenaged Rose Festival Princess to word processor by day/actress all the time.
Men Do Not Go to War Over Women
"Men Do Not Go to War Over Women" is an old story that draws parallels to current post 9/11 struggles and alludes to a basic human nature in all of us.
"Up Your Rabbit Hole" recasts "Alice's Adventures in Wonderland" in modern Westchester, pegging ambitious Alice as a 'go-getter' with a lust for power--be it corporate, or royal.
Kinda like "Sex and the City" set to music, "The Joys of Sex" is a completely charming and hilarious new musical that seems pre-destined for bigger things -- deservedly so.
"Fairy Tale" is a Technicolor acid trip of a bedtime story, complete with a boozy Cinderella, her animal-loving Prince Charming, a weed-toking dwarf and Robin Hood as a pro-bono lawyer.
Trista Baldwin's "Patty Red Pants" is exactly the kind of show you want to see at the Fringe: It's daring, inventive and thrillingly theatrical.
Despite the efforts of a mostly excellent cast, Jason Kendall's "The Dentist" is weighed down by attempting to synthesize too many disparate elements, and in the end merely shuffles along in parts where it should soar.
Borrowing its style from Moises Kaufman's "Gross Indecency," Kelly Groves's "beat" is more a theatrical primer on the Beat Generation and Allen Ginsberg (in that order) than the agitprop against censorship that it wants to be.
This insane bit of work most closely resembles an unholy union (pun intended) between "Sexual Perversity in Chicago" and "The Last Temptation of Christ."
Dana Edell's reimagining of Strindberg's "Miss Julie" as a Technicolor dream with a Britney Spears soundtrack (literally) has that feeling of doing it "just because she can."
For just under an hour, the charming Rebecca Hardin-Thrift sips on sweet tea from a glass jar and spins a web of her family history that will transfix anyone with a drop of Southern blood in them.
A sitcom masquerading as a lurid sex comedy, "NGD" is sweet and often funny, in a way that is surprising considering how tame it is.
Deb Loftis's sweet but slight play examines what makes up the life force of a woman.
Presented by the year-old, six-member OW! Company, "Stagedive" is a series of one acts of varying quality and theme, and seem connected by nothing more than the troupe of actors playing the parts. Nonetheless, some are lively and enjoyable.
Pillow Scars and Other Short Plays
Of this collection of six short plays by Ethan Kanfer, in one a startling young actress electrifies the playlet with surprising joy.