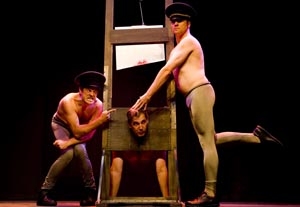 In a brief ceremony Sunday night at The Gramercy Theater in New York, winners of the overall excellence awards for the 2009 New York International Fringe Festival were announced. The awards are selected by an independent panel of over 50 theater professionals. A list of winners. Fringe organizers also announced which 20 shows were chosen to play extended runs as part of the FringeNYC Encore Series. A list of those shows can be found at the festival website [http://www.fringenyc-encoreseries.com/]
Outstanding Play:
"Viral"
"Abraham Lincoln's Big Gay Dance Party"
"Devil Boys From Beyond"
Outstanding Musical:
"Mom - A Rock Concert Musical"
"Citizen Ruth"
Outstanding Solo Show:
"Art's Heart"
"The Event"
"The Adventures of Alvin Sputnik: Deep Sea Explorer"
"Remission"
"Truth Values: One Girl's Romp Through MIT's Male Math Maze"
"Jesus Ride"
"The Songs of Robert"
Outstanding Unique Theatrical Event:
"Bullettrun"
"666"
"Baby Wants Candy"
Outstanding Playwrighting:
Jason Schafer - "Notes on the Land of Earthquake & Fire"
Laura Schellhardt - "The K of D"
Mary Adkins - "The 49 Project"
Outstanding Direction:
Ben West - "How Now, Dow Jones"
Patrick McNulty- "Harold Pinter Pair"
Jeremy Dobrish - "Dancing with Abandon"
Bill Oliver - "A History of Cobbling"

Outstanding Costume Design:
Lisa Zinni - "A Contemporary American's Guide to a Successful Marriage"
Luke Brown - "The Doctor and the Devils"
Outstanding Actor:
Alyson Weaver - "La Ronde"
Autumn Hurlbert - "A Contemporary American's Guide to a Successful Marriage"
Ethan Downing - "Confirmation"
Colin DePaula - "Mutti's After Supper Stories"
Ken Barnett - "La Ronde"
Outstanding Ensemble:
"Two on the Aisle, Three in the Van"
"Powerhouse"
"Ether Steeds"
"Bargains and Blood (How To Succeed in Home Shopping!)"
Outstanding Set Design:
Szu-Feng Chen - "The Alchemist of Light"
Outstanding Choreography:
Jody Oberfelder - "38 Witnessed Her Death, I Witnessed Her Love: The Lonely Secret of Mary Ann Zielonko (Kitty Genovese Story)"
Patricia Norwol - "Circuits"