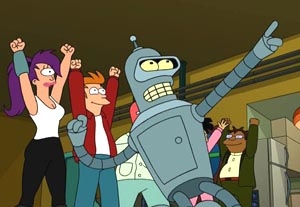 CASTING NOTICE FOR 'FUTURAMA' REPLACEMENTS
When the "Futurama" characters come back for new episodes on Comedy Central in mid-2010, they may sound different.
That is because producing studio 20th TV is proceeding with auditioning new actors after failing to reach an agreement with the original voice cast: John DiMaggio, Maurice LaMarche, Billy West, Tress MacNeille and Katey Sagal.
"We love the 'Futurama' voice performers and absolutely wanted to use them, but unfortunately, we could not meet their salary demands," the studio said in a statement Friday. "While replacing these talented actors will be difficult, the show must go on. We are confident that we will find terrific new performers to give voice to (creators) Matt (Groening) and David (Cohen)'s brilliantly subversive characters."
20th declined further comment but sources indicated that the voice actors had been seeking at least a tenfold increase of what they made when the animated series ran on Fox from 1999-2003.
The studio approached the original cast members after reaching a deal with Comedy Central in June to produce 26 new episodes of "Futurama."
Sources indicated that it is still possible that the two sides may come to an agreement.
20th TV will hold a "Futurama" panel during the upcoming Comic-Con which will feature producers, including Groening and Cohen.
– Nielsen Business Media