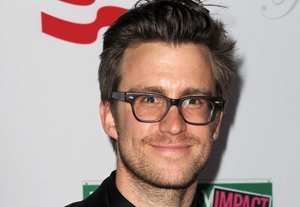 Gavin Creel is slated to star in "The Book of Mormon's" first national tour, which kicks off this summer in Denver. The show's producers announced on Thursday that Creel, a two-time Tony nominee, will play the lead role of Elder Price.
"The Book of Mormon" has gained huge popularity since it opened on Broadway last March, winning nine Tony Awards, including Best Musical. Created by Trey Parker and Matt Stone, known for their hit TV show "South Park," and Robert Lopez, who co-created "Avenue Q," the musical tells the story of two Mormon missionaries attempting to convert Ugandans to Mormonism.
"Elder Price is an amazing role," Creel said in a statement. "I am so excited to take 'The Book of Mormon' across the country."
According to Parker, who, with Casey Nicholaw, is also one of the show's co-directors, casting the role of Elder Price was not an easy task.
"Finding people who have the talent and range to play Elder Price has been a real challenge," Parker said. "We're stoked to be working with [Creel]."
Creel has been rising in the musical theatre world over the past decade, nabbing two nominations for Best Actor at the Tony Awards, one in 2002 for the role of Jimmy Smith in "Thoroughly Modern Millie," and one in 2009 for the role of Claude in "Hair." Creel also performed in a West End production of "Hair" in 2010. Nicholaw described him as "one of the finest musical theatre performers in New York."
The national tour begins on August 14 at the Ellie Caulkins Opera House in Denver. The show will then travel to more than 15 other cities, including Los Angeles, Seattle, St. Louis, Pittsburgh, and Washington D.C. A second national tour will kick off in Chicago this December.