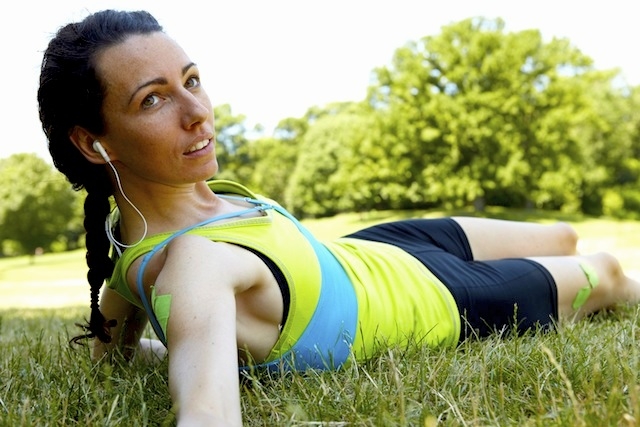 For Renee Claire Bergeron, winner of the 2012 New York Innovative Theatre Award for Outstanding Actress in a Lead Role, the reason is simple why actors devote themselves to Off-Off-Broadway shows.
"Because we love it," she said at the IT Awards ceremony at the Kaye Playhouse on Monday night. "We just can't do anything else."
At the IT Awards, which honored Off-Off-Broadway shows and artists, one thing was common amongst everybody in attendance: a genuine love for theater. There were no big salaries, big budgets, or big celebrities in the list of nominations – just big passion.
"This is so awesome!" said playwright and solo performer Melanie Jones (pictured) as she proudly shook her two IT Awards. Jones's solo piece, "Endure: A Run Woman Show," won for Outstanding Solo Performance and Outstanding Original Full-Length Script.
"It's just a bunch of people doing what they're extremely passionate about, with usually very few resources," said Jones. "The passion and the dedication here is huge. The innovation is huge, because you've got nothing to lose. So you just go for it."
The IT Award winners agreed that passion and determination were crucial for aspiring actors, and that aspiring actors need to be completely and totally in love with their craft.
"There's a long journey involved with being an actor," said Stephen Alan Wilson, who won Outstanding Actor in a Featured Role for his portrayal of Satan in "The Last Days of Judas Iscariot." "Keep working, keep studying, keep pushing yourself to put great work out there, and you're going to really be content at the end of the day because you're going to be giving it 100 percent."
Peg Healey, whose performance group "The Five Lesbian Brothers" won the Artistic Achievement Award, echoed Wilson's sentiments.
"Do it," she said. "Make it happen for yourself. Don't wait for anyone else to make it happen for you. Whatever your goal is, just do it and don't stop doing it till it's done."