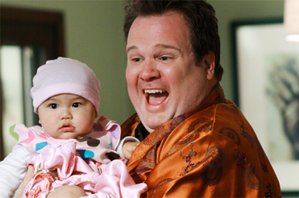 With shows like "The New Normal" and "Partners" debuting on TV screens this fall, it seems like networks are featuring an increasing number of LGBT characters on their shows. The Gay & Lesbian Alliance Against Defamation (GLAAD) is mathematically proving that the welcome change is true.
Since 2005, GLAAD has published a "Where Are We On TV Report," which calculates the number of LGBT characters on American broadcast and cable television networks. For the 2012-2013 season, GLAAD reports that, after a disappointing drop in the 2011-2012 season, the percentage of scripted regular LGBT characters on the five broadcast networks (ABC, CBS, FOX, NBC, and The CW) has gone up to 4.4 pervent (from last year's 2.9 percent). The number of LGBT characters on cable TV has also increased.
"This year's increase of LGBT characters on television reflects a cultural change in the way gay and lesbian people are seen in our society," said GLAAD President Herndon Graddick in a statement. "More and more Americans have come to accept their LGBT family members, friends, coworkers, and peers, and as audiences tune into their favorite programs, they expect to see the same diversity of people they encounter in their daily lives."
GLAAD counted 701 total characters on 97 total broadcast TV shows this season. Of those 701, 31 identify as LGBT. The report says the ABC is the most inclusive network, with 5.2 percent of its shows' characters identifying as LGBT.
Cable TV is also joining the club, its shows featuring 35 LGBT regular characters (up from a low 29 last season). "True Blood," GLAAD notes, is the most diverse show, with six characters identifying as gay, lesbian, or bisexual.
"It is vital for networks to weave complex and diverse storylines of LGBT people in the different programs they air," Graddick said. "When young LGBT people see loving couples like Callie and Arizona on 'Grey's Anatomy' or 'Degrassi''s confident transgender high school student Adam Torres, they find characters they can look up to and slowly start building the courage to live authentically."