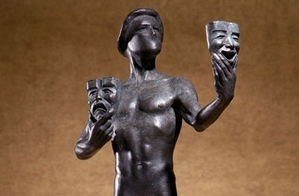 The names of Screen Actors Guild Awards nominees were inadvertently leaked Wednesday morning because of a computer "glitch" hours before their official announcement.
The union blamed its web vendor, which allowed some visitors to SAG's website to discover the nominees in the five film categories and eight television categories before they were announced at an event in Los Angeles featuring SAG-AFTRA Executive Vice President Ned Vaughn, actors Busy Philipps ("Cougar Town") and Taye Diggs ("Private Practice").
"We are aware of this matter. There appears to have been a technical glitch with the website uploading process and we are working with our vendor to resolve the problem," SAG-AFTRA Spokesperson Pamela Greenwalt said in a statement.
Commenters on the Awards Daily website were the first ones to recognize the "glitch" around 4:30 a.m. and begin circulating the leaked nominees. The information became public, according to the Los Angeles Times, after visitors to the SAG website learned they could find out who the nominees were by searching the site for a name or title.
The leak was only one of the union's headaches Wednesday as its list of nominees was greeted with sustained grumbling among critics for failing to recognize some standout performances—including the entire cast of HBO's much-buzzed-about "Girls."