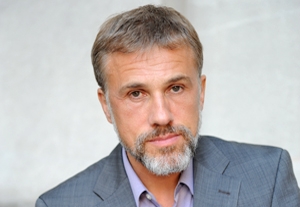 Even if Christoph Waltz had not been cast as Col. Hans Landa, the charming but insidious Nazi Jew hunter in the World War II movie "Inglourious Basterds," the experience of auditioning for its writer-director, Quentin Tarantino, would have been enough to satisfy him, shares the actor.
"It was Quentin, Lawrence Bender, and myself chatting in a civilized manner—three gentlemen in an office," recalls the Austrian-born Waltz of the initial meeting with Tarantino and his producer in Berlin, where the actor has pursued most of his career. "And then the unavoidable question: 'Would you mind if we read?' I said, 'Definitely not. I was looking forward to it.' So we read; we read the whole script. That I didn't expect. It was fantastic—Quentin playing all the other parts. Lawrence was completely quiet, just watching."
A week later, Waltz was called back by Berlin-based casting director Simone Bär; again he read through the script with Tarantino. This time the writer-director paused every so often to give the actor direction and tweak his performance. "I think he wanted to know whether he could work with me or not, whether I respond to directions, whether this is the only thing I have at my disposal or not," says Waltz, who says he would have been satisfied merely auditioning for the role.
"Emotionally, there was still no attachment to getting the part," he says, explaining his philosophy on auditioning. "If you are trying to please, you have a problem. If you are trying to pre-empt, you have a problem. If you're anticipating what they want, you have the biggest problem of all. There's just one thing that one can really do, and that's say, 'I do what I do. If it happens to be the right thing, the better. If I don't have what they are looking for, bad luck.' "
Fortunately for Waltz, good luck—and bringing just the right qualities to the part—was on his side. It helps that Waltz, like Landa, speaks German, French, English, and even a little Italian—important to Tarantino when casting this role.
Likewise, the role was a "perfect part," in Waltz's estimation. His character and the script were, says the actor, so exquisitely written that there was little left for him to do but to digest Tarantino's words on the page: "The rhythm, the music, the poetry, the character, the depth, the tempo, the humor, the eloquence, the level of awareness, the consciousness, the quirkiness, the turns, the twists, the hooks, the sudden changes, the mold, the key—everything in that script is unbelievable. It's like a score."
Still, Waltz thought back to a former teacher when preparing. He says, "With Stella Adler, I took script interpretation. That was the best thing I've done in my whole training. And working on 'Inglourious Basterds,' a lot of it came back to me. I heard Stella Adler in my ear, and I heard a lot of these immense things that she said in the course of this class. For example, 'Don't love yourself in art; love the art within you.' So you start analyzing a script from the cover page, and that's what I did."
Waltz has been acting for close to 30 years, but until the premiere of "Basterds" at this year's Cannes Film Festival, where he won best actor, Waltz was unknown outside of Europe. He left his acting studies in Vienna at 18 to begin working professionally, taking a couple of breaks in his early 20s to study his craft in New York, with Adler and with Lee Strasberg. In the mid-1970s, Waltz considered moving to Hollywood and even had legendary agent Paul Kohner interested in signing him. But when Kohner explained that Waltz would likely be cast over and over again in roles that required him to recite "Heil, Hitler," the actor decided to head back to Europe.
As Waltz relays, his career took on many incarnations. In his 20s, he found himself cast as the young rebel. Later, he was cast in comedies. For a 10-year stretch, he appeared exclusively in theater. He describes the types he has most recently played as "dubious characters; quiet, complicated people; people who look mean but aren't; people who don't look mean but are."
"Dubious" and "complicated" are, indeed, fitting adjectives for Landa, who may be the most charismatic Nazi ever to appear on screen. From the opening scene, in which Landa "politely" interrogates a terrified farmer hiding his Jewish neighbors while the Nazi enjoys the simple pleasure of a glass of fresh milk, the audience knows that Landa is not the typical villain.
Waltz says he made every attempt not to play up to the stereotype of a Nazi: "The challenge really was—apart from the attempt not to miss out on any details [in the script]—to disregard that whole moral aspect and the whole Nazi aspect. The Nazi is irrelevant. It's not interesting, because the uniform is there. My conviction is that detail is of paramount importance and the whole is an accumulation of details. You cannot play a generality, like being a Nazi. But if you're looking for what it is that translates into action, which is what an actor does, then these generalities can be immense obstacles. Because what kind of Nazi is more interesting? What is a Nazi? What does a Nazi do? And things that constitute Landa—the details that constitute this character and the things that he does—don't add up to 'Nazi.' They might add up to murder but not to blind ideology."
In another stroke of good fortune, Waltz landed Hollywood representation as a result of being cast in "Basterds." According to Waltz, Adam Schweitzer of ICM wanted to sign him even before cameras started rolling on Tarantino's picture. Waltz recalls replying, "Look, I appreciate your enthusiasm, but can I do the job first and then come and visit you and then we'll talk more?" Within an hour of finally meeting, they hit it off, says Waltz.
So far his L.A. representation has been very effective in helping Waltz penetrate Hollywood. He recently replaced Nicolas Cage, who dropped out of the Michel Gondry–directed film "The Green Hornet," as the lead villain opposite Cameron Diaz and Seth Rogen, who plays the superhero.
As for next steps, Waltz, who splits his time between home bases in London and Berlin, says, "My hope is variation, multitude, choice—difficult choices, ultimately." If the complicated choices he made in portraying Landa are any indication of what's to come, Waltz is well on his way to reaching his goal.   
Outtakes
- Has 90 film and TV credits since 1997
- Has won European acting awards, including a Bavarian TV Award, a German Television Award, an RLT Golden Lion Award, and a Golden Camera Award
- On working with Tarantino: "I'm literally eternally grateful to Quentin, not just for giving me this chance and opening up a career for me, but for proving that my hope in what I'm doing is not crazy fiction."