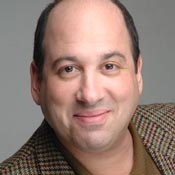 Greetings, readers. It's great to be back with you, trading off with your regular Working Actor columnist, the wise and witty Jackie Apodaca. I look forward to hearing from you all and answering your questions about our strange profession.
Dear Working Actor:
What do you consider a good agent? What qualities do you find important? I'm trying to be specific with my business plan, and I'm hitting a wall. I know I'd like to work with an agent who has a manager's heart and obviously someone with good connections, an agent with vision. And that's where I stop.
Truth be told, I'm fairly new to this town, and I have a feeling that agents operate a little differently out here than in New York.
— Looking for Mr. GoodAgent
Los Angeles, Calif.
Dear Looking:
Beyond the obvious priorities — a good reputation in the business and enough clout to get you appointments — you're wise to consider additional qualities when weighing whether an agent is the right one for you. Here are a few from my list. First: enthusiasm. You don't want an agent you're going to have to constantly remind of your presence. If you have a manager, the manager will keep the flame lit under the agent, so it's less of an issue; but still, as an actor friend of mine always says, "An agent you have to pursue is going to be an agent you have to pursue." So if it's hard to get a meeting or get your calls returned, it doesn't bode well, and you may want to move on in your search.
Next, you need an agent who knows what kinds of parts are "you" parts and even sees beyond those — to roles you could play that may be outside your usual bag of tricks. Next, you want a partner, not a boss. I don't elevate my agent above myself any more than I'd elevate myself above my agent. It's a collaboration, and you have to be able to communicate as peers. I also think a sense of humor is important. After all, we're not curing diseases here. It's show business — one of the silliest and most illogical businesses around. If an agent can't laugh at all the unpredictability, crazy personalities, and downright oddness, I don't know how long he or she will last.
And finally — here's a big one for me — I think a lot about the word representation. These people might be representing me. If they're rude or not particularly bright or so aggressive on the phone that casting people hate them, that's not an accurate representation of how I conduct myself, and it reflects poorly on me. So I always want to be sure that potential reps are "my kind of people." As for the differences in the way agents work between New York and L.A., it may be that they're not quite as direct here, so you may occasionally have to read between the lines. But other than that, it's a pretty diverse group. Fortunately, only one has to be the right match for you.
Dear Working Actor:
A friend of mine, not in the industry, is aware that I have an interest in finding work as a background actor while I take classes and look for other acting work and sent me this website: www. hollywood
profiles.com. I looked it up, and it shows a bunch of major film and TV networks and asks for credit card information to set up with the company. Even though it is asking for a small amount, I just don't trust them. I am holding off because I am afraid it is a scam. What do you think?
— Skeptical in Sherman Oaks
via the Internet
Dear Skeptical:
I think your instincts are probably correct. We spoke to a representative at the number provided for Hollywood
Profiles.com's sales department. After insisting several times that the total cost was $1.95, period, he finally admitted that, following a 14-day trial, it was $49.95 a month. A quick Web search led to an expired listing from this same company on a job search website.
Further research turned up a number of complaints about it — as well as outright claims of a scam — on various message boards. There were posts on sites such as Complaints Board (www.complaintsboard.com) and Ripoff Report (www.ripoffreport.com) saying there were buried charges and that those who tried to immediately cancel their memberships have been unable to get their money back, even after being promised a refund by the company. So it sounds like people have had some less-than-satisfactory encounters there. I'm hopeful that you followed your hunch and stayed away.
But this brings me to a wider point, one that bears repeating for our readers. In our profession, a good rule of thumb is this: If something seems too easy, 99.9 percent of the time, it is. This business attracts all manner of scam artists, because so many people are looking for easy ways to get into acting. And generally speaking, there are no easy ways to get into acting. It's unlikely you'll be the one who discovers the first legitimate "pay us money and we'll get you work in television" offer or the first "actors needed" ad that leads to a juicy, lucrative, high-profile film role. These types of cons have been around for ages, preying on peoples' fantasies of instant success for themselves or their children. Unfortunately, now, with the Internet, these predators have the perfect cloak for their activities, one that allows them to appear professional, remain anonymous, and then disappear without a trace. On the up side, the Internet also allows us to research companies to get a better sense of whether they're legitimate.
It's also wise to take a moment, put the excitement aside, and consider how realistic the offer is. A website cannot guarantee paid acting work, for any price. And if it could, why would its owners put the offer out to actors whose work they'd never seen?
Be skeptical. Be savvy. And in every case, consider carefully before parting with your hard-earned funds.
Dear Working Actor:
I am looking for information on background work, specifically in soaps. Is there an agency that deals exclusively with soaps?
— Soap Seeker
New York, N.Y.
Dear Seeker:
Unlike most television acting work, background and under-five roles for soaps are cast in-house, rather than through casting agencies. The way to pursue these jobs is by mailing a headshot and résumé to the casting associates with a letter indicating you want background work. Contact information can be found in Back Stage sister publication Ross Reports, which you can access online via our website, www.backstage.com. In general, the daytime dramas don't use a lot of background players, but when they do, they tend to go right to those files of headshots that have been sent in.
Michael Kostroff is a working actor, freelance columnist, and author of Letters from Backstage (available at Amazon.com). He teaches the monthly Audition Psych 101 workshop (info at AuditionPsych101@aol.com).