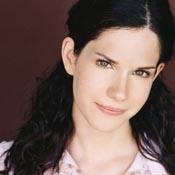 Our L.A. Take Fivers for 2008 are closing out a fine year of very personal, very inspiring writing. Back Stage acknowledges the hours of thoughtful work contributed by Seth Caskey, Deon Lucas, Annie Quinn, Jamie Silberhartz, and Richard Lewis Warren — whose entry does not appear here this month, as he is struggling with his mother's illness. We hope you'll find the Take Fivers' year-end recollections and wishes as moving as we did.
We plan to introduce to you our brand-new set of Take Fivers in our Jan. 1 issue. Like this year's group, they are a diverse bunch, at various stages in their careers, corresponding from various parts of the U.S. They are eagerly looking forward to sharing the months with you, having been deeply inspired by this year's writers.
Annie Quinn: The Measure of an Actor
As Take Five wraps up for 2008 and I balance holiday shopping with that need to fit just one more audition into the year, I realize that December forces you to stop and look back whether you like it or not. Maybe it's the post-Turkey Day leftovers, or the nostalgic feeling when you pass by the Christmas tree lot, or maybe it's that I keep asking Santa for the same damn thing every year, but something around this time has to make you wonder: What makes up a year in the life of an actor? Is it the 525,600 auditions? I wish. Is it in how many jobs I've booked or plays I've done or parts I wish I'd had? Is it the accomplishments or just the experiences?
For 12 months I've shared my achievements and disappointments, the obstacles and the elation. My résumé has stretched longer, and my pictures have been updated. My reel even got funnier. These are all tangible things I can put my finger on as proof that I was productive. But like fake snow falling at the Grove shopping center proves that Christmas is here, once you get past the pretty moment and return home, you begin to wonder if you feel yourself changed on the inside. For an actor, our experiences shape us, and it's within the experiences that I grew the most: from fearing self-promotion to creating my own website, from hiding in dramatic scenes to taking the chance to be funny, from wondering how to keep the perseverance up to finding the most confidence I have ever had. It's the steps of growing as a person and enjoying the journey that measure the life of an actor. Finding the little beats, changing our points of view, listening, challenging, accepting, and trying to move people — funny how it echoes not only in our acting community but also in our world. That feeling of Yes We Can lingers in the audition room, on the stage, on the set, and in my heart. It's a sentiment not only for the large changes but also the small. It's the very confidence that every actor needs when we doubt ourselves.
As I pack up my suitcase and get ready to return home for the holidays, I know that my family's expectations of my success are high. It's okay, though, because I truly feel a sense of accomplishment. The young woman who began this column a year ago may have compared her successes and sulked in her failures, but the actor who types her final words here is grateful for the experiences she has had and the path that continues to get her there. Someday there might be 525,600 auditions, but like a bunch of bohemians in the East Village striving to make their dreams come alive...we got to take each moment of the year in strides...in inches, in miles, in laughter, in strife.
Deon Lucas: Cracking the Code
It was almost impossible to have known that 2009 would creep up on us so quickly. Embracing the transition and welcoming change with fortitude is sure to bring happiness and prosperity to the artist's career. In retrospect, I understand that things fall into place accordingly, even if not by our watch. Greatness has no time.
November started off with a showcase at the Actor's Playpen in which I did a scene from Barefoot in the Park. There was also an audition for a guest-star role on House, M.D. I was especially amped about this read because I'm a fan of the show. The audition was interesting because right before the casting director turned on the camera, she told me that "they" wanted the character a little drugged out. Okay, I'm down for the spontaneity. However, I'm wondering if she means somewhat antsy and desperate, or more scratching and ticking like a crackhead. I decided to convey an addict through uninhibited desperation and found the audition to be fun. I've always relished the idea of playing a drug-addicted homeless person, because of the complexity and layers, but I wish I'd had a little more time to get into character.
It seems as though networking is almost as important as, if not more so than, talent. Actually, they probably go hand in hand. I've been fortunate enough to have been invited to a few industry events and parties. Seeing as I actually like meeting and talking with people, networking feels more natural than the ambiguous audition room. It allows the actor to freely converse with directors and producers about everyday things, and we get to know each other on a personal basis. People prefer to work with people they like.
Recently, I've also been honing my craft as a writer. I applied for a few writing positions with some local publications, and one of them really liked my samples and is using one of my pieces. I'm going to be writing for South Hollywood; more info can be found at www.southhollywood.net.
I've set a few small and large goals for my career going into the new year. I need to find a photographer for new headshots, and I'm also in search of a good manager. On the larger scale, I can feel that breakout feature right around the corner.
Seth Caskey: Edamame Goes Existential
Now that I have a "CrackBerry," I feel the need to take advantage of my newfound 24/7 connectivity by updating my Facebook status more regularly than the average person. And most of the time it's not exceptionally witty or clever, literally just what I'm doing. I posted one such update this past weekend that simply read, "Seth just had the weirdest salad." Surprisingly, I received several comments about this status, which then led to thoughts way too deep for lunch. And this is the story of how edamame became existential.
On Sunday, Erica and I are meeting two friends for lunch at BLD in Hollywood. I look through the menu and land on this: Fresh Vegetable Salad, with edamame, fresh corn, jicama, haricots verts, red bell peppers, avocado, toasted cashews, hemp seeds, daikon sprouts, ginger vinaigrette. We order, and the server brings out our meal. She places in front of me a wonderfully artistic but odd-looking creation. I ordered a salad, right? But this has no lettuce, no bowl, none of the normal things that a salad contains, just the above ingredients piled high on a white porcelain plate. We all exchange confused looks; I tentatively load up my fork and take a bite. Turns out it was fantastic.
But if I'm honest, I have to admit I was somewhat annoyed and frustrated that out of all the options I could have selected, I got this weird thing. Doesn't the chef know that a salad comes with lettuce? I've eaten my share of salads, and this was certainly unlike any I had ever seen. It did not look like what I thought a salad should look like and did not meet any of my expectations of what a salad should be. It was just this combination of weird things slapped on a plate.
The point I'm trying to make is that I have an idea of what my career should be. I set goals and work to accomplish those goals. I know where I'm headed and what I expect it to look like when I get there. But this moment at a restaurant with friends reminded me that the "salad" of my career is so much more than an idea. It's made up of many different experiences and moments that if thrown together on a plate, one might wonder if it was a salad (read: career) at all.
As I get ready to place my career order for 2009, I remind myself that life is unfolding just as it should. What comes to the table may not look as I imagine my order should, but I will put away the filters, prejudices, and assumptions and just be in the moment of what is. And who knows? I may find my new favorite lunch.
I have thoroughly enjoyed writing these columns each month and sharing with you my journey through 2008. Best wishes to each of you as you continue on your path of each day "livin' the dream." See you on the road.
Jamie Silberhartz: Growing Up, Head's Up
I grew up on Long Island, not too far from New York City. I was blessed with parents who took me to see Broadway shows and shuttled me back and forth to local community theatre rehearsals. As a young girl, I begged for an agent. All I wanted was to be on the Broadway stage or see myself on television. Luckily, my parents allowed me to be in plays but sheltered me from the big bad industry. At the time, I was embittered. Now I am grateful. I don't think I had enough of a sense of self to deal with constant auditioning and teenage hormones. It just might have been a recipe for disaster.
With that said, my parents did grant me one wish. At 13, I was given a subscription to Back Stage. I first saw the newspaper at a store in the city after I had gone to see The Secret Garden on Broadway. The pages seemed like a portal to a world I desperately wanted to be a part of. Each week, I would flip through Back Stage with sheer excitement. I would circle the casting calls and memorize any pertinent information. Back Stage made me feel a part of something. And almost a decade later I still get a thrill when I see the newspaper in my mailbox. When I got the call that I'd been chosen to write for Take Five, you would have thought I'd been nominated for an Oscar. I feel so privileged to participate in something that has brought me so much joy.
The year has closed on a positive note: I booked another job. It's a commercial for H&R Block that will run during the Super Bowl. I had worked with the director before, on a Life Savers commercial more than a year ago. It's a hilarious spot that required lots of hair and makeup. I am partially bald in it. I had the pleasure of going to Legacy studios for a head cast. Legacy has done work for Terminator, Iron Man, and almost all the big movies that require special-effects makeup. It was quite the experience: sitting still for an hour, not being able to talk while different liquids and such are poured on your face. I have such respect for these artists. They give you a true transformation; I did not even recognize myself.
It saddens me that this is my last article. Yet I cannot wait to read about the next Take Fivers. It's a hard road, but when you actually get to act, there is no greater feeling. Thank you for allowing me to share my life with you. It has been an honor.