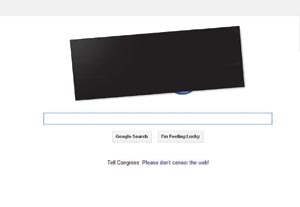 Hollywood unwittingly picked a fight with the entire online community by supporting two pieces of congressional legislation, the Stop Online Piracy Act in the House and the Protect Intellectual Property Act, its sibling in the Senate. The bills are intended to protect against copyright infringement and intellectual property theft on the Internet by attacking the foreign "rogue" sites that commit or facilitate the illegal distribution of intellectual property. But politicians have launched a media battle between the companies that distribute content and those that create it, because opponents of the bills claimed that SOPA and PIPA would stifle innovation and investment on the Internet because of a perceived increased risk of litigation.
Thousands of websites, led by Google and Wikipedia, blacked out or altered their content on Jan. 18 to protest what they dubbed the "Internet blacklist bills." More than 162 million visitors saw the message on Wikipedia, 8 million of whom contacted their representatives as a result. Google reported receiving more than 7 million signatures on its own separate petition. Several senators were subsequently compelled to withdraw their support of PIPA, and Senate majority leader Harry Reid, D-Nev., announced on Friday that the scheduled Jan. 24 vote on the bill had been postponed.
"There is no reason that the legitimate issues raised by many about this bill cannot be resolved," Reid said in a statement. "Counterfeiting and piracy cost the American economy billions of dollars and thousands of jobs each year, with the movie industry alone supporting over 2.2 million jobs. We must take action to stop these illegal practices…. We made good progress through the discussions we've held in recent days, and I am optimistic that we can reach a compromise in the coming weeks." House Judiciary Committee Chairman Lamar Smith said the same day that any discussion of SOPA in the House would also be put on hold indefinitely.
Julie Samuels, staff attorney for the Electronic Frontier Foundation, an organization founded in 1990 to confront issues related to free speech, privacy, and consumer rights, commented, "It's not just Hollywood versus the tech community; it's Hollywood versus Internet users, which is crazy, because Internet users could be everybody, including a lot of young tech-savvy voters."
Supporters of the bills include the Motion Picture Association of America, Actors' Equity Association, the American Federation of Musicians, the International Brotherhood of Teamsters, and Creative America, an organization that was formed last year by labor and industry associations including the Screen Actors Guild, the American Federation of Television and Radio Artists, the Directors Guild of America, the International Alliance of Theatrical Stage Employees, the American Federation of Musicians, and a variety of film and TV studios. In a joint statement from AFM, AFTRA, DGA, IATSE, IBT, and SAG, the groups said, "We believe we should discuss what an unregulated 'free' Internet means for the future of content, just as we should also discuss the importance of an open Internet. We welcome this debate. We hope a new tone can be set and it is not one that turns our advocacy for this legislation into an implication that we promote censorship."
Mike Nugent, the executive director of Creative America, said on Jan. 18 in response to the protests, "The fact of the matter is, censorship doesn't exist when you're stopping the distribution of stolen content."
MPAA CEO and former senator Chris Dodd said in response to opponents of SOPA and PIPA, "As a consequence of failing to act, there will continue to be a safe haven for foreign thieves. American jobs will continue to be lost, and consumers will continue to be exposed to fraudulent and dangerous products peddled by foreign criminals. We hope the dynamics of the conversation can change and become a sincere discussion about how best to protect the millions of American jobs affected by the theft of American intellectual property."
Dodd is the subject of a petition on the White House's "We the People" website, calling for an investigation of the MPAA for bribery, after he said on Fox News on Jan. 19 following the success of the protests, "[Hollywood] is watching very carefully who's going to stand up for them when their job is at stake. Don't ask me to write a check for you when you think your job is at risk and then don't pay any attention to me when my job is at stake."
"We the People" also hosted two petitions that prompted the Obama administration to speak out against SOPA and PIPA on Jan. 14. The White House released a statement that confirmed the need for additional protections against Internet piracy but warned against the potential dangers of any legislation "that reduces freedom of expression, increases cybersecurity risk, or undermines the dynamic, innovative global Internet." Several Hollywood studio heads told Deadline.com that they would stop supporting President Obama's re-election campaign as a result of his stance against their interests.
Both sides recognize that they need to start working on a new solution together, but Samuels compared the MPAA's aggressive stance to the Recording Industry Association of America's shortsighted and reactionary policies when the file-sharing site Napster nearly brought the recording industry to its knees about a decade ago. She sees the need for alternative business models to precede or complement any new legislation, as the iPod and iTunes did for the music business.
"I think for a long time the MPAA and RIAA have not been doing an effective job representing artists," Samuels said. "Maybe they've been doing a good job representing labels and studios, but not artists. We don't need laws to fix this problem. We need better business models."
With SOPA and PIPA stuck in limbo, the Online Protection and Enforcement of Digital Trade Act, known as the OPEN Act, was introduced on Jan. 19 by the chairman of the House Committee on Oversight and Government Reform, Darrell Issa, R-Calif., and Sen. Ron Wyden, D-Ore. The OPEN Act shares many similarities with SOPA and PIPA, but whereas SOPA and PIPA are backed by the movie and music industries, the OPEN Act has gained the support of the Web.
"We are not that far apart, despite all the hyperbole," Nugent said of the bills' various supporters and opponents. "We support sitting down and working together to come up with a final bill. We all agree that 'rogue' sites are bad. Now let's just clean up the remedies and fix the bills and make them work."