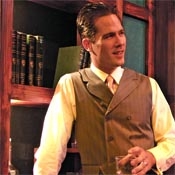 Luke Macfarlane has a lot of words vying for brain space these days. In addition to his regular stint on ABC's Brothers & Sisters, he's portraying F. Scott Fitzgerald in The Jazz Age, a new play that takes us inside the mind of the famed author, at Los Angeles' Blank Theatre. "Scott's basically on the stage the entire time, so I have all these lines in my head," Macfarlane says. On Brothers & Sisters, "we were shooting a scene the other day, and I'm supposed to walk into an apartment and say, 'You're home!' And of course, the line 'You're late!' came out of my mouth, which is one of my first lines in the play."
Still, Macfarlane is thrilled to have the chance to do TV and theatre simultaneously. "In a play, you're constantly trying new things out," he says. "What I really love about the theatre is that opportunity to try things out and see if it works. In TV, you have to wait about a month before you get to see if your choice worked. The immediacy of the theatre is really great, and it really keeps me alive."
The actor was introduced to the Blank by old friend Michael Urie (fashionista Marc on Ugly Betty), who was featured last year in the theatre's Dickie & Babe: The Truth About Leopold & Loeb. "That was how the theatre came to my attention," Macfarlane says, "and after that I did a reading for them, and then they asked me if I would like to take on this role."
He did extensive research to get into Fitzgerald's head -- one of his favorite parts of the job, he says. "I fancy myself more an academic than an actor sometimes. So I read a lot of his books. Scott was a real cataloguer of his own life. He really looked at himself a lot, and he kept everything. I also looked at other performances. Jeremy Irons did a movie [Last Call], which I watched, which kind of tells the story of the later part of his life. What's interesting about Scott is he's so many people. He really changed a lot."
Macfarlane has found himself greatly impressed with the L.A. theatre scene, which he thinks gets a bad rap. "Having gone to Juilliard and done a lot of theatre in New York, I think L.A. sort of wrongly gets the reputation as a place where plays go to die, which is not the case at all," he says. "There's amazing actors out here -- some of the best."
He is quick to put his Jazz Age acting partners -- Jeremy Gabriel, who portrays Ernest Hemingway, and Heather Prete, who plays Zelda Fitzgerald -- in that category. "I'm so impressed by their ability," he says. "They're so fantastic. It's always this thing where I'm the guy that does the TV show, so I should have some answers, but Lord knows they have way more answers than I do."
School of Rock
Macfarlane got his first taste of the stage while singing in a rock band in his hometown of London, Ontario. He did theatre in high school, and slowly but surely the idea of pursuing acting professionally set in. "I remember we had this program at our school where you could go into the guidance office and look online to see what an actor makes a year," he recalls. "And I remember being horrified: 'Oh my God, I don't want to be an actor!' I then realized that if I was going to do this, I wanted to go to the best school."
He applied to Juilliard, but as a backup he also sent applications to science programs at various colleges. "I'm kind of an outdoorsy guy, so I thought, like, botany?" he says, chuckling. "I don't really know. I was always kind of fascinated by the scientific method -- my father's a doctor, my mom's a nurse. Just something about the cleanness of science really appealed to me. Of course, I went in the absolute opposite direction."
At Juilliard, Macfarlane honed his skills and landed representation after appearing in a school showcase. He is still repped by the same team he began with: Endeavour and Management 360. "I remember when I was taking all these meetings, I said to them, 'I want to be with the same people all the way through,' " he explains. "There was a lot of talk upon graduation of the pros and cons of a bigger agency versus a smaller agency: that if you start with a smaller agency you'll get more attention, and when you move up the ladder you go to a bigger place. But I really wanted to have a relationship all the way through my career. I still hold to that."
Permanent Guest
Macfarlane's first play in New York was Wendy McCloud's Juvenilia at Playwrights Horizons, and it was a stage connection that helped him nab his Brothers & Sisters gig. Show creator and playwright Jon Robin Baitz had seen him in the Christopher Shinn play Where Do We Live and remembered him when he came in to audition. "I went in for one role and it wasn't really right, and then I came back to New York, and I was doing a play, and he sort of offered me this role of Scotty, thinking that I would be perfect for it, which is always so terrifying," Macfarlane says with a laugh.
Scotty, a sweet, witty chef and suitor for Walker sibling Kevin (Matthew Rhys), was initially supposed to stick around for only a few episodes. But the character became a fan favorite, and producers kept bringing Macfarlane back. In one of the show's most popular -- and groundbreaking -- story lines, Kevin and Scotty became engaged and tied the knot last season. Macfarlane was pleasantly surprised by the development. "I think I had come back and I was doing the guest-star thing again," he says. "I was riding on my bike with Matt over to Stage 6 to shoot a scene, and I was like, 'So what are they planning on doing?' And he said, 'I think we're getting married.' Of course, I didn't want to allow myself to believe that meant they were going to make me a series regular. But they did."
The actor says it's exciting to be part of such a revolutionary story line, one that portrays a gay couple settling into marriage and experiencing relationship problems. "It was a really unique opportunity in television to get to tell a long love story," Macfarlane says. "It happened over two years. I think it was always their plan for Kevin to settle down and to then start telling the story of what it means to be a married gay couple. I just don't know if they were sure it was going to be me. And then after my, you know, two-year audition period, I got the part."