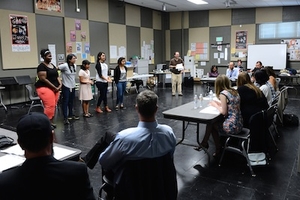 A coalition of arts groups is making a push into Los Angeles schools to foster links between student actors and working performers and producers.
New York schools have long fostered connections with Broadway, giving their high school performers a pathway to become working actors. But the connection between the entertainment industry in Los Angeles and the city's performing arts high schools isn't as strong.
"That's what I'm working on," Dr. John Deasy, superintendent of the Los Angeles Unified School District, told Backstage.
The city currently has three performing arts high schools in the San Fernando Valley, four downtown, and five on the Westside. "We want to have arts as the thematic center for their curriculum work," said Deasy.
He pointed to Bryan Cranston, who graduated from Canoga Park High School. "We are going to be the producers of the next set of employees" for the entertainment industry, he said.
Some of those future employees were auditioning May 12 at the Young Auditioners Program organized by the Urban Arts Partnership (UAP), a bi-coastal advocacy group that puts teaching artists into underprivileged schools.
Drama students at the ArTES Art Theatre Entertainment School auditioned for a panel of judges that included talent manager Jamie King and actors Michael Ealy, Ashley Fink, Gillian Jacobs, and Tracie Thoms.
"We feel like L.A. is the center of the entertainment world and so every school has to have an arts program...and they don't," said Thoms, who has appeared in features such as "Looper" and on the series "Cold Case."
"These kids, they're right here, and they feel like they're a million miles away [from the entertainment industry] and they're not."
The young performers were given sides from the previous year's 24 Hour Plays, a charity event which began in New York and set up shop in Los Angeles four years ago.
Each set of performers got notes from the panel after their first run through. "I think the payoff would be better if you would hold that gun for real at the beginning," Fink, a series regular on "Glee," told one student performing in a liquor store robbery scene.
Added Thoms, "You got to believe it's a real gun."
The student nodded and the scene began again.
"I have had kids where I've said, 'You could do this [professionally] if you wanted to,' " said Mark Brodie, the students' drama teacher. "But it's a big leap to just go out on your own."
Philip Courtney, CEO of UAP, said the goal of the program isn't to turn student actors into professionals.
"The takeaway for the students is to use the arts to get them really engaged in their education," he said. "We don't measure success by whether our students become professional actors. We measure the success of our programs on whether they graduate high school, whether attendance improves. We're really looking more at the academic side of things."
Still, two of the students that day walked away with a professional gig. Seniors Alexia Cardenas and Oskar Guzman were selected to star alongside performers ranging from Fink and Jacobs to Alanis Morissette and Wilmer Valderrama in the Los Angeles edition of 24 Hour Plays, which are set to be performed June 20 at the Broad Stage in Santa Monica.
"For these students, it's very exciting and part of the incentive to do what they're doing," said Kevin Chinoy, a 24 Hour Plays producer.