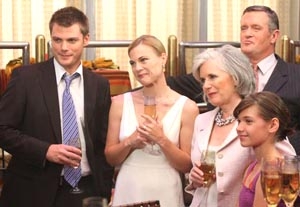 PEAPACK-GLADSTONE, N.J. – The cast and crew of "Guiding Light" — TV's longest-running soap opera — have finished shooting their final scenes in a northern New Jersey town.
Afterward, they gathered at Peapack Reformed Church for a service to remember the show. The church has served as the site for weddings and funerals in "Guiding Light's" fictional town of Springfield.
The Rev. Kathryn Henry recalled that the show's title referred to a lamp put in a church window by the fictional Rev. Rutledge to welcome parishioners seeking guidance.
CBS has canceled the program after a 72-year run that predates television. "Guiding Light," produced by Cincinnati-based Procter & Gamble Co., will air its last episode on Sept. 18.
Yvonna Wright, who plays Mel Boudreau Bauer, says Tuesday's service offered some closure.
---
Copyright 2009 Associated Press.  All rights reserved.  This material may not be published, broadcast, rewritten, or redistributed.