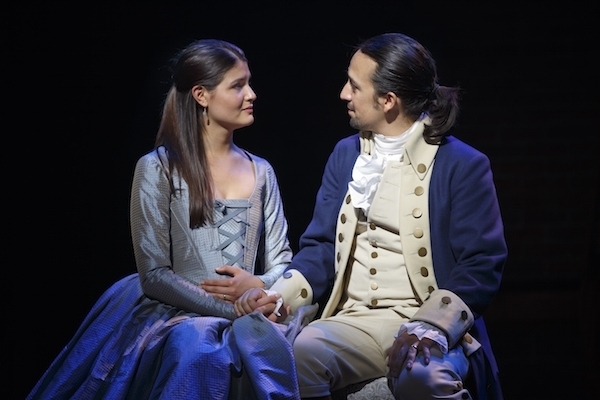 Hello and welcome back to our weekly roundup of what's going on in theatre, film, and TV.
THEATRE

Broadway hit "Hamilton" is gathering a cast ahead of it's opening in London this autumn. The producers announced that Jamael Westman will play Alexander Hamilton and Michael Jibson will play King George. They join the previously announced West End cast who will re-open the Victoria Palace Theatre following its renovation. Jamael Westman graduated from RADA in 2016 and appeared in "Torn" at the Royal Court. This is his West End debut. Michael Jibson was in "Roots", Donmar Warehouse, "Road Show," "Take Flight", and James Graham's "Our House" in the West End, for which he was nominated for an Olivier award.
Public booking opened in January and tickets for the first booking period are now sold out. The producers are to copy the Broadway model of a ticket lottery to accommodate punters on the day and are also following the "Cursed Child" identity verification technique to cut down on touts reselling tickets at vastly increased prices. "Hamilton" opens on the 21st of November.
Simon Stephens' play "Heisenberg: The Uncertainty Principle" will premiere at the Wyndham'sin the West End this October. Although the play had a world premiere in New York, the show is set in a London train station and follows the story of two strangers striking up an unlikely relationship. Anne-Marie Duff and Kenneth Cranham will star and the production reunites the team from "The Curious Incident of the Dog in the Night-Time", with Stephens, director Marianne Elliott, and designer Bunny Christie working on the show.
FILM
Secret Cinema have hinted that their next production will be "Jurassic Park", posting an image on Twitter of a glass of water trembling and the famous Jeff Goldblum line "life, er, finds a way". The company found success with truly secret immersive screenings of cult classics such as "Miller's Crossing" but in recent years have moved to larger, more commercial events that, in short, aren't secret. Their scaled down Hill Valley for "Back to the Future" was advertised in advance and we'll take this as notification to get our khaki on for "Jurassic Park".
Actor and director Elizabeth Banks has apologised for suggesting that Steven Spielberg doesn't put female leads in his films. She spoke out during an acceptance speech at the Women in Film's Crystal + Lucy awards. Criticising the lack of female representation in Hollywood and the film industry she said "I went to "Indiana Jones" and "Jaws" and every movie Steven Spielberg ever made, and by the way, he's never made a movie with a female lead. Sorry, Steven. I don't mean to call your ass out, but it's true."
Social media was quick to point out that three of the 31 films directed by Spielberg have featured a female lead: "The Sugarland Express" (Goldie Hawn), "The Color Purple" (Whoopi Goldberg) and "The BFG" which starred 12-year-old actor Ruby Barnhill.
Banks to apologised on Twitter, saying "I messed up. When referring to Steven Spielberg at the Women in Film awards, I framed my comments about his films inaccurately. I want to to be clear from the start that I take full responsibility for what I said and I'm sorry".
TV
Ray Bradbury's dystopian short novel "Fahrenheit 451" is getting an HBO-backed film adaptation to be released next year. Bradbury's 1953 novella tells of a world where books are banned and all that's left is propaganda designed keep the public placid. Firemen work to destroy any leftover or hidden books. Michael B. Jordan and Michael Shannon are already cast, but the film has just nabbed Sofia Boutella ("The Mummy"). She must have a thing about dystopias as it's also just been announced that she'll join near-future thriller "Hotel Artemis".
That's all for this week, we'll be back with more news and gossip next time. Feel free to post in the comments if there's anything you think we've missed!
Check out Backstage's London audition listings!