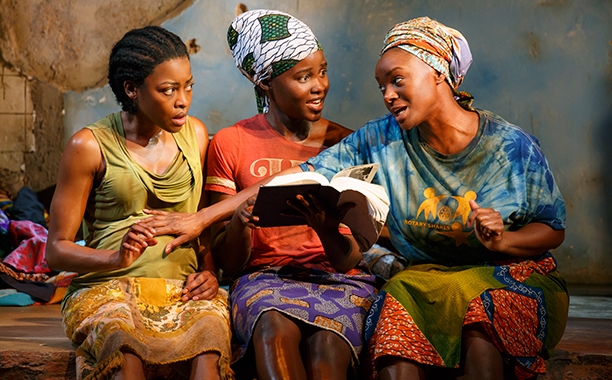 Since its Broadway premiere in 1977, "Annie," the musical about a young orphan on a quest to find her birth parents, has become a musical theater icon. Through songs like "Tomorrow" and "It's the Hard-Knock Life," the tuner written by Charles Strouse and Martin Charnin has continued to inspire little girls around the world to take to the stage.
For the first time, audiences will get an inside look at the making of the Broadway revival of "Annie," currently playing at The Palace Theatre, and follow the musical number "It's the Hard-Knock Life" from inception to execution when the new documentary "Annie: It's the Hard-Knock Life, From Script to Stage" airs on PBS on Fri., June 28.
More than 5,000 girls from all over the country auditioned for the chance to be on the boards in the newest revival. Producer Arielle Tepper, director James Lapine, and casting director Pat Goodwin of Telsey + Company decided months prior to any auditions that they wanted the casting process to be a big event, and the process lasted about a year and a half.
"We wanted this revival to be something where everybody had the opportunity to audition," Goodwin said over the phone. The casting process kicked off with an open call during the summer of 2011 in New York, and more than 1,500 girls auditioned.
In addition to various open calls around the country, young performers were able to send in video auditions. "Living in this world of social media and technology, it gave people who were living in Hawaii, or Alaska or somewhere in the Midwest where they didn't really have the opportunity to get to an airpot and fly to one of these cities, it gave them the opportunity to audition as well."" Goodwin said. Holding a video open call online was a way to "cast the net a bit wider," and a great deal of those who auditioned online made it to the callback process.
Choosing between 5,000 girls for a small company was no easy feat, but some stood out above the rest. "There's such a difference from girls who are very real and very grounded, versus those who are very showbizy," Goodwin said. "That, to me, is the first indicator of somebody that is going to be somebody that the team is going to fall in love with."
Finding young actors that would be relatable to other kids in the audience was a priority to Goodwin. "These girls that were real had such raw talent that they didn't even know they had," he said.
The documentary, directed by Joshua Seftel, features the young actors who were cast as the many orphans who prove that these children are very real but also professional. Emily Rosenfeld, who is making her Broadway debut as Molly, is the heart of the documentary, as she tackles the dancing and works closely with choreographer Andy Blankenbuehler.
Casting the children was the first priority for Goodwin and the creative time, partially due to the sensitive nature of having children audition. "It's harder for them to take rejection and it's much more difficult for the families," Goodwin said. "Unlike an adult, it's the parents who are spending the money to get them into classes, to get them headshots, to give them the best training possible. The parents become very, very invested in what the kids are doing and rightfully so."
After "Annie: It's the Hard-Knock Life, From Script to Page" airs on Friday, the dream of performing might be ignited in the hearts of young girls across the country. Goodwin suggests that parents shouldn't push, but be supportive, and let your child "explore other things."
"Being able to talk about more than performing is something that makes you a little adult in a lot of ways, " Goodwin says. "It's always more interesting to see people who are more well-rounded instead of those focused on just being a singer."