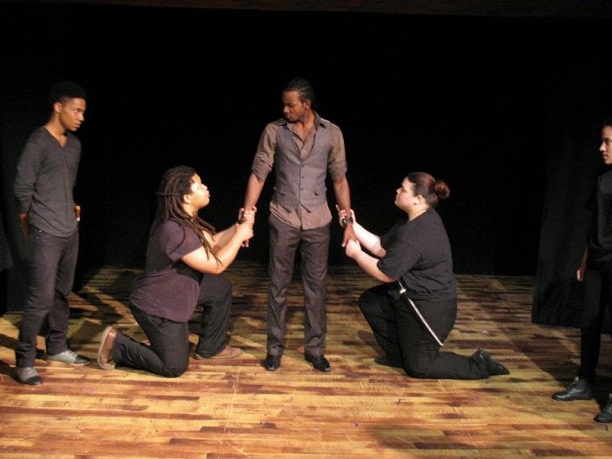 Three years ago, Jacqueline Rivera realized she wanted to pursue theater, but her family couldn't afford acting classes. A quick Google search led her to the Outreach Program at the Stella Adler Studio of Acting, and now she'll be performing in the studio's seventh annual Harold Clurman Festival, which opens on Thursday.
"That was the best sequence," said Rivera, 20, who lives in the Bronx. "[Discovering the Outreach Program] led me to something that I could never imagine being in and loving more."
Rivera will be performing in "Julius Caesar," which will run as part of the festival through Sept. 29. She'll be joined onstage by 15 other members of the Adler Youth Program, a division of the Outreach Program that offers inner city, low-income students full scholarships to train at the studio for two years in the form of after-school classes.
For young aspiring actors like Rivera, performing in the Harold Clurman Festival, with great names like Elaine Stritch and Edward Albee linked to it, is a unique and exciting opportunity.
"I've done different productions, but [I've] never [been] in a festival like this," said Rivera, who will be playing Second commoner, Metellus Cimber, Cinna the poet, and Clitus. "This is very exciting because there are a lot of great speakers, and just to be around them, and to be considered to be in the festival, is amazing."
Rivera's cast mate, Anbessa Tiwani, 17, of Harlem, shares Rivera's excitement about their show being featured in the festival.
"This is the second time we're doing Julius Caesar, and it's great," said Tiwani, who is playing the part of Brutus. "I'm proud. I'm happy to be a part of the [Stella Adler] family."
Tommy Demenkoff, Director of Outreach at the Stella Adler Studio of Acting, recognizes the valuable learning experience that comes with participating in an event like the Harold Clurman Festival.
"For these students, as for any actor, the opportunity to do this level of work is huge," he said. "Everything that is happening throughout their experience with 'Julius Caesar' here, now, at this point in their lives, is usable stuff. As I talk with them and watch their daily efforts in action, I see them become larger, more available to the world around them, and yes, more confident. The responsibility of putting this particular playwright's work on their backs and then knitting it all together as an ensemble is a an accomplishment they will carry forth in everything they do for the rest of their lives."
For Tom Oppenheim, Artistic Director and President of the Stella Adler Studio, as well as director of 'Julius Caesar,' including the production in the Harold Clurman Festival line-up was a fairly easy decision. Not only would it provide context for the festival's other events, such as Cornell West's talk about art and education, but, with a cast of young, inner-city actors, it would also honor the studio's decades-long commitment to social engagement. Oppenheim hopes that the experience will teach the cast-members as well as any aspiring actors in the audience to stand up against injustice.
"I hope that [performing in the festival] would be helpful in that it would inspire them to understand the deeper journey of what it means to be an actor," he said, "That they would fall in love with the idea of training themselves in such a way where they became vessels for humanity, and for debate, and big ideas, and that they would become profoundly committed to and emboldened by that deeper purpose."
The festival has not started yet, but Rivera knows her learning experience has already begun.
"The best thing I could tell an aspiring actor is to believe in yourself the most," she said. "And it's hard to say that, because I know I'm the hardest on myself," she said. "But if you don't believe in yourself, at the end of the day, you won't be satisfied with anything you're doing onstage. And you have to be satisfied with yourself. And once you get past that, then I feel like you can finally live in your character."
For more information on the seventh annual Harold Clurman Festival, visit. www.stellaadler.com.