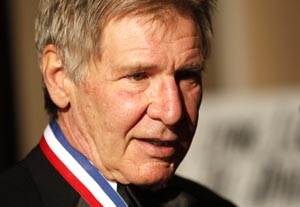 PARIS -- Harrison Ford, Robin Wright Penn and Andy Garcia are among the famous faces set for career tributes during the star-spangled 35th edition of the Deauville Festival of American Cinema.
Ford will be the guest of honor at Deauville, which kicks off on Sept. 4 in the Normandy seaside town. The fest also plans homages to Garcia, whose film "City Island" from Raymond de Felitta will screen at the fest, and Wright Penn, whose "Private Lives of Pippa Lee" will unspool out of competition.
Deauville also will pay homage to the late director-producer Robert Aldrich and will honor the careers of directors-screenwriters-producers David Zucker, Jim Abrahams and Jerry Zucker.
Nine films will compete for the event's top prizes, four of which are first features, namely Oren Moverman's "The Messenger," Cary Joji Fukunaga's "Sin Nombre," Daniel Davila's "Harrison, Montgomery" and Sophie Barthes' "Cold Souls" starring Paul Giamatti and Emily Watson.
Deauville also will screen recycled favorites from Sundance and the Festival de Cannes, including competition slots for Lynn Shelton's "Humpday" and Lee Daniels' "Precious." Ang Lee's "Taking Woodstock" secured an out of competition place.
Marc Webb's "(500) Days of Summer" will screen out of competition along with other French premieres: the Gerard Butler starrer "Gamer"; Nora Ephron's "Julie & Julia," the Julia Child biopic starring Meryl Streep; David Hollander's "Personal Effects" with Michelle Pfeiffer and Ashton Kutcher; Anne Fletcher's "The Proposal"; and Michael Meredith's "The Open Road" with Jeff Bridges and Justin Timberlake.
Other notable screenings include Jon Gunn's "Like Dandelion Dust" starring Mira Sorvino and Scott Sanders' "Black Dynamite" with Arsenio Hall.
French director Jean-Pierre Jeunet will top a very high-profile Gallic jury set to include actresses Emilie Dequenne, Sandrine Kiberlain and Geraldine Pailhas, actress-director-screenwriter Hiam Abbas, "Welcome to the Sticks" superstar Dany Boon, writer and screenwriter Jean-Loup Dababie and director-screenwriter Patrice Leconte.
Actress and director Maiwenn will preside over a separate jury for the Fondation Cartier Revelation prize alongside writer Nicolas Fargues, pop star Raphael and actresses Romane Bohringer, Deborah Francois and Aissa Maiga.
Deauville's Uncle Sam's Docs sidebar will show seven documentaries including Robert Kenner's buzzed-about "Food, Inc." and R.J. Cutler's "The September Issue."
This year's Michel d'Ornano prize for best French first film will be awarded to Lea Fehner for "Qu'un seul tienne et les autres suivront," released by Rezo films in Gaul.
The fest's prestigious literary prize will go to Colum McCann for "Let the Great World Spin."
French telecom operator Orange has snapped up Deauville's red carpet this year from previous festival partner, rival pay TV group Canal Plus. Orange will co-produce Deauville's festival TV channel in addition to airing special Deauville-related programming on its Orange Cinema Series channels.
Last year's 34th edition of the Deauville festival welcomed 50,000 filmgoers and 200,000 visitors during the fest's 10-day run.
This year's festival kicks off Sept. 4 with an opening-night concert from Julia Migenes and wraps on Sept. 13 with the traditional closing night prize ceremony.
The Deauville lineup follows:
Competition
"Cold Souls," Sophie Barthes
"Humpday," Lynn Shelton
"Harrison, Montgomery," Daniel Davila
"Precious," Lee Daniels
"The Killing Room," Jonathan Liebesman
"The Good Heart," Dagur Kari
"Sin Nombre," Cary Joji Fukunaga
"The Messengers," Oren Moverman
"World's Greatest Dad," Bob Goldthwait
Official selection
"(500) Days of Summer," Marc Webb
"Black Dynamite," Scott Sanders
"City Island," Raymond de Felitta
"Gamer," Mark Neveldine & Brian Taylor
"Julie & Julia," Nora Ephron
"Like Dandelion Dust," Jon Gunn
"Personal Effects," David Hollander
"Taking Woodstock," Ang Lee
"The Open Road," Michael Meredith
"The Private Lives of Pippa Lee," Rebecca Miller
"The Proposal," Anne Fletcher
– Nielsen Business Media