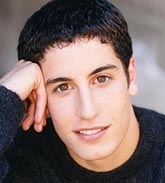 Jason Biggs is perhaps best known for playing geeky Jim Levenstein, who does something naughty with an apple pie in the first of the American Pie films. No doubt Biggs has suffered a tad from typecasting as a result. Worse, he good-naturedly asserts," some people confuse me with the character I play. But those movies are the best thing that ever happened. They've given me freedom. I don't want anyone to misconstrue that. Have I not gotten parts because of what I've done? Absolutely! You get some, you lose some. It's called a career. I hope to have a career. I hope to have longevity. Do I want to diversify? Sure. And I think I have. But I won't turn into a Nic Cage overnight. If there is a certain Jason Biggs character that I do, and if that has kept me in a certain kind of world for most of my career, so be it." Currently, Biggs is playing one of the three male leads in director Michael Greif's Off-Broadway revival of Howard Korder's Boys' Life, produced by Second Stage Theatre.
Though here too he's playing a nebbish, Biggs says there are levels of complexity in Korder's rite-of-passage play that he has never faced before as an actor. He cites the emotional arc of his character, Phil, from a weak to a strong beta male who, though still a beta male, can at least stand up for himself. Phil is also a performer. "He doesn't understand his sadness yet revels in his melancholy and wants people to identify him with it," Biggs says. "He's playing a role too, and that's another acting challenge. I like to think I'm more positive, more optimistic than Phil. I used to think of myself as a cynic. But now that I'm playing this role, I realize I'm a beacon of optimism compared to Phil." Korder's play was first produced in1988 — by Atlantic Theater Company at New York's Lincoln Center Theater — but Biggs finds it timely and full of personal resonance: "I wondered if it would be dated and have to be reset.
But it's not dated at all. It's about three guys straddling the time between childhood and adulthood, trying to grow up yet refusing to grow up." Now 30, Biggs married actor Jenny Mollen last April, "and I'm as happy as a clam," he says. "But this play touches on the big questions that you face as you take the big steps in life."
In addition to the American Pie comedies, Biggs has starred in such films as Jersey Girl, Anything Else, Loser, Over Her Dead Body, and the recent My Best Friend's Girl, co-starring Kate Hudson and Alec Baldwin. The latter has "a very funny script with a cool role for me," Biggs says, adding that it's "a bit more adult than what I've done before. The challenge was keeping a straight face and working with serious actors like Kate and Alec, who are consummate professionals. You have to beat the top of your game."
But Biggs is no stranger to theatre. When he was not quite 14, he opened on Broadway in Herb Gardner's Conversations With My Father, which won Judd Hirsch a Tony Award. Other prominent stage credits include Broadway's The Graduate, opposite Kathleen Turner and Alicia Silverstone, and Daniel Goldfarb's Modern Orthodox, an Off-Broadway production in 2004 with Molly Ringwald and Craig Bierko. Though there was a10-year gap between Conversations and The Graduate, Biggs says he never stopped looking for theatrical projects. Indeed, after The Graduate, he says, he made up his mind never to allow another decade to pass without returning to the stage.
Pushing Past Purgatory
Biggs grew up in Hasbrouck Heights, N.J. He slipped into acting serendipitously when the manager of his older sister — who was attempting her own acting career — suggested he audition for a commercial seeking acute young boy. "I had big eyes and curly hair," Biggs says. "I think the manager called and asked for me." He emphasizes that his parents never aggressively pushed their kids into acting, and when Biggs' older and younger sisters both dropped out of the business, that was fine with Mom and Dad.
At one point during his teenage years, Biggs also considered calling it a day. He was in that transitional period between teenager and young man, and despite a résumé that included a host of commercials, a TV series, and a healthy run in Conversations With My Father, the work abruptly dried up. "I was still auditioning and I was an actor, but I was not acting," he recalls. "And I was not having a quote 'normal social high school life' unquote, either. I was between two worlds, and it was purgatory." Biggs attended New York University before a TV gig surfaced and he relocated to L.A., where he worked steadily until landing his career-altering role in American Pie.
To be sure, the actor doesn't consider Jim Levenstein his most challenging role. That honor goes to Benjamin Braddock in The Graduate, "mostly because of the shoes I had to fill. I'm not Dustin Hoffman, and I'm not capable of doing what he did. But also, the play requires a different performance from the film. The movie is darker; it's all about the subtleties and the intimacy of the comedy that's not going to work on stage. It's a different read, and we were doing a bigger version comically and performance wise.
We were going for the jokes. At the same time, we wanted to maintain the integrity of the film and the novel by Buck Henry." Another challenge: "I was offstage for only one scene." Biggs says he doesn't have a particular approach to acting — beyond not "overthinking, which is a roadblock." He's also a champion of preparation, memorizing his lines even for auditions.
And yes, despite his high-profile career, he does audition, maintaining that many roles he has wanted have eluded him. When he was younger, he believes, Holden Caulfield of J.D. Salinger's The Catcher in the Rye would have been a plum role for him, though the reclusive author has never allowed his seminal novel to be filmed. "Now, of course, I'm too old for it," Biggs says. "Part of me would like to do something no one would ever expect from me, like an action movie. But at the end of the day, I like comedy. I like making people laugh, though I've done dramatic work, and a lot of the comic work I've done has had dramatic elements."
Biggs is currently developing a TV show with Mitchell Hurwitz, who created Arrested Development. "It's about a family that loves too much," the actor says. "We'll use a single camera, and there will be no laugh tracks, no studio audience."
And what would he be doing if he weren't acting? "There was a time I wanted to be a marine biologist," Biggs confides. "For a minute I was interested in finance. I wanted to be a pilot. I still want to fly. But for me it's all about acting. If not acting, I'd probably be in porno."
Boys' Life runs through Nov. 16 at Second Stage Theatre, 307 W. 43rd St., NYC. Tickets: (212) 246-4422or www.2st.com.
Bio Briefs
Appeared on As the World Turns, earning a Daytime
Emmy nomination for outstanding younger actor in a
drama series
Was featured on the TV shows Drexell's Class and Total Security
Frequently plays Jewish characters but is Italian and Catholic