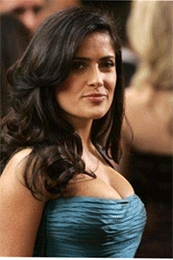 Racism in Los Angeles is a hot topic after the Oscar triumph of Crash, and it's back on the big screen this week in Ask the Dust, a new film starring Salma Hayek, who has fought her own battles against Hollywood prejudice.
Based on the cult novel by John Fante, the film stars Colin Farrell as Arturo Bandini, an aspiring Italian-American writer in 1930s Los Angeles who reluctantly falls in love with an illiterate Mexican waitress played by Mexican-born Hayek.
"We were talking about a time when it would say 'No Mexicans or animals,"' Hayek told Reuters in an interview, recalling a sign in the shabby hotel where Farrell's character stays in the film.
"We had the same rights as an animal, maybe not even that," she said in New York before the film's release on Friday.
Director Robert Towne, who won a screenwriting Oscar for Chinatown, said he fell in love with Fante's book 30 years ago.
He envisaged Al Pacino playing the lead but too much time had passed for that. Now Towne is glad he did not make the movie then because he cannot imagine anyone playing waitress Camilla Lopez better than Hayek.
"You have a rare combination of somebody who is self-assured sexually, who is self-assured period, but who understands very well and has suffered from the prejudice that Mexicans historically have suffered from," Towne said.
The director, who also adapted the novel for the screen, said Hayek had turned down the part when he first approached her eight or nine years ago, fearing she would be typecast.
He recalls Hayek telling him, "I can't get a job in a science-fiction movie because they tell me there's no such thing as Mexicans in space."
Nearly a decade later and an Oscar nomination behind her for playing Mexican artist Frida Kahlo in the 2002 film Frida, Hayek changed her mind.
YESTERYEAR LOS ANGELES
The film, produced by Tom Cruise, has a big-name cast, including Donald Sutherland as Bandini's dissolute neighbor, and paints a sepia-tinged picture of Depression-era Los Angeles that may please the nostalgic. Reviews have been mixed.
Variety said: "Hayek is in full blossom as Camilla."
"Sexy, salty and sensual, Salma Hayek ... has no trouble stealing the movie," the New York Observer wrote while slamming the movie as "long, lazy, plotless" and "a real ordeal."
After a successful TV career in Mexico, at the age of 39 Hayek has established herself as a bankable Hollywood name, but she said when she first arrived she was constantly being told that nobody wanted to hear foreign accents on screen.
"They hadn't noticed there were 38 million Latinos in the United States and that was an important market," she said. "I'd go as far as to say they were quite stupid business-wise.
"I didn't take it that personally," Hayek said. "I did have five minutes when I said, 'It's pure racism,' but it's really a lack of information."
Hayek seems to have proved the doubters wrong. She will be seen later this year alongside Spanish star Penelope Cruz in Bandidas about a pair of female Mexican bank-robbers.
Hayek already has directed a small film and now wants to write and direct big movies. She says she is writing a script for a movie she hopes to direct about classical music.
"I showed 15 pages to Jamie Foxx and he wants to do it," she said. "Now I just have to finish it."
------------------------------------------
Copyright 2005 Reuters Limited. All rights reserved. Republication or redistribution of Reuters content is expressly prohibited without the prior written consent of Reuters. Reuters shall not be liable for any errors or delays in the content, or for any actions taken in reliance thereon.