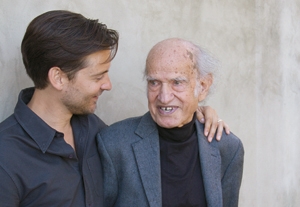 Actors including Tobey Maguire, Jason Alexander, and Carla Gugino talk about the teachers who helped them hone their skills.
Larry Moss and Jason Alexander
Jason Alexander's wife, Daena E. Title, first introduced him to acting teacher Larry Moss, who told the budding actor, "You are very, very good. And I could make you much better."
David Legrant
Fortunately for actors such as Tobey Maguire, Danny Glover, Bernadette Peters, and Steve Martin, David Legrant stuck with his passion: teaching generations of actors the craft he knows and loves.
Sam Weisman and Zuzanna Szadkowski
Zuzanna Szadkowski had always imagined a certain career path for herself: character parts, lots of theater, very little television. All that changed when Szadkowski met teacher-director Sam Weisman.
Howard Fine and Carla Gugino
Fans often express amazement at Carla Gugino's ability to capture such a wide range of personas, but Gugino credits her longtime acting teacher, Howard Fine, with giving her the tools to do so.