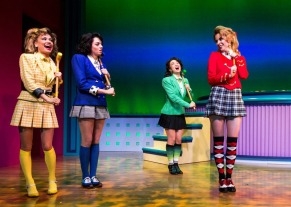 Of all the unlikely films adapted to the musical stage, 1988's cult black comedy classic "Heathers"—the ultimate in mean girls, stylized dialogue, and staged suicides—may be among the unlikeliest. But that hasn't stopped Laurence O'Keefe ("Bat Boy") and Kevin Murphy, who wrote the book and score, from bringing all those Heathers and skeptical cool girl Veronica (played by Winona Ryder in the film) to the stage, with all your favorite lines intact, from "Fuck me gently with a chainsaw" to "Lick it up, baby. Lick. It. Up."
The movie's instantly quotable lines are what made a fan of Ryan McCartan, now playing Veronica's sociopathic, homicidal boyfriend, J.D. (originally played by Christian Slater), in the musical's Off-Broadway debut, opening March 31 at New World Stages. When he first saw the film, he remembers, he was "obsessed with it, specifically the crazy language."
But McCartan didn't have plans to audition for the show. Director Andy Fickman, who worked with McCartan on the Disney Channel's "Liv and Maddie," was shown a YouTube video of the actor singing. "[Fickman] was just like, 'Ryan, you can sing?!' and I was like, 'Yeah, well, it's on my résumé,' and he said, 'I don't read résumés,' " McCartan says. "So he was at a party with the rest of the creatives and was like, 'I think we found our J.D.,' and the rest was history."
Finding Veronica was slightly more complicated. "The breakdown for the auditions in L.A. came out, and I was like, 'I will do anything,' " recalls Barrett Wilbert Weed. After nearly 30 taped auditions, she found herself in final callbacks for Heather Chandler and Veronica, and had five minutes with O'Keefe (book, music, and lyrics), who was frantic and running behind.
"He was like, 'I don't have enough time with you! Can I call you? Can I email you? What do I do?' " Weed says. "And I was like, 'Just tell me what you need me to do and I'll put it on tape.' " That last tape sealed the deal, and Weed was cast alongside McCartan for the show's Los Angeles premiere.
Bringing the beloved characters to the stage has presented its own difficulties. As McCartan says, "You want to have the movie fans come to the musical and be gifted all of the things they want to see from the movie, but by that same token you want to create something that's yours." Many of the changes were byproducts of the different mediums; movie magic doesn't always translate well to the stage, and some of the more violent scenes have required toning down.
"We're a black comedy," Weed says. "We're not pretending to be some kind of drama, so they didn't want there to be a ton of gratuitous violence or gore. They didn't want it to separate you so much so that you couldn't get back to the heart of the show."
Both actors are fully aware of the burden they carry, playing iconic roles that have been slightly tweaked from the originals. "You have to work harder than you ever knew was possible," says Weed, who adds that Veronica is the most vocally demanding role of her career.
McCartan agrees. "When I moved out to L.A., I went on 156 auditions before I booked a single thing," he says. "Everyone sort of has that voice of self-doubt in their head, but as an artist you relinquish your right to have that voice."
Veronica herself couldn't have said it better.