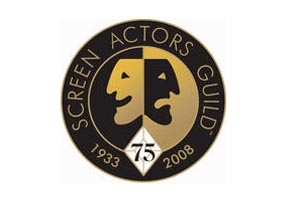 And out come the big guns. Alec Baldwin, George Clooney, Sally Field, and Tom Hanks have signed an online statement of support for ratification of the Screen Actors Guild's tentative TV-film contract with the Alliance of Motion Picture and Television Producers. Ballots have been in members' hands since May 19 and are due back to the guild by June 9.
Baldwin, Clooney, Field, and Hanks became lightning rods last year during the contract debate when they publicly declined to support a strike authorization vote. Their latest foray into guild politics caps two weeks of emails, videos, and statements put out by those for and against ratification of the latest agreement.
Ed Harris, Elliott Gould, and Martin Sheen have vehemently aired their reasons for voting against the deal in videos this week. In a video released recently, Harris said, "The 53 percent of the national board who are in favor of this contract say that those of us who oppose it have no plan…. The plan is, we all vote no and we finally send a message to the AMPTP: … 'Let's go back to the table and negotiate a deal that is fair, that the union can endorse.' If they refuse that, then we go for strike authorization.' "
The guild, which is now being run by a slim majority of those in favor of ratification, collected the digital signatures of 500 members supporting the contract's passage, including Adam Arkin, Amy Brenneman, Morgan Fairchild, Dulé Hill, former SAG president Melissa Gilbert, Ed Begley Jr., Jane Curtin, Patricia Heaton, Kathryn Joosten, Rob Lowe, Ian McShane, and Sam Waterston.
The "Statement of Support" reads: "I support Screen Actors Guild national board of directors and negotiators, and wholeheartedly recommend that SAG members vote yes on our tentative television and theatrical contracts. The agreement provides important gains for members across the country, including a 6.5 percent increase in wages, additional union jobs for background actors in television programs and motion pictures, increases in major role performer payments, first time ever payments for programs streamed on the Internet, and many other protections and provisions for new media. It's time to put our industry back to work. I urge you to vote yes on this contract."
---
Jay A. Fernandez writes for The Hollywood Reporter. 

For more news from The Hollywood Reporter, click here.